How Are Chatbots In Restaurants Redefining Customer Experience In 2023
How Are Chatbots In Restaurants Redefining Customer Experience In 2023
Ashok Sachdev
April 08, 2022 794 Views
9 mins read
Last Updated April 08, 2022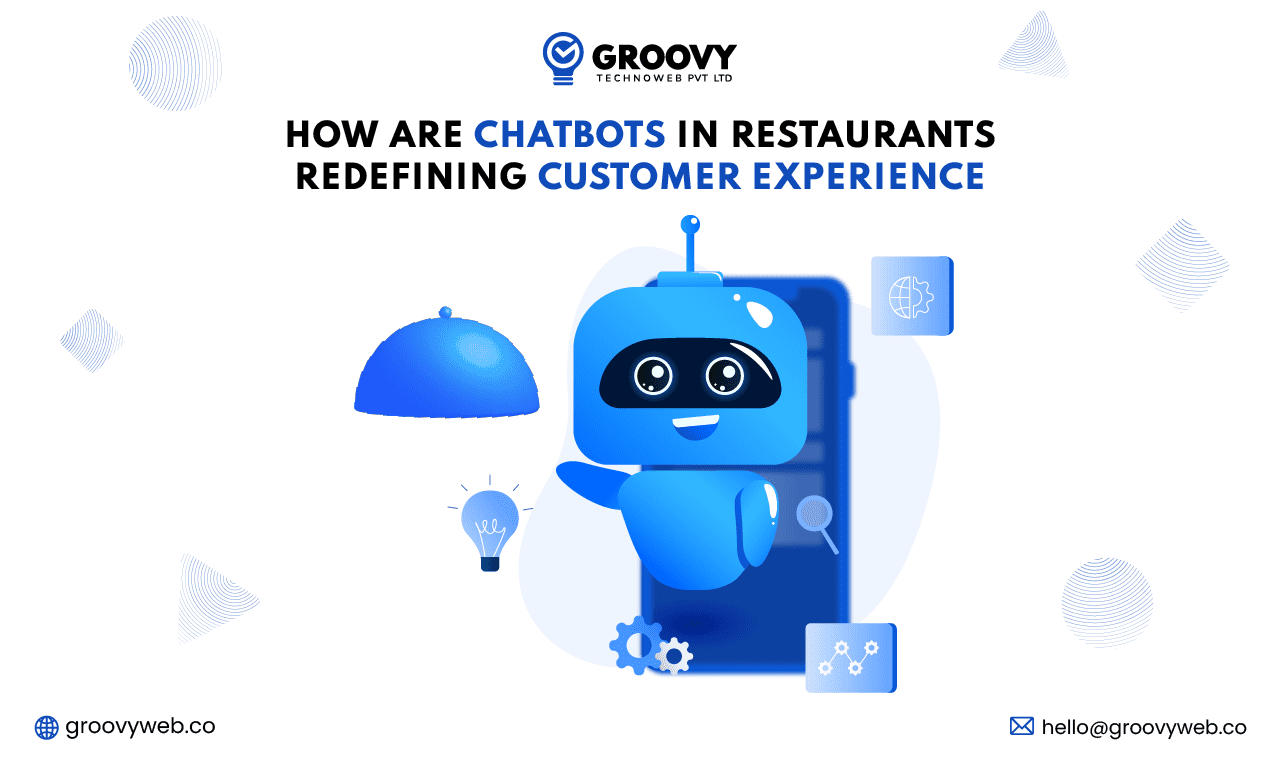 Quick Summary : Chatbots in restaurants to make user exercise better and productive for restaurants. How to make user experience better? Here you can find chatbot restaurants.
According to CX Network, 53% of businesses see AI as a key tool in fostering a "customer-first culture." According to another poll, 56 percent of businesses believe chatbots are disrupting their industry. This indicates that chatbots are transforming industries in significant ways.
They are influencing customers' interactions with firms. They impact how customer service is delivered, and they have an impact on the way leads are created. They also impact how soon clients can get the help they require.
Chatbots are becoming increasingly famous for a good reason. They have proven to be a priceless asset to today's successful organizations. Smart AI may aid great enterprises, and they can achieve even higher heights.
This is true for chatbots in restaurants as well as numerous businesses, but today we'll focus on one in particular. In the restaurant industry, how are chatbots improving the customer experience? We have the solution.
What is a Chatbot?
Chatbots, often known as virtual assistants, is software that is designed to do specific tasks entirely independently of human supervision, management, or authorization.
When used in messaging apps like Facebook Messenger or WhatsApp, these bots are highly handy.
Chatbots are currently transforming the catering sector, particularly the management of automated reservations.
Statistics on Chatbots
Chatbots can save up to 30% on operational costs.
By 2021, 85 percent of client interactions will be handled without human agents.
Companies intend to spend 50 percent more on chatbot solutions than mobile apps.
The best aspect of chatbots, according to 64% of internet users, is 24-hour service.
In an emergency, 37% of individuals use a customer service bot to get a speedy response.
In 2018, Facebook had more than 300,000 messaging chatbots.
In 2018, Blue-Bot sent over 500,000 clients over two million messages.
Why Chatbot is so important in the food industry?
A chatbot is an artificial intelligence (AI)-a powered tool that manages human conversations. It is a virtual assistant that can understand and respond to user queries in traditional human language. It reads and responds to user requests with appropriate responses.
The food industry is introducing Chatbots into their ordering systems to benefit from activity organization and cost reduction. The cost of developing on demand food delivery app Chatbot is low, and running on a few platforms, such as Facebook Messenger and a website, is even lower.
Use of a chatbot restaurant has many benefits:
Customer service
It is available 24 hours a day, seven days a week, allowing you to engage with your clients whenever they need it, lowering operational costs.
Marketing
You can use Facebook Messenger to promote your restaurant's promos or special events to your customers.
Customers will be able to check out your menu if you use a visually appealing interface.
Speedy Reservations
Allow your customers to make reservations in less than a minute.
Immediate feedback
By conversing with the bot, users can receive feedback via feedback button right away, which improves the customer experience.
No downloads
Because the bot is linked with Facebook Messenger and other messaging apps, your clients will not need to download a separate program to utilize it.
Uses Cases Of Chatbot in Restaurants 2022
Said chatbots are only as good as their creators. You can develop a chatbot for the job if you have a creative idea and an issue to tackle. Some restaurants have gone beyond the regular usage of chatbot restaurants (customer service) and discovered innovative ways to provide more to their consumers. Here are a few instances of restaurant chatbots.
Reservations Bookings.
Customers can use chatbots to reserve a table at your restaurant. It can be done via a chatbot on your restaurant's website, where a consumer may have looked you up and viewed your menu before making a reservation. It's also possible to use integrated messenger chatbots for this. Chatbot restaurants, for example, can be coupled with Facebook Messenger to allow clients to book tables directly from the social media platform.
Food Ordering
Customers can utilize chatbots to order food inside restaurants, which is a novel addition to the restaurant chatbot industry. Customers can take a seat at their table, peruse the menu, and then make an order when they're ready.
The chatbot can also be programmed to assist consumers in making the best decisions based on their preferences, similar to how a waiter would. The following is an example of a conversation:
Bot: Could you tell me what you'd want to order?
Customer: Veg pizza
Bot: Excellent decision! Please select from the menu.
Customer: Farmhouse Veg, please.
Bot: That's it! What about a glass of cold drink? Do you want a glass of Coke/Pepsi with your Veg pizza? I'll look at the possibilities for you.
Service to Customers
Restaurants are bustling places, and things may get a little out of hand (pun intended!). Customers may express dissatisfaction with their meal or service and wish to speak with someone.
In restaurants, this frequently occurs while the customer is still present. That isn't always the case, though. Because some customers are uncomfortable with face-to-face contact and find it embarrassing, they may choose to file a complaint through a chatbot. This type of chatbot can be operated in a variety of ways.
You could make a bot that functions as the customer's first point of contact during the complaint process. The customer will be greeted with a polite message before being asked to explain their concern. They can then reassure the consumer that the message will be forwarded to the appropriate team.
8 ways chatbots help restaurants and customers in 2022
1. Make Bookings More Convenient
People enjoy dining with family and friends in a pleasant environment while enjoying delicious meals. Many people like to make reservations ahead of time, not to wait and worry about table availability on busy days.
Chatbots can be implemented into a restaurant's website or chat programs like Facebook Messenger or WhatsApp.
2. A Chatbot for Dine-in and Take-out Restaurants
The epidemic has changed the demand for meal delivery, and technological advances have boosted the restaurant industry to new heights. You can easily provide a contactless experience to customers with this conversational AI restaurant, starting with the food ordering procedure.
Create a menu catalog for your customers to browse using user-friendly Chatbots. Users may quickly browse the menu and make an order when they are ready. Additionally, by showing promotions and deals on a daily basis, you can improve and streamline their ordering experience.
3. Make Food Suggestions Based on Their Interests
Every restaurant must be aware of such needs to serve its customers better, establish loyalty, and improve the brand's reputation.
Manual food order management is prone to errors and omissions, but this one blunder is enough to tarnish your brand name. These issues are not present with conversational AI restaurants.
These Chatbots learn about customers' preferences and provide customized recommendations based on their interactions.
4. Use Promotions, Discounts, and Offers to Entice Prospects
Promote your Chatbots on social media to attract new clients. Add a "click to chat" or "click to order" action button to the promotion enabling users to start conversing with the Chatbot by tapping the button easily.
With complete branding, you may distribute these offers and discounts as text messages or simple Ad posters via WhatsApp, Facebook Messenger, and other messaging platforms.
5. Safe Payments and On-Time Delivery
It streamlines everything from order processing to invoicing and payment processing.
Integrate credit/debit cards, net banking, UPI payments, PayPal, and other payment apps and gateways. Customers can pay for their orders using various methods. The payment method is safe and contactless, resulting in a superior consumer experience.
6. Respond to Questions and Request Feedback
A chatbot is a wonderful tool for dealing with unpleasant customer experiences and ensuring that you will take the necessary steps to enhance the service.
The customer service scripting will be retained, and you will gain trust in your brand. Customer feedback and complaint processes benefit significantly from the use of chatbots.
7. Customer Analytics and Statistics are Provided
Chatbots can also provide you with helpful information about your consumers. What type of merchandise is connecting with whom? These concepts can also lead to more tailored and better client experiences.
Assume you know someone who suffers from a specific allergy. You can train the chatbot to customize your menu to that person's preferences.
8. Chatbots Can Help You Earn More Money
A chatbot in your restaurant is also an excellent method to add to your bottom line. A chatbot operates in the manner of a dialogue or discussion. A chatbot can send promotional messages as a result of this.
Let's say you know a family who orders food from your restaurant on Friday nights based on your information. Wouldn't it be great if the chatbot could give that family a promotional message on Fridays? As a result, there's a good chance the family will prefer your food over something else.
Chatbots: Unleash Their Potential and help restaurants in 2022
Chatbots aren't just a passing trend, and they're a great instrument that can bring your restaurant many benefits. And you can use free chatbot platforms to create them or get the best chatbot development services from the IT solution providing companies in the market.
The nicest part about chatbot restaurants is that they can keep in touch with customers and cultivate relationships. Intelligent chatbots evaluate client information and interactions.
Using a chatbot to take your consumer engagement to the next level will expose you to a large audience of tech-savvy customers. They are becoming more loyal to companies that suit their digital needs.
Embracing chatbot technology will improve customer experiences, increase customer retention, and increase sales. If you use it correctly, your restaurant's tables will be fully booked, and takeout orders will be flowing out the door.
---
Written by: Ashok Sachdev
Ashok Sachdev is the Project Manager at Groovy Web who began his professional career as a programmer at the young age of 17. Ever since then he is actively growing, learning new things, and adapting to new roles and responsibilities at every step. Aside from being an app developer, he is highly admired for his project management skills by his clients.
---
Sign up for the free Newsletter
For exclusive strategies not found on the blog