How Much Does It Cost to Develop a Mobile App
How Much Does It Cost to Develop a Mobile App
Rahul Motwani
June 09, 2022 324 Views
11 mins read
Last Updated June 09, 2022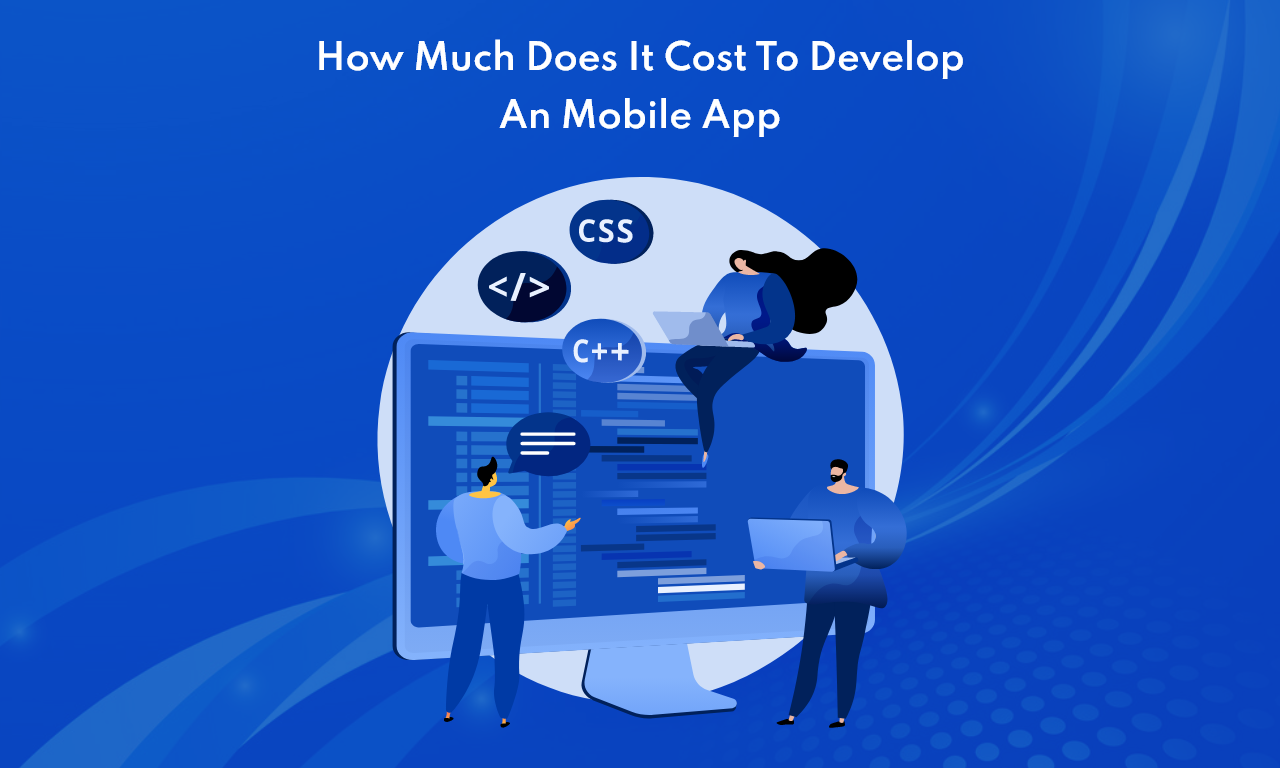 Quick Summary : This report provides an overview of the cost of mobile app development. The report will discuss the factors that influence mobile app development costs, the complexity of an app, and the cost of developing an app. The report will also discuss the cost to develop a mobile app in 2022.
---
Mobile gadgets are prevalent in today's environment. As a result, developing a mobile enterprise app must pay attention to this growing trend. The process of app development is both fascinating and complicated. Have you heard that revenue from mobile apps is gradually increasing?
Let's get the facts straight. In 2018, global app revenue hit a new high of 365 billion dollars. In-app advertising and paid downloads will produce approximately $935 billion in income for the mobile app market by 2023.
Especially if you have no idea what mobile app development in India entails or the cost of mobile app development in India, it's impossible to provide a specific estimate without considering your business, objectives, how users engage with your app, and budget. It would assist if you had a strategy before developing mobile apps.
Key-take Away from the following topics:
Factors influence the costs of mobile app development.
Identifying your app type can help you plan your budget.
Five strategies help reduce the cost of mobile app development in India.
Stats given by popular companies on mobile app development
According to the most trustworthy and popular mobile app industry surveys, mobile app development costs and timelines are as follows:
The average cost of an app development project is $5,000 to $10,000. Clutch estimates that the average cost of developing an app will be much higher.
According to a Clutch poll, the median mobile app development cost for iOS app development is between $25,275 and $114,300, or 1,143 development hours.
According to VDC Research, the average cost of developing an enterprise app is $140,000.
Data of Clutch says that the overall program price may reach $500,000 if advanced functionality is implemented.
As per the Outsystems Survey, over 80% of mobile applications take three months or longer to build; 40% of apps take six months or longer to develop.
For complicated, multi-feature mobile apps, popular app cost calculators suggest a price range of $200,000 to $350,000. The cost of an app with basic functionalities might range from $10,000 to $50,000.
What Factors Influence Mobile App Development Costs?
The location of the project team and the time required to construct the app are two main factors that influence mobile app development expenses. The per-hour mobile application development budget varies depending on the team's location. The app's complexity, which is affected by numerous factors, is a significant element in in-app charges.
The complexity of UX/UI Design
A conceptual framework
Access to interdisciplinary teams
App Features And Complexity
Services For Maintenance And Support
Integrations with Third-Party Apps 
The cost of mobile app development in India can be significantly increased depending on its functionality. The number of functionalities can be reduced and optimized using MVP-style lean app development. Integration with mobile app APIs is required to expose data, and managing a backend is expensive.
Mobile App Protection
Specific technologies are required to create a safe app and identify vulnerabilities and issues. Due to the sensitivity of company data and documents, it is especially prudent to invest in enterprise mobile app security.
The complexity of UX/UI Design
Customers can choose from several applications to choose a solution that combines clarity, ease of use, and excellent performance. Estimating app development expenses requires design effort, and custom UI/UX design, widgets, icons, fonts, and more are included in custom app development fees.
Conceptual Framework Development 
The cost of developing mobile apps for iOS and Android is the same. Is Android app development more expensive than iOS app development? You can also deploy a cross-platform solution at the same time. Native mobile apps typically provide a better user experience and perform better, resulting in higher pricing. Approximately what does cross-platform mobile application development cost? A cross-platform mobile app can cost anywhere from $50,000 to $170,000.
Multi-disciplinary Teams Access
Freelancers are less likely to be hired when the team is more adaptable. This lowers custom mobile app development costs in India and ensures consistent product quality. A group of illustrators can collaborate closely with a designer to create better metaphors to communicate the app's concept.
Type of Mobile Application
Let's analyze the different types of mobile applications and figure out what is the average cost to develop a mobile app in India.
To stay inside your native mobile app development company budget, build your app using your app type.
The cost of mobile app development in India varies depending on the application type, business plan, and app quality. An application development project or idea is always a one-of-a-kind experience. Here is a mobile app development cost that can assist you in staying inside your budget.
Mobile Apps with Simple Functions
Without internet connectivity or server components, basic programs can efficiently function. Between five and six displays are typical for these programs. Without an internet connection, your phone's calculator app, for example, does the solely defined duty. The cost of simple mobile app development varies between $5,000 and $15,000. The primary mobile app development timeline would be 4 to 6 weeks.
Data-driven Mobile Apps
Data-driven programs run more smoothly with network connectivity. These apps only use a small amount of data, and these apps do not require registration or verification. As a result, because these apps necessitate backend work, their costs climb. Consider the Weather app, which uses third-party APIs to obtain data. Developing a data-driven app for mobile ranges from $7,000 to $15,000, and the construction of a mobile app will take 6 to 8 weeks.
Apps for Mobile Authentication
To utilize these apps, the user must first log in. A personal account will allow users to engage with data. Budgets for mobile app development will rise as the number of subordinate features grows. Authentication applications are an excellent choice if you want to create an app that lets users sign up. The user can connect conveniently and swiftly by implementing the social network login capability. Developing a mobile authentication app for mobile ranges from $10,000 to $60,000. The development of these apps will take 3 to 6 months.
E-Commerce Mobile Apps 
E-commerce apps typically need users to check-in before they can shop. Users can browse the vast product catalogs, create wish lists, and purchase products after making a payment. Customers make purchases and pay for them online. In these apps, a well-maintained admin panel is critical for managing track of expenses and inventories. The cost of a mobile application ranges from $50,000 to $300,000. It takes four to nine months to construct an e-commerce application.
On-Demand Mobile Apps
On-demand apps are expected to suit the needs of users. This app's type is compatible with both Android and iOS platforms. Uber is a popular on-demand service. To access the chat and telephone features, app users must first log in using their credentials. The cost of a mobile app for on-demand apps ranges from $50,000 to $100,000. The development period for on-demand applications is four to eight months.
Cost Of Developing A Mobile App In 2022
Factors that are Affecting the Cost of Mobile App Development are:
Which target audience prefers mobile platforms?
 What exactly is the product you want to sell?
 Are there any devices that must be integrated for your app to be more responsive?
Is your app available for free or for a fee?
Are there any in-app purchases available?
Is there any advertising in your app?
To determine the average app development cost, you must answer all questions.
For example, if you want to create an app that requires in-app purchases, the development cost will rise due to the increased complexity. Similarly, creating an e-commerce app would be much more expensive than developing a standard app.
You can quickly get the answer if you can figure out how your mobile app adds value to them.
There have been numerous instances where a business has failed to identify its target audience and thus lost them to a competitor's superior strategy.
Is it better to have a free mobile app, paid mobile app, or an e-commerce app?
Advertising, sponsorship, and email marketing are common ways for free apps to make money. E-commerce apps, of course, make money by selling products over the internet. On the other hand, paid apps, such as Netflix, Hotstar, and others, require users to register and pay a subscription fee. You can determine what type of application is best for you by thoroughly understanding your target audience.
Which is beneficial, a single-platform or cross-platform mobile app?
The choice of a platform is another crucial factor to consider when determining the most accurate cost of developing a mobile app. Do you want your applications to run on just one platform or several? It can be determined by learning about the users' preferences.
A version of the Operating System
There are two main versions: iOS and Android. So naturally, Android is the more popular of the two. But it's not just about the app's popularity and reaches; its technicality also influences which platform is best for it.
Suppose your app is highly technically complex and intended to perform specific actions best served with advanced versions of OS. It might be better to limit its availability to those versions to reduce the average app development cost in those instances.
Experts say it is always best to use the most up-to-date platforms to make a long-lasting impression while keeping costs low.
Complexity Level

Characteristics to be consider

Simple apps
1) They are made without any additional benefits in mind.
2) You will have all of the necessary features.
3) Low-Tech displays, as well as the necessary user interface solutions
Apps for the mid-level
1) Have more complex products to offer; API integrations are available.
2) More number screens, a unique user interface as well as features such as real-time messaging
Complicated apps
1) They are multifunctional apps.
2) Advanced and complex features, such as real-time synchronization, are available.
3) Chatbots, processing of media, UI animation, among other things
As per the above-given table, the Cost and duration are decided by considering characteristics and requirements.
| | | |
| --- | --- | --- |
| Complexity Level | Estimated Cost as per characteristics and requirements | Estimate Duration for project completion |
| Simple Apps | $10000 | 1 month |
| Mid-level apps | $10000-$20000 | 2 months |
| Complicated apps | From $20000 | > 2 months |
| On-demand App Development | $20000-$30000 | 3 months |
| On-demand food delivery apps like Zomato. | From $20000 | 2-4 months |
| Airbnb-like Mobile App | From $50000 | 4-6 months |
| Sports Fantasy App | From $20000 | 2-4 months |
| Business Directory App | From $20000 | 2-4 months |
| Classifieds App | From $20000 | 2-4 months |
| eSignature App Development | $25000-$40000 | 3-4 months |
Top 5 Most Cost-Effective Mobile App Development Strategies in 2022
Establish Clear objectives
Research, research, and research some more. You must first establish the exact feature of your project before beginning production. Carry out a detailed analysis to learn more about your target audience's tastes and habits. Identifying your service offerings can assist you in solving difficulties for potential clients and nurturing them over time.
Simplicity of Mobile Application
So, you've researched your market and rivals, identified your consumers' demands and pain areas, and are now ready to begin developing the mobile application's functional aspects. Are there features that provide no benefit to users among the unneeded expenses? Prioritize the components that support the customer's workflows, improving their experience without sacrificing the features' quality.
Create the MVP Version first
It is not a good idea to hurry into developing a full-fledged app until you have tested your product in the actual world. To save money, create a prototype of your final product with the bare minimum of functional capabilities capable of proving your ideas through widespread adoption. A minimum viable product aims to change quickly and test compliance with customers. This is a prototype of a project's framework in the testing phase to determine its market suitability and consumer acceptance.
Select the Correct Platform
You may not hesitate to choose iOs or Android if you have a reasonable budget. Still, suppose you have a smaller budget. In that case, there is another option: hybrid platforms created in a universal language such as HTML, CSS, or Javascript and covered in a native framework. They can work on various operating systems and cut your costs by up to 40%, but they are slow to load and perform. Clutch found that most app developers prefer native platforms to hybrid platforms.
Invest in-App Maintenance
Poor app maintenance & cross-platform mobile app development services can cause your app to fail. The maintenance of your smartphone app should account for approximately 20% of your total expenses. You must include your app download in the app store to exhibit your responsiveness and interaction with your users. This provides security and coding maintenance, style and design enhancements, library updates, yearly operating system updates, performance monitoring, license renewal, etc.
Final Thoughts
According to current industry surveys, the cost of creating an app varies from $6,000 to $900,000 and up. As a result, one cannot forecast the cost of mobile app development. Any project requires information such as the app's complexity, features & functionalities, design requirements, platforms, and development approach. It is preferable to contact Groovy Web a leading mobile app development agency that can assist you in making your vision a reality.
---
Written by: Rahul Motwani
Rahul Motwani is an experienced Project Manager with a demonstrated history of working in the information technology and services industry. He started his career as a Backend developer and currently has his hands-on managing projects at Groovy Web. He is a strong program and project management professional with a Bachelor's degree focused on Computer Application.
---
Sign up for the free Newsletter
For exclusive strategies not found on the blog