MobileAppDaily Lists Groovy Web in its Healthcare App Development Companies 2022
MobileAppDaily Lists Groovy Web in its Healthcare App Development Companies 2022
Kartik Bhaviyash
June 17, 2022 22 Views
2 mins read
Last Updated June 17, 2022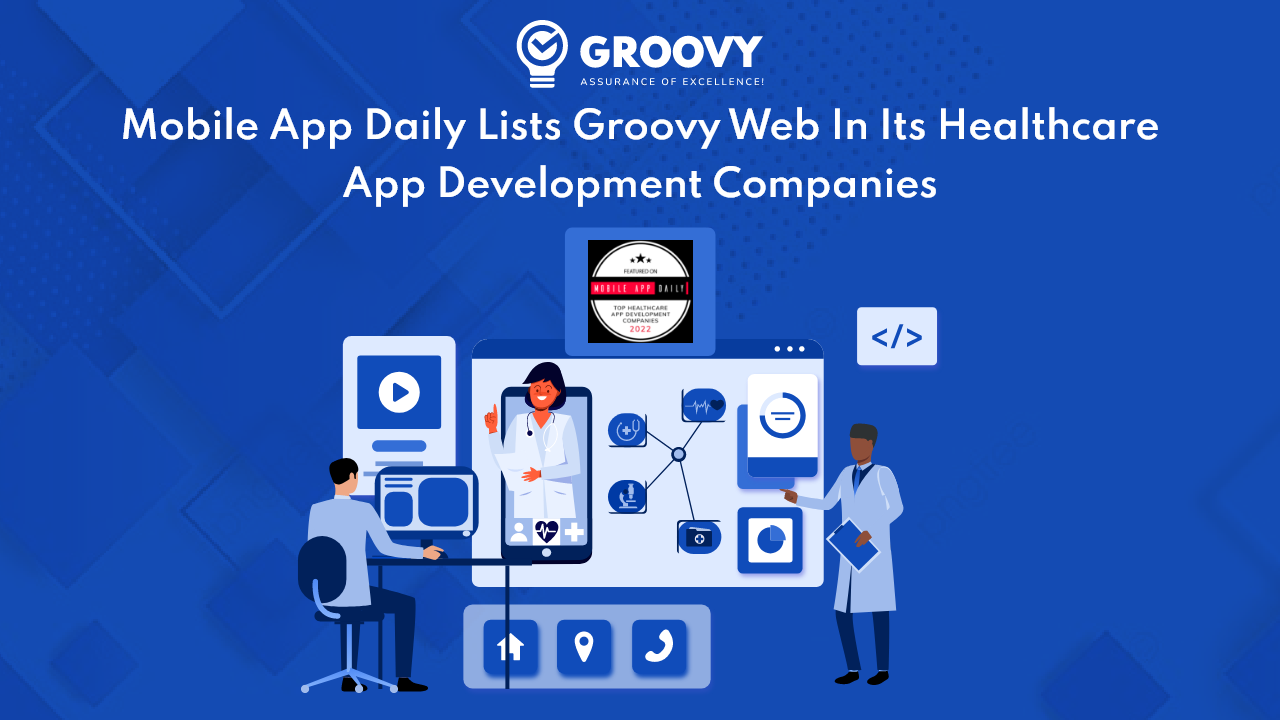 Quick Summary : This article explains why MobileAppDaily listed Groovy Web in its Top Healthcare App Development Companies 2022 Report.
---
One of the leading healthcare app development companies, Groovy Web, is headquartered in Gujarat, India. The company has a fantastic track record of delivering robust and affordable digital products to its clients from all across the globe. The client catalog of Groovy Web includes enterprises of small, mid, and large scales.
The healthcare mobile app development company has delivered over 500 successful projects with the help of its teams, including experts of different backgrounds.
With a vision of building innovative products that empower organizations, Groovy Web has established itself as one of the world's fastest-growing healthcare app development companies.
Why was Groovy Web listed by MobileAppDaily?
MobileAppDaily is a popular app marketing platform that provides startups and brands an opportunity to grow and scale their business. The team at MobileAppDaily reviews companies and apps and lists them on their website to help them reach a wider audience.
The organization also has a huge blog section where readers can read well-researched blogs about AI, blockchain, the Internet of Things (IoT), AI, and plenty of other technologies.
Groovy Web was listed in MobileAppDaily's Top Healthcare App Development Companies 2022 Report due to the reputation that this organization has built over the years. Its client catalogs show that they are impressed by the company's top-notch services. Thus, it was the right decision to introduce the organization to a much wider audience by listing it down in the report.
Getting nominated by MobileAppDaily has allowed Groovy Web to find the right potential clients to expand its business operations across more regions.
Conclusion
Groovy Web is one of the most trusted custom healthcare app development firms. For your healthcare mobility solution, from designing UI/UX to building end-to-end infrastructure to going live, we have got the skills with enough experience to do it all. Check out our highly effective and user-friendly healthcare solutions like Rehabilitation Management Software (HIPAA Compliant) and MyDiabetes Connect.
We are your ideal digital partner for building a good-quality product within the promised timeline at a reasonable cost.
---
Written by: Kartik Bhaviyash
I am a highly driven Business Development professional with 5 years of experience in strategic lead generation, sales presentations, effective collaborations, strategic planning, team management, and a little bit of creative marketing. In a nutshell, I look around to find out people from different industries who are willing to transform their ideas into a feature-rich revenue-generating product and I convince them to come to Groovy Web by introducing experts with amazing skills and immaculate experience.
---
Sign up for the free Newsletter
For exclusive strategies not found on the blog