PWA for eCommerce: How are PWA Useful to eCommerce Platforms?
PWA for eCommerce: How are PWA Useful to eCommerce Platforms?
Nauman Pathan
December 09, 2022 138 Views
19 mins read
Last Updated December 09, 2022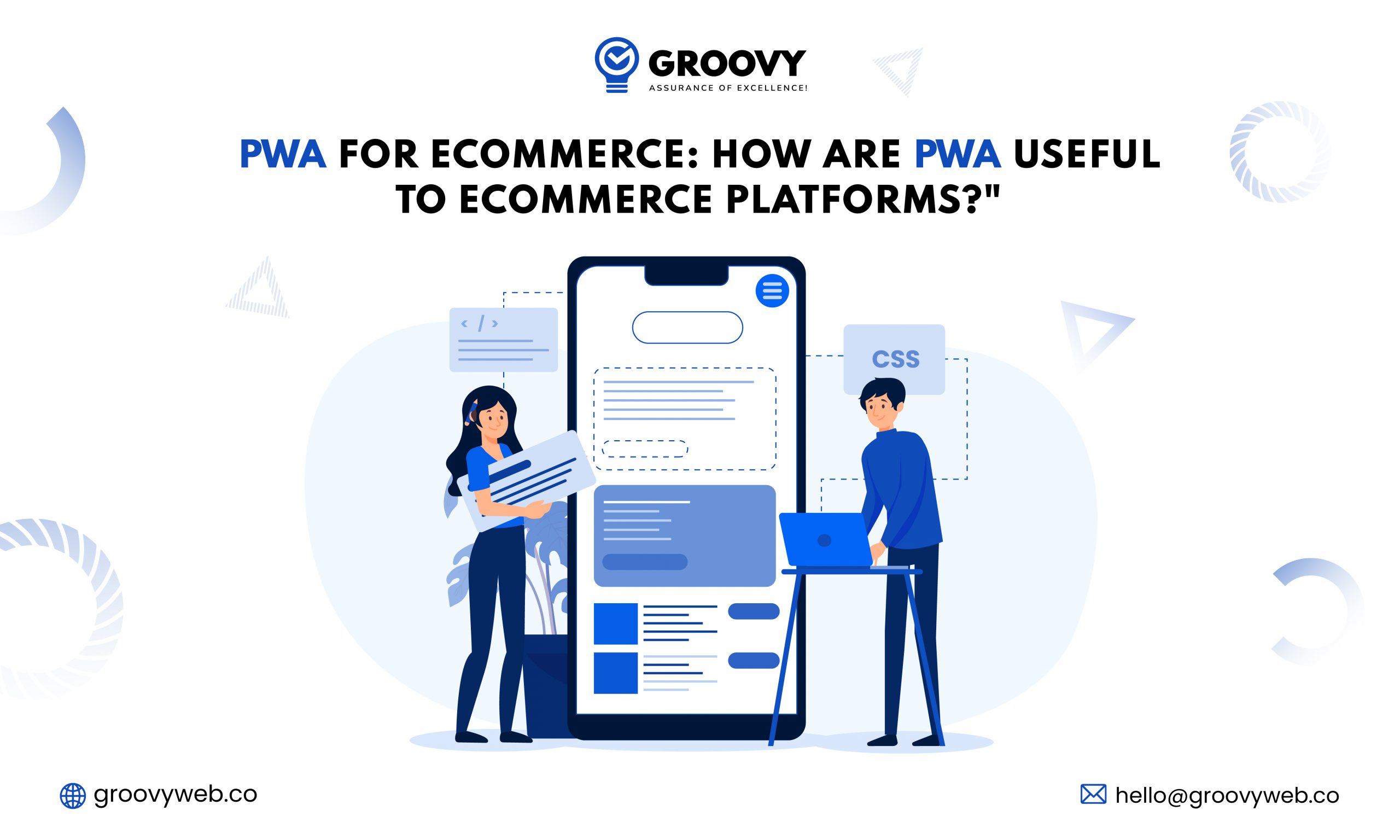 Quick Summary : Trending eCommerce businesses moving towards pwa. How much worthy pwa for eCommerce platforms? many eCommerce business types such as B2B, B2C, and C2C all are supportive, reponsive and quick loading. Here in this article we are going to discuss about the benefits of PWA for eCommrece
---
The Progressive Web App (PWA) initiative employs industry-standard technologies to provide users with an app-like experience even when they have a spotty Internet connection. To create a PWA, developers use JavaScript, CSS, and HTML. Everything about them is the same as conventional web pages, including their appearance and functionality, which means they are searchable in internet browsers. But they also have the same features as mobile apps, like being quick, working offline, sending push notifications, and using the device's features.
What is PWA?
Progressive Web Applications, or PWAs, are a type of web application that can work as both a mobile app and a web page on any device. It's a great way to fix your online store's bad mobile experience and low conversion rates. Progressive web apps allow most of the features native mobile apps offer to access through a mobile browser (PWAs). This will help make it harder to tell the difference between apps and the mobile web.
To build a progressive web application, experts use technologies based on standards and work inside a Container that is safe and available to everyone who uses the Internet. They can work even when there is no internet connection, and you can get to them from the home screen just like you would a mobile app from an app store.
PWAs might also use application programming interfaces (APIs) and browser plugins to make deploying and managing websites as easy as possible. Progressive web apps get another benefit from traditional websites: they can use URIs to find out their state (PWAs). A progressive web app's user interface should have the right size and shape for the device's shape and screen size. In addition, it should look like a native application and be built with the application shell concept in mind.
The progressive web app should only need to refresh the page occasionally and should work fine even when it's not connected to the Internet or when the connection is slow. Also, the app should be updated regularly with new content. Because network queries can be spied on, the application must be hosted over HTTPS to protect against man-in-the-middle attacks (MiTM).
What is an eCommerce Web Application?
An eCommerce web application is a solution that is becoming a primary step for any business to make shopping easy and effective for all the users. Therefore, it is rather recommended that you take sufficient time to elect a solution providing maximum functionality, flexibility and power while staying under your budget.
The eCommerce world is evolving rapidly. Today, it is difficult to imagine a life without eCommerce, where you can shop anytime, anywhere. Shopping through these eCommerce sites is as easy as walking in the park. People visit their preferred online store through their website or mobile application, and they create a wish list and make the final purchase.
While shopping in the mobile app is relatively easy, people are still comfortable buying from web applications. It may be because you feel dissatisfied or unsure of the product details on your mobile phone. The general public will have an ideal list with details on desktop-based eCommerce web applications with Internet service enabled.
Therefore, it is essential to keep your eCommerce website well-designed and optimized for a better user experience. In order to stay competitive in eCommerce, you need to make your website more alive by modifying the eCommerce trend and the latest product promotion.
Types of eCommerce Applications:
B2B (Business to Business)
Procurement of goods and services between the two companies is the focus of B2B eCommerce platforms, resulting in the products being offered in such a way that they can be used as raw materials in other businesses. These types of applications include those that offer auto parts, machine components and other similar items.
Business-to-Consumer (B2C)
It covers most of the mobile apps these days. It connects companies that sell products or services to a single customer. Here consumers are directly managed. PIU, a taxi booking app, is one example of these apps.
C2C (Community to Community) or (Consumer to Consumer)
The transaction takes place between two or more consumers. Apps that allow auctions are the best examples of such interactions.
C2B (Consumer to Business)
Although there are few applications, the C2B ecommerce system allows designers, content writers and experts in various industries. Many can sell their creations to businesses. If you have great mobile app ideas, do not hesitate to put those ideas to use.
Marketing Makes your eCommerce Web Application More Successful
Marketing is one of the keys to success in the eCommerce era. Just use the following tips to gain popularity in the ecommerce market.
Content is King
There are many online stores that need to have accurate information about their products. In such a case, Customers tend to move to other websites. It is imperative to write appropriate content that can accurately inform or point out product details.
Social media promotion is a great way to attract your target customers. You should share your list on social media before publishing it on the website. You can put customer feedback on websites like Facebook, Twitter, etc. That might lead a lot of people from social media to come to your e-Shop.
Boost your SEO
An eCommerce website can be leveraged if the site owner signs up for an SEO program. You need SEO best practices to increase traffic to your site. Title tags, Meta descriptions, and alt tags should be appropriate in case you are thinking about the ideal SEO for your eCommerce website. Your business needs to be optimized on social media. Links to your product on social media pages should properly redirect to the original product URL, and the product content should have the appropriate details.
Bring Your Customers Back
The right application and constant connectivity are the techniques you need to implement to bring your customers back to your site. Customers feel happy while they shop from eCommerce sites and create stories afterwards. It is important to get them connected to you through great deals and discounts. Customers publish their opinions, comments, stories, item quality and faster management on social media, which brings a lot of traffic to your website.
The Main Reasons for Having an eCommerce Platform:
Work 24 hours a day
With an eCommerce website or web application, you won't have to worry about opening and closing times. Every entrepreneur should have a key objective in establishing something that customers can use at their convenience without intervention. Potential customers from different time zones should shop whenever they want. It improves accessibility and increases sales.
It helps startups go global
More customers visit, buy and even refer others to visit your website. A broader range of marketing and customer reach has been enhanced through eCommerce websites As long as you have a quality product. Your store will grow quickly as the Internet alone is a great tool for global marketing.
It provides advanced marketing opportunities
With online sales, Marketers can easily make waves about their products by incorporating SEO keywords and other marketing tactics, such as web copy that showcases a stunning list of brands which will increase sales. Marketers can quickly build brand awareness for new potential customers.
They are safe in complex transactions:
With the rise of eCommerce and online sales, there is a higher security threat. This makes it necessary to focus on security when dealing with online transactions. Make sure all important customer details are safe. eCommerce websites have SSL certificates that help protect data from malicious access by hackers.
Why eCommerce Application?
Most small businesses need an eCommerce website for a variety of reasons. An online store may need an eCommerce website if:
To use the internet to sell rather than setting up a physical storefront.
There need to be more resources, time, and funds for running a physical storefront.
Increased desire for technology to handle all sales activities such as inventory, shipping, and payment details.
Keeping a record of the customer's purchase history is essential in making recommendations based on previous purchases.
How is PWA Useful to eCommerce platforms?
Any eCommerce business that wants to do well needs to get high-performance levels. Customers will probably go to a competitor's site if they need help finding yours or if it takes too long to load. This could be done with the help of Progressive Web App eCommerce. PWA is the best choice for businesses that want to improve their CX, UX, and SEO rankings because they are fast, reliable, and interesting. Every website, not just new online stores, should consider making their services available as PWA eCommerce.
Most eCommerce sites still need to start using this new technology, so you have a unique chance to set your business apart from the rest. Businesses must give their customers the best online shopping experience possible by making their websites easy to use on desktop and mobile devices. Today, 60% of all internet traffic comes from smartphones, so it's more important than ever to give mobile customers a great experience. Mobile visits now outnumber desktop visits.
The rate of conversion on mobile is only 16% right now. A lot could be done better, but PWA for eCommerce is a simple way to fix it. All of these "attributes"—safety, speed, engagement, and sharing—have to do with how we use the Internet and how we feel about it. But the first three things we listed at the beginning of this section can be used to describe what a Progressive Web App is.
Traditional marketing methods like sending emails are much less effective than other methods because it takes time to get someone's attention. Push notifications are very helpful because they appear on customers' mobile devices. Because of this, you won't have to get people's email addresses before you can talk to them.
About 96% of people who use the Internet do so without giving their email addresses or other contact information on websites and without making accounts. This is a big blind spot that every company wants to turn into a good sweet spot so they can make the most money. Build a progressive web application mix of a regular website and a native mobile app.
Progressive Web Apps can be downloaded and put on the user's home screen, making them easy to use. Since an eCommerce PWA is based on the web, search engines can find everything. Google and Bing can link together all of the content found in a PWA, which makes it easier to share and rank. On the other hand, search engine robots don't index native applications because they aren't web pages.
Customers can now get the newest digital items on any device anytime. You can improve your site's SEO rating by ensuring it loads quickly, has a low bounce rate, doesn't use much data, and gives people a lot to do. It seems likely that search engine results will improve if more people use an eCommerce PWA. If the job is done right, this is exactly what will happen. Google will give more weight to PWAs that are well-made than other normal websites.
Source: https://smallbiztrends.com/2014/07/online-traffic-report-mobile.html
Benefits of Progressive web apps for eCommerce:
The progressive web application is the best way to get phone sales because it has many benefits. If you run a small business, the cost of a native app might be too much for you. PWA is the best choice for you right now. About $5,000 is needed for development (for a custom PWA). You can already tell that a PWA will save you money. Also, PWA will save you up to 33% on costs by letting you avoid application platforms, such as those for application maintenance and upgrades. One of the benefits of progressive web apps for eCommerce that can't be argued with is this!
The development period is short
PWA has two clear advantages: it gets to market faster and takes less time to develop. A native app would have taken three times as long as this one. Specifically, a PWA could be done in one month if the developer uses a theme already made. When starting from scratch, however, development takes between two and three months at most (depending on the complexity of the PWA).
PWA's programming language is easier to make than that of iOS and android, this is a very useful feature. Also, programmers can make all apps for each operating system. In PWAs, push notifications work in the background, just like they do in regular apps. Service Workers, which run in the background of web browsers, are used to doing this work. Even if your internet connection could be more stable, push notifications may still be useful. When it can connect to the network, the PWA will get information from the server. This cached data will be downloaded when the network is back up, so these alerts will work even when the device is offline.
Push notification
Push notifications are a key part of how well companies' marketing campaigns work. Compared to traditional methods like email, they get many more people involved. Several companies' conversion rates went up noticeably because of it. Perform like a native app. Other important benefits of progressive web apps are their interfaces and functions similar to those of apps.
Because it is designed to work like a native app, PWA gives users the full-screen experience of a traditional app's look, feel, and functionality. Even the most-used features can be shown in an easy-to-understand way. PWA could give customers step-by-step instructions that cover everything they need to know as they buy something. Also, it can cut out parts that aren't needed, which other sites can't do. Customers feel safer and more secure when they use an app than when they visit a website.
Speed
Speed is one of the most important factors in whether or not users will stay on your app. Studies have shown that 53% of users will leave a website or in-app purchase if it takes more than three seconds to load, but this is fine for PWAs. Compared to a normal website, it could make a big difference in how long it takes for a page to load. When paired with other PWA app development cost benefits, fast loading times will be a very important way to boost sales. Beezer thinks that the rate of people leaving the PWA is 20% lower than that of the native app.
List of eCommerce Platforms:
In the ecommerce platform, Shopify is the most popular in the world. The platform is versatile and can handle almost any type of business, both B2B and B2C, online and offline, from side stores to large corporations. Shopify claims to be an all-in-one commerce platform, which it is not.
Wix is ​​one of the easiest-to-use eCommerce platforms by providing a simple alternative to create a full-featured website with serverless processing and hassle-free encryption. This platform gives you the freedom to create your own personalized website. You can choose a template and customize whatever you want to appear in your store. It will offer a mobile-optimized version of your store and get benefit both you and your customers.
BigCommerce is known as the world's leading open SaaS ecommerce platform. The platform is known for its low total cost of ownership and highly flexible API. If you like the hassle-free nature of SaaS but still want the customizability and flexibility of an open-source platform, BigCommerce is what you need.
Magento is the most used ecommerce platforms in the world. Although it is known for being incredibly complex, this platform has so many benefits that it deserves to be one of the best ecommerce platforms out there. Additionally, the release of Magento 2 has taken the platform to a higher level.
WooCommerce is a free WordPress plugin that allows merchants to transform their WordPress site into an online store freely. It also offers additional paid features and integration options to streamline shopping cart functionality. This open-source platform is an ideal solution for small brands with WordPress or custom responsive web app development resources, as it is easily customizable.
PrestaShop is an open source eCommerce solution that is powerful and innovative and offers all the features you need to build an online store and grow your business. PrestaShop opens eCommerce doors to over 300,000 merchants worldwide. This platform is free to access and download. You can create your website with PrestaShop professional-looking themes. There is no limit to your creativity and website design ideas.
Squarespace is an easy-to-use and friendly platform. It empowers users without any coding background to create beautiful websites. This all-in-one platform will give you everything you need to run and grow your business website. They offer a wide range of features and tools for building an eCommerce website and offer hosting in all their available packages. Squarespace is known for its award-winning design, which has made it a world leader in web design for designers. You can use seamless templates and easy-to-use drag-and-drop tools to design your website to your personal style.
Pixpa is an all-in-one website builder with easy-to-use eCommerce tools. It is specially designed for the needs of business owners to sell digital products, services or content and grow their online business. Pixpa can help you build, maintain, and manage a comprehensive and professional eCommerce website without even touching a single line of code.
Volusion has been in the industry for nearly two decades. It's an all-in-one eCommerce solution that lets you easily create, manage, and grow your online store. This platform empowers users to create an online store with many useful features and easy-to-use functionalities. You can create your own personalized online store with expertly designed themes. All functions will help you create a website with a great shopping experience for your customers.
3DCart is powerful and secure eCommerce software which serves more than 22,000 online businesses in 20 years of service. The company is dedicated to helping online merchants build online stores that rank higher and sell more. 3Dcart has over 200 built-in features, 50 free themes, SEO options, and support for over 100 payment processors. The platform has easy-to-use features, Mobile-ready themes, the latest SEO standards, and eCommerce marketing tools to make your store convert higher and increase conversion rates.
List PWA eCommerce examples:
Jumia
When it comes to eCommerce websites in Africa, Jumia is the first market that comes to mind. Jumia's audience visits the platform via a 2G internet connection. As you might guess, the quality is far from perfect. In addition, the vast majority of customers with low-end phones experience data limitations.
These obstacles have forced Jumia to find solutions that provide a seamless user experience for shoppers who decided to upgrade the website to PWA eCommerce. Jumia's progressive web application became instantly popular because it uses fewer data compared to built-in apps; visitors spend more time on the platform. As a result, the bounce rate is greatly reduced.
Flipkart:
Flipkart is the leading eCommerce platform in India. It has taken a dominant position in selling clothing. Additionally, the online marketplace has needed help from Amazon in terms of offering customers electronics and mobile phones. Flipkart PWA was an immediate success. Push notifications help consumers get relevant and timely updates from their favourite stores, and it works in offline mode.
AliExpress:
It is one of the global online retail companies launched in China in 2010. It has gained immense popularity in countries such as Russia, Brazil and the United States. Due to the independence of the seller who offers the goods directly to the buyer, this platform is often compared to eBay. The company noticed that its mobile commerce platform was growing faster than eCommerce and decided to create a solution that met the needs of both web and mobile customers. It helps companies improve their mobile device status, Improve visitor engagement and increase the conversion rate.
OLX:
OLX is the best global online marketplace headquartered in Amsterdam that operates in 45 countries. The website was initially created as an alternative to Craigslist for the world outside the US. In 2014, South African media group Naspers acquired 95% of OLX. OLX receives most of the traffic (90% more specific) from mobile devices. These numbers are constantly growing. The main traffic sources are native apps and mobile websites. The app brings the most conversions, while the slow speed of the website increases the bounce rate.
Alibaba:
Alibaba is a global wholesale platform. It serves millions of buyers and sellers in more than 200 countries. Most users discover Alibaba through the mobile web, so a well-designed and functional mobile web experience is a top priority. The company went beyond the mobile web presence and launched a built-in app. However, the director of Alibaba's mobile team realized that customers might want to wait to download the app to make necessary purchases or make transactions. They will more actively perform these tasks from mobile browsers extentions.
Conclusion:
PWA for eCommerce helps you create a more user-friendly site by allowing your customers to access information regardless of their location or device. eCommerce and PWAs combine the best features of native mobile apps with the convenience and accessibility of the web. They are basically responsive websites that are optimized for performance and user experience. This makes it ideal for businesses that want to deliver a fast, reliable and engaging online experience to their customers.
If you are looking for the best services and want to have the most reasonable PWA app development service, you should prefer Groovy Web. They are the expert in the industry having a 100% customer satisfaction rate.
---
Written by: Nauman Pathan
Nauman Pathan is a Project Manager at Groovy Web - a top mobile & web app development company. He is actively growing, learning new things, and adapting to new roles and responsibilities at every step. Aside from being a web app developer, he is highly admired for his project management skills by his clients.
---
Frequently Asked Questions
We hope these clear your doubts, but if you still have any questions, then feel free to write us on hello@groovyweb.co
---
Sign up for the free Newsletter
For exclusive strategies not found on the blog