Kartik Bhaviyash
May 20, 2022 307 Views
2 mins read
Last Updated May 20, 2022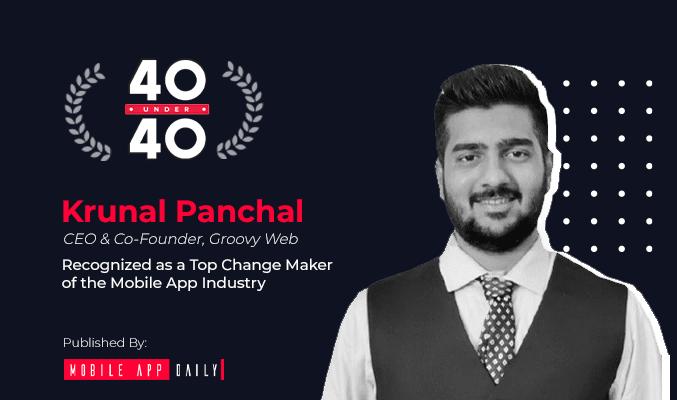 Quick Summary : MobileAppDaily nominates Krunal Panchal, CEO, and Co-founder of Groovy Web in its 40 Under 40 mobile app technology leaders report
---
MobileAppDaily nominates Krunal Panchal, CEO, and Co-founder of Groovy Web in its 40 Under 40 mobile app technology leaders report
Groovy Web is delighted to announce the nomination of the CEO and Co-founder of the company, Krunal Panchal in MobileAppDaily's 40 Under 40 Mobile App Technology Leaders Report.
Groovy Web was founded in 2015 and within a short period of time, the organization has climbed many stairs of success under the leadership of Krunal. Groovy Web has worked with more than 250 clients on over 500 projects and its quality achievements are displayed through happy reviews left by clients.
Krunal has been the driving force behind the growth of Groovy Web. Additionally, his expertise in React Native, MVP, SaaS, Android, and iOS among other technologies has contributed to building an extensive employee network inside the company with people of the right skills. Under the guidance of Krunal, Groovy Web works with a mission of helping enterprises of all sizes in achieving new heights of growth, expanding their outreach, scaling the quality of services, and more.
Krunal's nomination in MobileAppDaily's 40 Under 40 Mobile App Technology Leaders Report is a symbol displaying the fact that Groovy Web is on the right track.
How Krunal Panchal was selected for MobileAppDaily's 40 under 40 Report?
MobileAppDaily is a leading tech platform for app developers, app development companies, entrepreneurs, business owners, and tech enthusiasts. The organization publishes well-researched reports, blogs, company reviews, and app reviews. On the website, you can read about app technologies like Android and iOS, Internet of Things (IoT), Blockchain, AI, AR/VR, and more.
Recently, a new edition of MobileAppDaily's Top 40 Under 40 Mobile App Technology Leaders Report was published. The report featured many leaders, including CEOs, founders, co-founders, managers, and directors who are less than 40 years old.
Being nominated as one of these 40 leaders in this report has helped Krunal in sharing his achievements with a much larger audience. In parallel, Groovy Web has also received a chance to show its journey of hard work throughout the years.
Lastly, Groovy Web appreciates the efforts of MobileAppDaily to explore more about the organization and list Krunal in the Top 40 Under 40 Mobile App Technology Leaders Report.
---
Written by: Kartik Bhaviyash
I am a highly driven Business Development professional with 5 years of experience in strategic lead generation, sales presentations, effective collaborations, strategic planning, team management, and a little bit of creative marketing. In a nutshell, I look around to find out people from different industries who are willing to transform their ideas into a feature-rich revenue-generating product and I convince them to come to Groovy Web by introducing experts with amazing skills and immaculate experience.
---
Sign up for the free Newsletter
For exclusive strategies not found on the blog