How to Build an App Like Airbnb? Top 10 Apps Like Airbnb for Holidays
How to Build an App Like Airbnb? Top 10 Apps Like Airbnb for Holidays
Rahul Motwani
December 19, 2022 138 Views
13 mins read
Last Updated December 19, 2022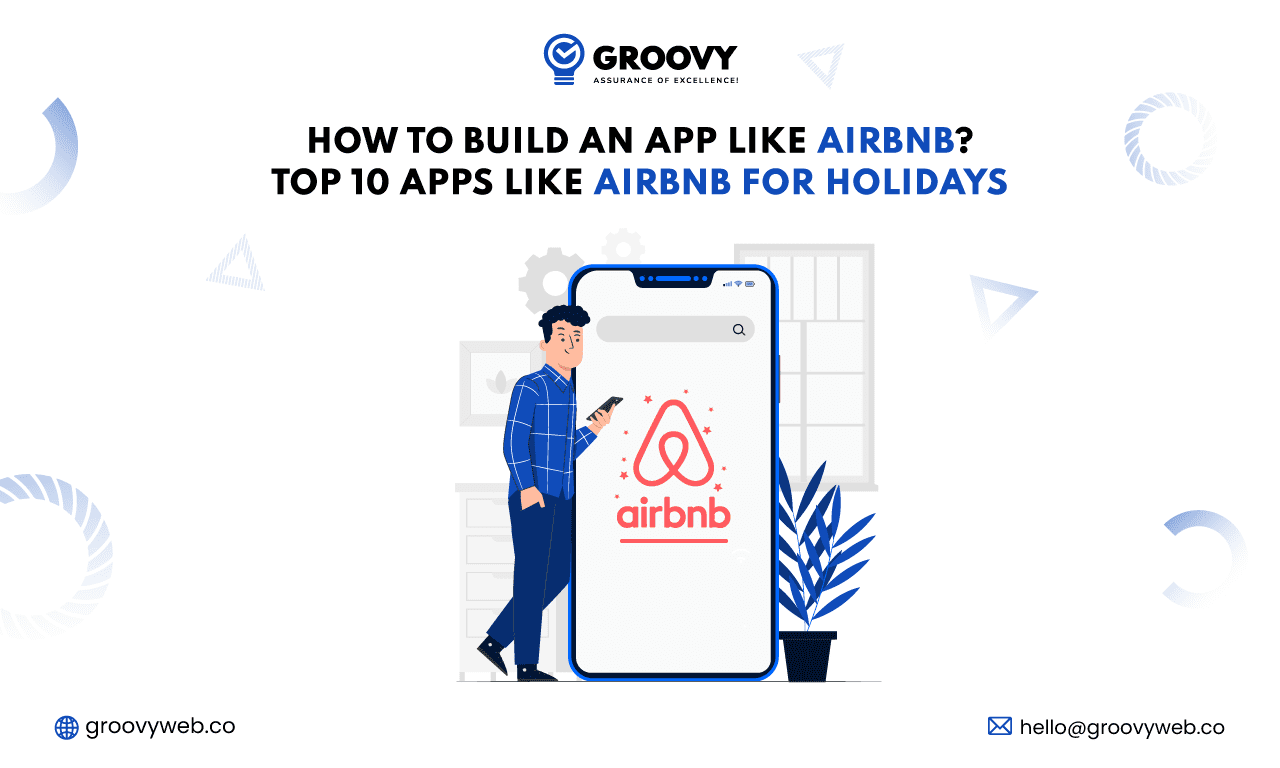 Quick Summary : Build an online marketplace for holiday booking app like airbnb, here in this article you can find the features of airbnb, development cost of app like airbnb and the complete guide to build an app like airbnb. Read the content till the end.
---
Airbnb is an online marketplace that connects people looking to rent a home with people looking to stay in a specific area. Airbnb provides people with a simple, stress-free way to monetize their property. This global private home company provides an online marketplace platform for services. This platform is available through the official website and the app. You can also build own android app like Airbnb.
How Does Airbnb Work?
The main Airbnb process consists of five steps:
Step 1: Host qualifications are listed on Airbnb's website alongside essential amenities, including meals, WiFi, number of bedrooms, and more.
Step 2: The platform sends the photographer to the uploaded location on the website responsible for taking high-resolution photographs.
Step 3: The website is scrolled by travellers choosing the property they want to live in. They choose the date, Number of days of stay and the number of guests before payment.
Step 4: Once the stay is approved by the host, the payment is processed and includes a few additional fees.
Step 5: At the end of the stay, the platform pays the host after the commission is deducted.
Features for Airbnb Customers/Guests:
Brief history:
Tenants can register on the platform by choosing a social login or adding an email address. If they choose the latter, they will be asked to add their first and last name, password, and date of birth and agree to the terms and conditions.
Property list:
Once they have created a profile, they can browse the app and see what features are available. They can filter results by adding property types, Amenities, price ranges, and more.
Communication request:
This Airbnb app feature allows tenants to contact hosts and discuss their needs and requirements. They can also offer an ai chatbot for free if they have questions about the feature.
Payment:
The Airbnb app has a built-in payment gateway that allows tenants to book and pay for their accommodation through the app themselves. A partial fee must be paid at the time of booking, and pay the remaining balance before check-in.
Manage and view bookings:
Tenants can view and manage all previous and current bookings from one place. You can see details such as date, duration of stay, etc.
Ratings and suggestions:
When the tenant completes the stay, they can provide feedback to hosts for their service and hospitality. They can also rate rental homes and make recommendations if needed.
Features for Airbnb Hosts:
Add property:
Hosts can list their property on the platform and add images, prices and other details they want to inform customers. This feature is free.
Property list update:
Once their accommodation is ready on the platform, Hosts can update their listings as needed. They can change the name, description, calendar, and price. However, these changes will only apply to new bookings.
Set up the calendar:
This Airbnb app feature ensures that hosts only receive booking requests from tenants when space is available. So you can set up a calendar and specify details such as how long you can reserve in advance.
Transaction history and reservations:
Hosts can view all transactions and bookings they have up to date. This includes past, present and upcoming.
Communication request:
Hosts can contact potential guests and ask more about their needs and requirements, such as travel itineraries and if additional inclusions are needed.
Rental App Features:
Same-day booking:
Those days are gone when people used to book their stay months in advance. Be quick and look for last-minute accommodation. Adding this Airbnb feature to your hosting app which means that you allow tenants to book and stay in the home on the same day, so you can include search filters for same-day bookings in your application which tenants can choose to customize their housing rental options.
Save for later:
There are times when tenants like certain rental homes or find properties on the app that they want to live in. They can save their selected homestays in the app and come back to them whenever they want. So it's a great feature to include in your home rental app.
One-click invite:
Planning a trip with friends will be more fun with this feature. Users of your app don't have to constantly switch between apps to discuss the best options for homestays. All they have to do is select the one-click invite feature, and their friends and family can view the apartment together. This feature simplifies the entire planning process, and every guest will be able to choose the option that meets everyone's needs.
Real-time alerts and notifications:
Adding Airbnb app features such as real-time notifications and push notifications to your application will keep users informed at all times. Both hosts and guests can view confirmations, booking details and other important updates from their own notification panel. This feature is also useful for promotions and engagements.
In-app chat feature:
This is one of the most important features of the Airbnb app, allowing both hosts and guests to communicate with each other and resolve their queries. Hosts and guests can also use the in-app chat feature to contact customer support. The ai-chatbot feature is helpful and improves the overall experience.
Tech Stack Requirements:
To create an Airbnb app, you need some tech stacks for the mobile app development lifecycle.
Programming languages: JavaScript, Kotlin or Swift.
Front-end frameworks: Angular, React.js, Express.js.
Backend technology or framework: Ruby on Rails, Django, Node.js, Meteor.js.
The server-side technologies: AWS, Azure, OpenStack, DigitalOcean, Google Cloud.
Network-level caching services: Nginx, Redis.
Required databases: MySQL, MSSQL, MongoDB, Azure DocumentDB, Cassandra, PostgreSQL.
Steps on How to Make an App like Airbnb:
There are several important steps you need to follow to make your project successful and profitable to build own android app.
Step 1: Create a Business Plan; it is not enough to come up with ideas. You need to consider a software startup business plan to stay on track and stay organized.
Step 2: Find a Developer to create an Airbnb clone app; you need to collaborate with an experienced development team. There are two popular formats these days — in-house or external developers.
Step 3: Create a User-Friendly Design for the development. The Airbnb app's interface is simple and easy to use. Users tend to abandon apps with poor design. So, take care of the UI/UX design in advance.
Step 4: Integrate features; it is common to build an app like Airbnb with some basic features. Creating an MVP helps get user feedback and understand their needs. After that, you can add advanced features to make the app. Your slope is unique.
Step 5: Test the app; before launching, applications should be carefully tested to eliminate bugs and provide a great user experience.
Step 6: Finally, you can release the app and update it regularly. It is necessary to maintain the app regularly and offer its users exciting new features.
Cost to Develop App like Airbnb
There are a few factors that affect the total cost to develop mobile app. You can choose from a variety of Airbnb app templates for crafting. This will likely cost Airbnb app development as well. Here are the main points that may affect the cost of app line Airbnb:
Development team size: If you are passionate enough to be part of the project manager and closely supervise the entire process. You can keep your team short and interesting, except for developers and designers. You will need a project manager, an administrator, and a few internal managers.
A number of platforms: Multiple screens to customize the app should be considered in advance based on your target audience location. It requires a device environment and stuff in the mobile app development lifecycle. FYI – Android app development takes about 20 to 30% more time than iOS (iPhone).
The technical complexity of the features you decide what elements you need in your mobile application. Therefore, it is graded from easy to medium and high complexity. Note that most prices are determined by the amount of time the developer takes to complete each part.
Design: If you want to use unique images and tools for designing the Airbnb app instead of the standard design. The cost to develop mobile app is about to change as well.
Complexity: It is your decision about which features you want to use within your app. So rate these features from easy to medium to high complexity. How long does it take developers to implement these features now? It affects the cost of the app.
Therefore, in a rough estimate, the cost to develop mobile app an Airbnb-like app should be approximate. $25,000-$30000. When building a single platform with basic features, however, choosing both the iOS and Android platforms with advanced functionality will double the direct costs and may cost up to $50000-$60000.
Top 10 Apps Like Airbnb to Book Holidays
1. Vrbo
First on the list of Airbnb alternatives is Vrbo (UK version here). While they may not be as well known as Airbnb, these folks have over a million assets in their books and are operating.
Vrbo models are a bit different as they only host vacation rentals. This means it's not a hosted experience and is generally best for families or groups of four or more looking for a slightly longer stay. Although there are many accommodations that are definitely suitable for couples, Vrbo originally did not charge guests a service/reservation fee by passing it on to the host instead. But they changed in 2016, adding booking fees to bookings.
2. Booking.com
Booking.com was founded in the year 1996, and it is one of the leading digital travel companies. It has more than 28 million listings and serves hotels and homes in 120,000 destinations around the world. Unlike similar apps like Airbnb, which only offer vacation rentals, Booking.com offers a wide range of services.
Users can book stays, flights, car rentals, attractions in the city and airport taxis. So whether you are looking for a place to stay with the right services or the comfort of a vacation rental, Booking.com has you covered. Like other Airbnb alternatives, their portal allows you to.
3. HomeAway
HomeAway is the parent company of VRBO and a few other VR providers which are completely similar to VRBO, like Airbnb and VRBO. HomeAway has apartments, villas, boats and many other living spaces. Like VRBO, HomeAway offers a completely private living space and is perfect for a romantic getaway. HomeAway prices are quite similar to VRBO and also a hassle-free direct booking option.
4. Flipkey
Flipkey has a wide variety of homestays and Airbnb alternatives around the world because their parent company, TripAdvisor, integrates seamlessly with an encyclopedia of real user reviews with a comprehensive data set in every location in the database. You can filter your results by the type of amenities you want.
Although the website offers many options for solo travellers, Flipkey excels at group bookings at popular tourist destinations. Most of their properties are vacation rentals and vacation homes that sleep four, five, six or more people. And you might not get insights from local hosts. But if you are travelling in a large group, that doesn't always matter.
5. HomeStay
The main difference between homestays and most other sites like Airbnb is that you always live with the host. Of course, this has its pros and cons depending on what type of traveller you are. You may feel uncomfortable being with people you don't know in their homes. On the other hand, it can be the most unique and enriching experience you've had on your travels.
The purpose of homestays is to provide tourists with a true local lifestyle experience, living with the people who call you home at your destination. You will have a completely different experience. It is one of the leading online hotels booking app.
6. Onefinestay
As its name suggests, Onefinestay offers the best homes and villas in the most dreamy destinations. Their spaces are divided into two categories – City Collection and Villa Collection. Additionally, they are known for their one-of-a-kind service to guests, homeowners and travel partners around the world.
It has great facilities, from swimming pools to private beaches, Fitness and game room or the landscaped gardens in the villa collection. Plus, the best part about the platform is that it offers a 2-day cancellation period for select homes. So whether you want to experience the best of city life or go on a dream vacation, Onefinestay could be your best bet.
7. VillasDirect
Next on the list of online hotels booking app is VILLASdirect, a great site to rent vacation properties. It is professional and safe. You can get unique listings on VILLASdirect. This site offers you some interesting options as it was not part of the merger. One great feature of VILLASdirect is that you don't have to pay a booking fee. This makes it one of the best Airbnb apps out there. The properties rented on this website are managed by companies instead of a person to guarantee quality.
For property owners, the registration process is not available. Property owners can register their assets with the help of a middleman, i.e. a management company.
8. Outdoorsy
Take to the streets and explore the outdoors by renting an RV or motorhome with Outdoorsy if a cruise along the California coast or a cross-country drive on Route 66 sounds like an ideal vacation. Outdoorsy is the Airbnb of the motorhome world with over 14 million RV rental options, modern camp and luxury Winnebagos designed for all types of travel.
Like Airbnb, each listing has a built-in review system. So you can see what previous drivers had to say about the rental. Outdoorsy is not only a great alternative to Airbnb, but it is also a great alternative to staying in a traditional apartment or hotel.
9. Couchsurfing
Couchsurfing is an app that gives you exactly what you are thinking: meet locals to be with them in their place. However, the idea isn't as dangerous as you might think. This app helps you match with locals looking to host, make new friends, and show travellers how great their city is. The expectation is that you thank your host in some way, possibly by taking them out to dinner or a drink. You can also get authentication in the app. This ensures that you are with legitimate people who want to show you a good time.
10. OYO Rooms
You may be familiar with OYO Rooms. This site initially only rented hotel rooms. However, today the app also offers private rooms with a range of assets. No wonder users consider OYO one of the best online hotel booking app.
Conclusion
Best of all, the UI design is attractive and easy to use. Through this app, you can find a list of affordable rooms and features in the area you are visiting. In addition to renting a room, the accommodation is also free. OYO is available in almost every city around the world. This is why this platform is suitable for all types of travellers. Whether you are going alone or having fun with a group of friends, try this app.
---
Written by: Rahul Motwani
Rahul Motwani is an experienced Project Manager with a demonstrated history of working in the information technology and services industry. He started his career as a Backend developer and currently has his hands-on managing projects at Groovy Web. He is a strong program and project management professional with a Bachelor's degree focused on Computer Application.
---
Frequently Asked Questions
We hope these clear your doubts, but if you still have any questions, then feel free to write us on hello@groovyweb.co
Airbnb is online marketplace for hotel booking to enjoy your holiday without worry about price from all around the world.
Vrbo. As Airbnb's greatest rival with over 2 million listings and vacation rentals in 190 countries and counting, Vrbo is the second most significant website, behind Airbnb, to be familiar with for your vacation rental company. Vacation rentals by owner (Vrbo) is an abbreviation.
Airbnb's Hotspot in Florida, Not only is Florida a favourite place for vacationers eager to escape dismal winters, but it is also home to seven cities with the most Airbnbs per capita. Miami Beach ranks first, with almost 3,400 Airbnb rentals per 50,000 people.
---
Sign up for the free Newsletter
For exclusive strategies not found on the blog