Create WhatsApp Chatbot for Startup [A Quick Guide]
Create WhatsApp Chatbot for Startup [A Quick Guide]
Krunal Panchal
January 17, 2022 307 Views
18 mins read
Last Updated January 17, 2022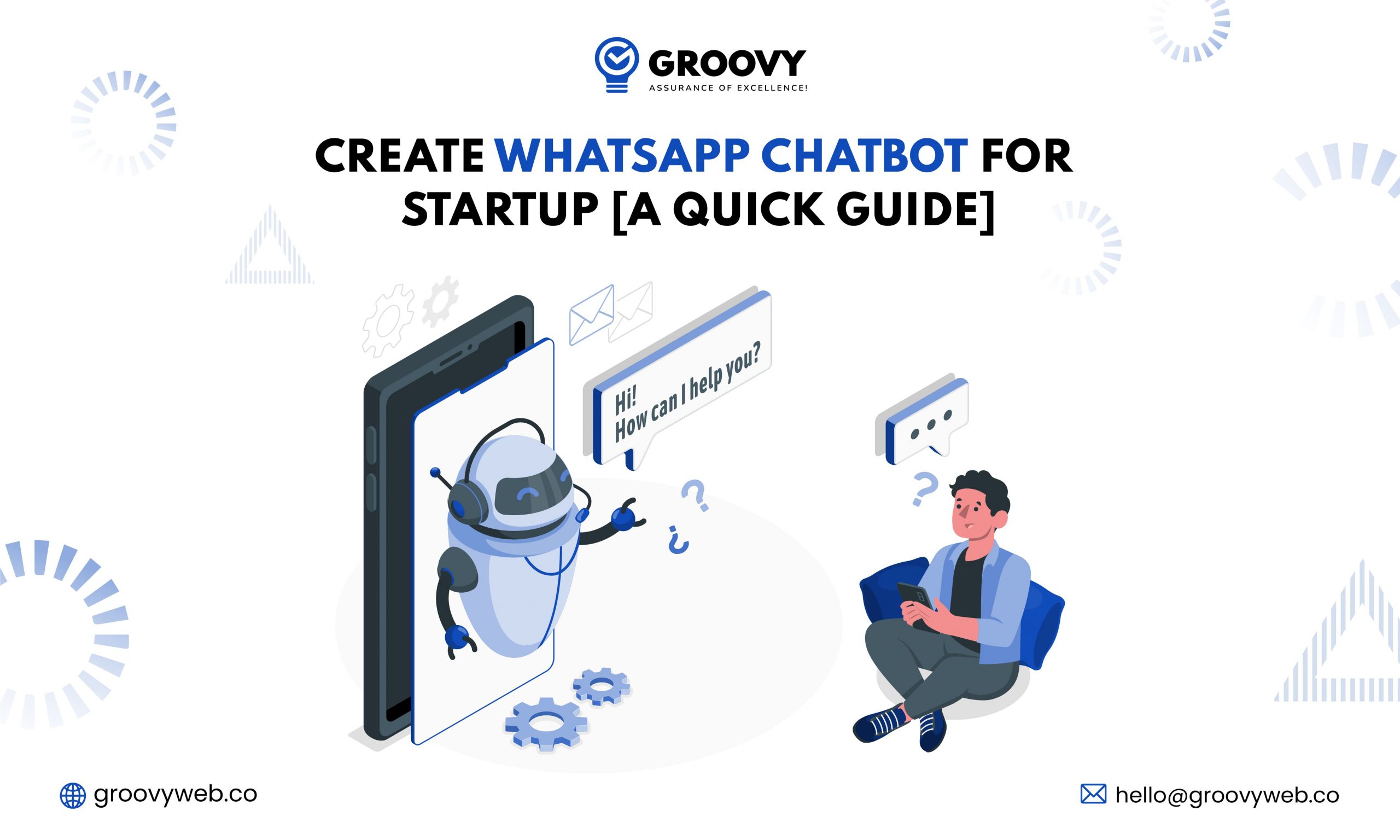 Quick Summary : In this blog, I would like to provide a comprehensive guide to WhatsApp chatbots to assist marketers to re-evaluate their technology investment preferences.
For most businesses, connecting with customers on a messaging platform with more than 2 billion active users is a high-reward and low-risk eCommerce strategy. After its launch of business API, businesses of different sizes can install whatsapp chatbots for their business.
This has caused each size and type of business to utilize WhatsApp as a portion of their conversational business strategy to talk with clients as well as introduce them to their services and products to improve sales.
In contrast, many companies are not familiar with WhatsApp chatbots or continue to build chatbots on other platforms, such as custom mobile apps and websites only.
In this blog, I would like to provide a comprehensive guide to WhatsApp chatbots to assist marketers to re-evaluate their technology investment preferences.
What Is a WhatsApp Chatbot?
WhatsApp chatbot is a computer program that is able to simulate a conversation (or chat) with a user through the WhatsApp messaging platform. Chatbots can be integrated with WhatsApp using WhatsApp Business API, which allows businesses to communicate with customers through the WhatsApp interface.
The chatbot can be programmed to understand and respond to specific keywords or phrases, and can be used to provide automated customer service, answer frequently asked questions, or perform other tasks. Some chatbot use cases are:
Sending automated notifications
Responding to customer inquiries
Helping customers find information or make a purchase
Guiding customers through a process or task
Answering FAQs
Whatsapp chatbot can be triggered by a user's message, or it can be set up to send out messages at specific times or in response to certain events.
What is WhatsApp Business API?
WhatsApp Business API is a programmatic interface that allows businesses to communicate with customers through the WhatsApp messaging platform. The API allows businesses to send and receive messages, including text, images, and other media, as well as to manage customer interactions and automate customer service.
The WhatsApp Business API allows businesses to:
Send automated notifications and messages, such as order confirmations or shipping updates.
Respond to customer inquiries and provide customer support.
Help customers find information or make a purchase.
Guide customers through a process or task.
Send messages to a group of people, such as promotions or updates.
To use the WhatsApp Business API, businesses must first apply for and be approved for a WhatsApp Business Account. Once approved, businesses can then integrate the API with their existing systems and processes, such as customer relationship management (CRM) or e-commerce platforms.
The WhatsApp Business API can be used in combination with the chatbot, it is a powerful tool for customer engagement and automation, allowing businesses to communicate with customers in a quick, convenient, and personal way.
Benefits of WhatsApp Business API
Here are some advantages of WhatsApp business API are going to observe when you will utilize the WhatsApp chatbot:
Instant responses
To respond to every person is very difficult to work because it takes lots of effort as well as time so businesses can automate their answers or responses to their clients with the support of WhatsApp API. These responses are interactive and keep your customer engaged as well as satisfied. You can also create a welcome message for your customers.
You can easily interact with your customer with the support WhatsApp auto-reply feature even at a time of the off-hours or public holidays.
Personalize experiences 
WhatsApp utilizes the variables for private messages. It can fetch the data from your added contacts and put them in places in your message section. WhatsApp also supports more than 10 languages at the current time and with the support of these regional languages, you can acquire a large database of customers and can build trust in them with your services.
Answer FAQs
You can answer all the frequently asked questions of your customers with the support of automated replies. You can also answer the simple queries of customers. Although, in the scenario of sensitive or difficult queries agent support is needed.
WhatsApp replies will trigger only when the keywords will match accurately, organizations can set up to five input messages to trigger an answer.
Seamless agent hand-off for complex queries
You can hire employees or create a team who can work on the queries with the help of WhatsApp CRM which is generally offered to you by the business solution provider.
Customer support representatives can simply solve the complex queries of your customers. For complex queries, you can give the option of connecting with a customer support agent.
Schedule appointments
You can simply automate your scheduling appointments for all leads with WhatsApp API because it can be easily integrated with your calendar.
If any time your sales executive is not available so you can also send an automated message to your client about their timing or at which time, they will be available. WhatsApp API is a time-saving option for both customers as well as workers.
Send payment reminders
If your business or services are based on a subscription-based model, you can easily remind your customers about their dues with the support of WhatsApp API if they forgot about the payment. You can send notifications to your clients about the due payments under the alert update template.
Collect Documents
Users could submit their documents physically or via mail before the WhatsApp era. Now WhatsApp also provides the facility to collect all the important documents and save them for later utilization. This WhatsApp API feature is beneficial for all customers.
Provide post-sale support
Whenever the order will be placed from the customer side so businesses will be able to start their support instantly with the help of WhatsApp API and customer support is the major target of WhatsApp API.
From sending updates related to dispatch as well as delivery all can be done easily on WhatsApp. The chatbot should be 100% accurate because it is essential for the success of businesses. The customer satisfaction rates completely depend upon the interface of your WhatsApp chatbot.
Transform marketing 
WhatsApp APIs can support you in result-oriented marketing. With this support, you can present your brand in front of thousands of customers.
With positive marketing as well as messaging, businesses can get the benefit and attention of a huge customer base. A correct message at the right time can expand your business rapidly.
Powerful and secure conversations
There is no doubt in it that WhatsApp is one of the secure platforms for client interactions because it has end-to-end encryption. This platform has already created trust among the customers, so they have started payment and banking-related operations through WhatsApp.
WhatsApp is also GDPR compliant, in this compliance clients will allow businesses to the message or conversations and only then it is possible to send messages to the companies. This feature will support making conversations between customers and businesses extremely powerful.
Benefits of WhatsApp Chatbot
Following are the advantages that you should know. It helps a lot if you take WhatsApp bot for business.
Get High Availability
WhatsApp is a very trendy messaging app and your clients might already possess the platform on their mobile phones. It allows your customers to get help on this chosen platform of theirs which they use regularly.
WhatsApp chatbot is a prevalent medium for messaging, so many consumers already know the way to use it and are aware of its functioning and layout.
Improves Customer Service
WhatsApp chatbot integration can also be done with your ERP and CRM which assists your businesses with a range of client relationship operations. Send notifications and reminders to customers, present and assist consumers to explore the catalog of business products, provide real-time replies to customer's complaints and queries, give updates on the status of tickets as well as their resolution, and get commentaries and feedback from customers, all by the assistance of a single chatbot.
24/7 Available
You can now communicate with your clients even after your business hours because these amazing chatbots are competent in giving round-the-clock automatic client service.
Chatbots can manage frequently asked questions wisely and businesses never need to always make sure of the accessibility of customer service. This significantly saves your cash which else would have been utilized to hire as well as train staff on customer service. The accessibility of 24-hour customer service causes higher customer satisfaction rates.
Gain from High Engagement
WhatsApp chatbots have a higher response rate. Since Groovy Web is the best AI-based chatbot application development service provider, we can perfectly assure you of this. It boosts engagement with your clients on different levels, with messages being sent backward and forward.
It is a visual and interactive medium that helps engagement with active interaction. Receive quick responses which enable the clients to have two-way communication with your company. Taking back-and-forth responses also implies that clients can get quick resolutions to their questions.
Benefit a lot From Improved Marketing Campaigns as well as Advertising Opportunities
WhatsApp is a prevailing marketing platform that is broadly available to many people. Many companies are already utilizing WhatsApp bot service to give info on new services, promote new arrivals of products, news on forthcoming events, and declaration of discounted offers globally to their customers.
Our company can offer you the option of different formatting styles as well as multimedia enabling through which the professional marketing team can be extra creative in their drives and campaigns. By integrating it with your CRM, your enterprise can analyze client data and provide personalized suggestions on products as well as services that you provide.
Make a Strong Brand Identity through Loyalty and Brand Awareness
This is attainable only when a company gives its chatbot a brand personality. Providing the chatbot with a human identity that is relevant to customers will give an impression and develop loyalty. Only a powerfully built brand identity will do best to enhance your customer engagement and hence accelerate your sales.
Lead Generation
Lead generation is a crucial factor for professional marketers. Quality and effective leads are every marketer's and salesperson's dream. Leads save money and time, facilitating you to concentrate the resources & energies on valuable ventures. With the chatbot in WhatsApp, you get trustworthy data which can become helpful when contacting leads.
This is attained by catering to a limitless number of replies to customers. When your audience and customer have been engaged, the chatbot shoots out related queries. The possible leads can be determined using the info on the type of response and the level of engagement through the customers. The data gathered from the potential leads will allow your dedicated sales team to target sales and hence navigate the leads down the promotion funnel.
Make a Personalized Experience
Such kind of AI-powered WhatsApp chatbots is competent for personalizing communications. By building a richer customer experience you can improve your customer engagement as well as retention. A professional mobile app development company ensures that the bots shoot out responses that resonate with your audience. This is made attainable through customizing the script.
Experience Secure Dealings 
WhatsApp bots are generally containing two-factor authentication, and business verification steps as well as it is also end-to-end encrypted. Just because of these all features can ensure that your client's data and identity are completely protected.
Users can create a custom pin with the support of Two-factor authentication which can be utilized for authenticity purposes while login their wats app account.
WhatsApp bot makes communication secure with the help of end-to-end encryption. In this feature, data will be in encrypted form from the sender's device and it will be decrypted only on the receiver's device, customers will feel confident with this feature and will be able to share sensitive private data.
Make Decisions Related to Sales
Real-time responses can locate products as well as sends customers to direct payment gateways. This feature is making WhatsApp bots the great platform to navigate clients down the sales funnel as well as onto making procurements.
When a client is in a dilemma that is what he is seeking so at the time but can make suggestions for them nearby stores or service centers and also provide a pin location.
Differences between WhatsApp Business vs WhatsApp Business API
| | |
| --- | --- |
| WhatsApp Business | WhatsApp  Business API |
| It is beneficial for small industries and businesses. Generally, it was developed to resolve an untapped requirement in the market. Companies were utilizing WhatsApp for conversation with their clients but the application did not have the appropriate features to do so efficiently. | The WhatsApp Business API is generally suitable for medium and large industries and companies can easily access it via requesting access procedure from WhatsApp or they can also sign up with an API provider. |
| The WhatsApp Business app is a kind of standalone mobile application that can support small businesses that have fewer numbers or small numbers of customer queries. | The WhatsApp Business API is capable to support larger or giant industries because it contains a support team that can handle a higher number of customer queries. |
| In the WhatsApp Business app, you will not be able to come to know which team member is handling the customer queries despite you giving them access as well as it will also not be clear whether customer queries got resolved or not. | In WhatsApp Business API, with the support of the software DelightChat, you can easily track all the WhatsApp chats and you can easily find here which member is assigned to which customer customers query is also transparently visible and you will be able to close the ticker after resolving their issues. |
| In the WhatsApp Business application, you will not be able to share simply your application as well as your phone number with other team workers. Although You can provide access to them via WhatsApp Web, they could get logged out. | In WhatsApp Business API, you can easily share your team inbox with the help of software such as DelightChat. It will make it very simple for your whole team to manage all kinds of client queries. |
| In the WhatsApp Business app, You can set general auto-responded messages like greeting messages for the client when he is approaching you for the first time or away or holiday messages for off business hours. | With WhatsApp API, with the help of DelightChat, you can set an automation rule in this feature if any client sends a message which includes the word "refund", so you will be able to tag that chat as urgent automatically as well as will be able to send a different auto-reply than a regular customer message to your client. |
| You can make as well as receive WhatsApp calls on the Business application. | WhatsApp Business API does not support voice calling. But there is a possibility that it will support very soon because the team is working on this feature. |
| The Business App is completely free and available on the play store or iOS Store. | It is not free and the cost of WhatsApp API depends upon a per-conversation basis. |
WhatsApp Chatbot Solutions for Startups
There around 67% of people depended on Chatbot support for customer care on WhatsApp in the year 2020. Even WHO was also utilizing WhatsApp Chatbot to share major information as well as solutions about Covid-19 worldwide.
Businesses will be able to save around 2.5 billion hours with the support of the WhatsApp chatbot. Businesses can expand their reach with this chatbot, and it will also help to instantly reply to the customer and reduce the cost of support. It also includes the personalized conversational experience, which is generally gaining your consumers in physical stores.
With the support of the WhatsApp chatbot, you can offer your clients a better online experience and generate a huge number of leads by deploying WhatsApp Chatbots.
Why create your own WhatsApp chatbot?
There are a few major points through which you will come to know about the importance of WhatsApp chatbot:
It can boost your sales efforts
If you have a large customer base then the chatbot can support engaging the lead 24/7.
If you have a hectic schedule so at that scenario you will not be able to reply to your customer instantly and it can create a negative impact on your brand chatbot can overcome this kind of issue.
It provides better support to your clients as well as clear queries instantly because it can handle too many queries at a similar time. So overall it saves money for businesses.
You can integrate your chatbots with your available CRMs like Shopify, Hubspot, or Zoho and you can recommend your new products as well as services to the customers.
WhatsApp gaining around 1 million new users daily which is a very huge number.
Right now WhatsApp has around 2 billion active users and its network has reached 180 countries.
According to the survey reports, half a billion WhatsApp users daily use WhatsApp status.
Whatsapp is only the platform that is utilized by all generations in the current world.
Steps to create WhatsApp chatbot in 2023
If your strategy is clear, then chatbot-making will be easy. The development of the WhatsApp chatbot is quite like Facebook Messenger Bot, but it provides more flexibility to its users. Below are some points mentioned through which you will be able to design your chatbot:
Step 1: To design Chatbots for WhatsApp, you first must request WhatsApp Business API. After successfully approving the request, you must select the solution provider. Your company name, website URL, as well as information about the company representative, these all things, is necessary for the application. Once your application has been reviewed and approved, then you can start the utilization of WhatsApp API.
Step 2: You must think about the dialogue conversation that will answer your customer's query. You can go with two kinds of conversation one is directed, and another one is open.
In Directed conversations, customers can ask about the availability of products, appointments, order status, etc. An open conversation allows users to ask questions as well as send messages openly without being directed to a particular task.
Step 3: You can utilize the chatbot creator tool like ChatCompose for making your WhatsApp chatbot. It can save you time because with this support, you don't need to design it from scratch; after that, you can host it in a database. This platform will support you to boost the chatbot experience and can show you the bounce rate, the accuracy of your responses, as well as common sentiment of a conversation.
Step 4: Now, if you have ready your chatbot with the support of the above tool, then in the next procedure, you have to test it. You can test it by answering the queries of your clients, and if you face any error, you can fix it and test it again. You can also utilize this tool to make General Bot that can be shown on different channels.
Step 5: After completing the development of your chatbot and approval of your number, you can install the chatbot on that number. You only need to provide it with a name, icon as well as contact details, and then you can link it with ChatCompose.
Step 6: Now, in the final stage, you have to monitor your chatbot, and you can do it via chatbot conversation. Overall you have to keep the conversation engaging. You have to just aware about it that the WhatsApp chatbot works completely differently compared to Facebook or Web chatbots.
Cost to Build Whatsapp Chatbot
At Groovy Web, our team is familiar with all kinds of chatbots that are currently present in the market, as well as with the also with the advantages they offer. We also have experience with the components needed to design it, and how much time it takes in development, so now, according to our experience, we are going to share the chatbot cost with you.
The cost of chatbot development is around between $25,000 to $30,000. It will completely depend on the development procedure, and this cost contains all the things like the design, development, as well as integration section of the whole chatbot development framework.
The Future of WhatsApp Chatbot
WhatsApp chats are so much flexible, and it simply means that they can be started as well as paused without any loss of communication thread. It also includes the digital element of email with the closeness of a phone call, which provides the great aspects of both worlds.
Communications can simply be revisited as well as select back up as they are connected to client profiles and not logged as general support tickets with the support of WhatsApp integration in CX platforms. As we all know, the popularity of WhatsApp and its users are rapidly growing daily worldwide, so there is great potential for organizations who are targeting to reach wider audiences whilst boosting customer engagement with this service.
For more support, you can contact us via our official website.
---
Written by: Krunal Panchal
Krunal Panchal is the CEO & Co-founder of Groovy Web. Krunal has been a hardcore programmer since he was 11 and started his professional career very young. His technical and logical mind drove him to choose coding as his destiny. At an initial stage, he got essential experience and the spirit of innovation and entrepreneurship. Learning something new is a never-ending process for him. Under his leadership, Groovy Web has become an established organization that serves industries from startups to enterprises, regardless of any limitations.
---
Sign up for the free Newsletter
For exclusive strategies not found on the blog