Which is Better: Low-Code vs Custom App Development?
Which is Better: Low-Code vs Custom App Development?
Rahul Motwani
January 02, 2023 353 Views
14 mins read
Last Updated January 02, 2023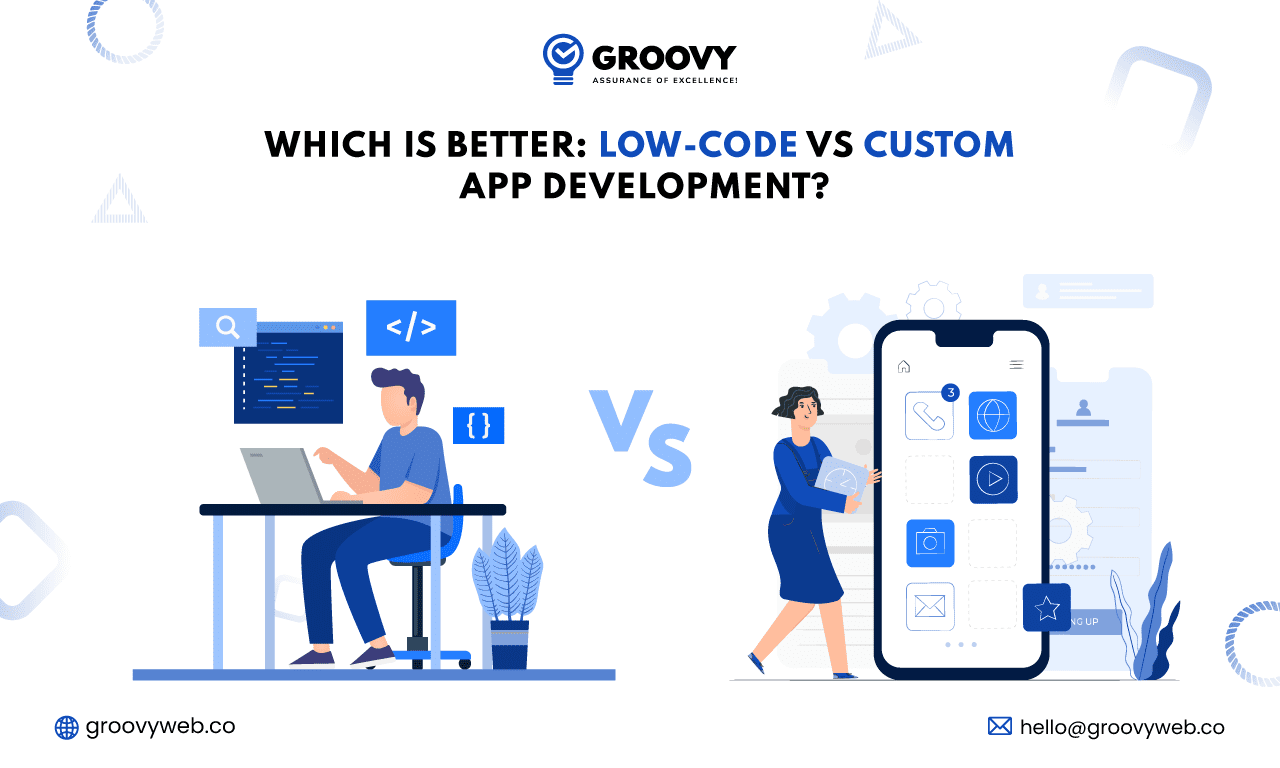 Quick Summary : Does low code worthy for developing mobile application? Here is the guide to develop a mobile application with help of custom code and low code. Which is better between Low-Code vs Custom App Development.
In the modern world, People are always looking for new ways to keep using mobile apps. By 2023 an estimated 6.6 billion people around the world will have a Smartphone. Many companies choose low-code software development because it is fast and easy to use. Another way is to create a custom app. This gives you more design options. But it also requires more technical know-how and custom solutions.
App building is an important part of building a good app and improving ROI dramatically. How do you optimize your web and mobile apps for scalable revenue and more users? In some industries, there are threats to replace mobile app developers because companies love the hands-on approach to design and the swift reversal of the past. But what is the future of app development low-code? It is a limited design process that can't meet specific needs or solve difficult development problems.
Read on for an overview of both low-code and custom-code app development Includes quick comparisons showing when each method works best.
What is the meaning of Low-Code App Development?
The low-code development process makes it easy and fast to build software. It is a streamlined approach to coding that requires half the knowledge and half the time to deliver as a custom solution. It has a drag-and-drop interface that allows businesses to select layouts and features quickly and with little trouble.
The low-code solution is easy to use and doesn't cost much. The hosting company manages the app development process due to its ease of use. This reduces the time it takes to deliver apps and makes it easier for businesses and developers to talk to each other. Low-code platforms are a streamlined way to build products that can be used in both B2B and B2C scenarios.
Low-code platforms also offer a number of benefits to businesses that need efficient app development. Simply put, low-code platforms accelerate your custom software development process. When you start building apps on low-code platforms, you will see that the platform is very easy to use. Any person can use these applications. The functionality of both low-code and no-code development platforms is nearly identical. You can use both to develop custom business apps.
The statistic is inevitable that nearly 70% of organisations believe that low code is cheaper than traditional programming. Low-code usage can save your company $50-$100,000 in app development costs and speed up app development. It only took a few months instead of six.
What Is Custom Software Development?
Custom software development is a back-to-back process where custom coding is used to create unique, custom-made products. For complex, multi-functional mobile apps, High-end commercial software like Uber and Deliveroo require this method of coding. Custom development has more features. Thus, it was able to create a strong, forward-thinking product that defies the status quo.
So that the software development team achieves as many goals as possible, they had to figure out how to code in a complex way. This is because third-party solutions do not limit the entire development process
much. So there is more space for compatibility, scalability and personalization. This increases ROI and general user satisfaction. Most of your traditional development methods use long lines of code and need more time to develop desired apps.
It is divided into five stages: specification analysis, design, implementation, testing and coding and maintenance. Traditional software development is a linear structure where security is not emphasized. It is a fixed model and has limited development costs.
This is an introductory software development method because these processes are quite complex and time-consuming. It is also called the heavyweight method. Most of these methods are supported by a series of sequential steps, such as requirement determination, Solution development, testing, and deployment.
Low-Code vs Custom App Development: a Comparison
Comparing low-code and custom software is the first step in deciding who wins. The following comparisons are important for business users and developers:
| | |
| --- | --- |
| Low-Code | Custom Software |
| Business value | Business value |
| The low-code development platforms may be easier and faster to build. But the business value is often lower than custom code development. Low-code development methods for building software are limited and may not provide apps with the required complexity. | When a business builds a custom application, a full software framework and customized solutions can be used for any necessary problem or need. Ultimately, this makes your business more valuable because your product can be built without any drawbacks. |
| Essential coding skills | Essential coding skills |
|  It is easier to build software in low code. Businesses don't need to know a lot about writing complex code. |  Creating custom code is an advanced art. It is complex than low code. |
| Versatility | Versatility |
| Low-code platforms are the easiest to use and control in the world, and it comes with drag-and-drop functionality. | Custom development platforms are less streamlined because some components have complex configuration systems. |
| Expenses | Expenses |
| Low-code/no-code platforms are significantly cheaper than traditional platforms. | Custom software design and development are unpredictable and expensive. |
| Development time | Development time |
|  The low-code solution significantly reduces delivery times by drag and drop method. | Creating custom apps takes time. In addition to design and coding, businesses need to hire professional quality assurance testers and conduct multiple safety checks. |
| Intellectual property rights | Intellectual property rights |
|  When it comes to intellectual property rights, Low-code platforms are more complex. Businesses may be subject to rules imposed by low-code providers and technically won't own the entire platform from start to finish. |  Custom apps are paid by companies. Businesses and development partners take care of the entire process from start to finish without relying on low-code software providers. |
| App Reliability | App Reliability |
| low-code/no-code platforms for enterprises rarely create bugs while developing apps. | With advanced techniques and an overly complex nature, Custom application development platforms are prone to many bugs. |
| Maintenance | Maintenance |
| Low-code software development is much smoother and less prone to bugs. So, less maintenance needed. |  Custom software apps need regular updates and maintenance because it is very complex. |
The Advantage of Low-Code Developmen
Much faster development:  Because it uses less code to develop low-code apps. The process, therefore, takes less time. In most cases, special customizations take a little more time. Still, such rapid growth can be a good thing for new companies looking to get their products to market as quickly as possible.
Build fully functional apps quickly: Because low code solutions come with predefined modules. It is easy to finish all software and functions quickly.
Cost-effective: Low-code solutions are much more cost-effective because it doesn't require many developers. And they charge a small fee to use the services needed to create them. But there are times when you want a professional developer to make changes. No-code development is still cheaper than writing custom code.
High mobility: Traditional apps take a long time to develop and publish to the app store. Due to built-in features, reusable templates, and automated testing, the no-code and low-code development platform helps non-technical people and developers design and deploy apps faster.
Proven Test Features: The low-code, no-code platform offers tried-and-true features. Templates can be seamlessly integrated to work efficiently across multiple devices and platforms. This ensures a good user experience and there are a limited number of templates.
Easy to maintain and upgrade: When you use a low-code/no-code development platform, you don't need a skilled IT professional to get things done. You can use an upgraded or modified version of the code. The code is a pre-built module, preconfigured and has passed the test, so it takes less time and cost.
Disadvantages of low-code development:
Depending on the provider: It can be difficult to download and move the source code of your final product to another platform or hosting. If your provider or integrator uses a low-code method, the first disadvantage of the platform No-code/low-code is a modular component. This ensures rapid app development. But customization will be limited. To meet custom business needs, we may need components that can meet custom business needs. You often adapt your business needs to the capabilities of your app.
Lack of flexibility and customization: Because low-code development uses pre-built modules and little or no code is written, low-code development is inherently limited in terms of flexibility and customization. Without customization, your product might not be able to differentiate from the competition and stand out from the crowd.
More vulnerable to hackers: Building low-code applications can be undesirable and risky because they have to rely on service providers. Your products can still be attacked by hackers. Users of non-technical platforms can create vulnerabilities they don't know about, so some unsafe code remains anonymous, and the final result will be affected. Low-code apps come with security risks. So you need to be highly proficient in low coding. So even if there is little threat, a protection plan should already exist.
Advantages of Custom Code Development:
The advantages of custom code development are given by,
Complete control and authority over your products: You have full control over the software you create when you use custom application software development. Any functions or features that are not suitable for your vision can be changed, so you can choose whatever you want and rely less on third-party solutions, Even if you use a third-party framework or library. The final product you create will be yours, and they can be protected, white labelled, or even sold as they see fit.
Ensure Flexibility and Customization: Because software functions and features are written by hand, all software is made with completely new code. Custom development ensures plenty of room for flexibility and customization. It also allows you to create unique features and functions that will help you create a product that meets your needs and makes you stand out in the market.
More safe and reliable: This is because custom code development starts from scratch and does not depend on third parties. So you have full control over the applications you create. You can use advanced security solutions and encryption to protect your product from hackers. Custom software development is, therefore, one of the safest and most reliable ways to build a software product.
Special ownership: Another benefit of custom development is total control over how the software is built. Companies that choose custom apps control the app's architecture, security, and interoperability because they own the source code.
Applicable anywhere: Low-code apps require some specific platforms to deploy their apps. But traditional apps are not the same. All apps built in a native way can be deployed to any destination the developer chooses to support.
Disadvantages of custom app development:
It takes a long time: Because low coding means coding from scratch. So a lot of planning, design, and iteration are going on before development begins. It requires a software development lifecycle that is appropriate to the scale of the project. This includes things like weekly meetings. The development process can take weeks, months or even years, so there is a chance that a product will become obsolete when new technology is released.
Expensive: For custom code development, the coder has to create the product for a certain amount of time. Such a shift requires a wealth of experienced coders who can handle the challenges with ease. Although this is the best choice, hiring experienced coders can be expensive in the long run.
Return on Investment: Because custom code development costs a lot of money. Return on investment is, therefore, an important factor in determining the success of a company. Sometimes it can take months or even years for the money spent on product development to pay for itself and start making money. This makes custom code development a difficult choice for startups with limited funds.
Need specific skills: Custom development may require more specialized knowledge of programming languages or development platforms. Still, low-code development requires specialized knowledge.
Does A Low-Code Solution Worthy Option for Business?
Low-code software solution is suitable for businesses which need operational dashboards, workflow apps or an employee portal working behind the scenes of companies. It will speed up digital transformation because it is quick and easy to set up. The way this app is created also keeps it up-to-date. Therefore, a complete redesign is not required.
Companies often use low-code solutions to update legacy systems quickly, Reduce operating costs and make workflows more efficient. This is a simple example of why software design is important to businesses around the world.
Today, businesses are greatly driven by innovation within companies. But they were unable to put these creative ideas into practice. When you use native application development, it requires hard-core coding abilities that only IT professionals can afford. As a result, your business users rely on IT departments which contain a list of inline development projects to make their ideas come true, but with low code usage, you no longer need to rely on skilled IT professionals.
Low-code platforms allow people with little or no coding experience to build apps that meet their needs Because of their simple user interface and simple design process. Therefore, applications can be built with minimal dependency on the IT department.
Some business problems are unique to specific departments or organizations, and a custom solution is required. In such a case, Traditional development can be expensive and not worth the investment. Ideally, Most businesses won't want to invest in technology if the development time is longer than expected with delayed feedback and a lack of skilled developers to do all the work.
However, with low code, businesses can easily create and rebuild apps to meet changing needs. Low code can be a great option for developing applications that foster agile change within a company. It allows for quick changes, and if these changes don't work can be easily reversed. This allows business users from different departments to freely edit the app to facilitate internal changes.
We now understand what low code is and when to use it. The time has come for us to understand the traditional way of app development – traditional software development.
When Should You Choose Custom App Development Over Low-Code Solution?
Custom code solutions are best for organizations that need complex applications built to meet their needs. Although the software development delivery time is longer but the benefits of customization, security, and greater ownership of intellectual property make up for it.
Custom apps tend to have a higher ROI because they are built in a unique way and offer a wider variety of options. More adaptable and easy to change and works better with the company's existing digital ecosystem and network. Low-code software is the right choice for your business if you want apps that are not form-fitting or apps that deal with sensitive data.
You should always choose the custom development method if you decide to develop highly interactive web and mobile applications. Some applications require a high level of specific interaction. Although low-code platforms are capable of building high-performance applications but it lacks the flexibility and freedom that traditional developers provide when developing apps.
These native development platforms are capable of providing an infinite amount of functionality.
Some business problems require an open-ended solution because these problems have an unstructured problem-solving process. Developing apps without a predetermined structure can be difficult. Low-code development platforms work best for structured solutions. Therefore, it must be custom-designed. As a result, open-ended and unstructured cases cannot be solved using low-code platforms.
Low-code and custom solutions have their pros and cons. The best way to deliver apps is to know how your business needs the overall impact of decision-making. At the same time, it allows businesses to invest in many important activities. Both low code and native development are viable options for businesses to accelerate their business games to the next level. You can choose the best custom software development firm to get better assistance.
---
Written by: Rahul Motwani
Rahul Motwani is an experienced Project Manager with a demonstrated history of working in the information technology and services industry. He started his career as a Backend developer and currently has his hands-on managing projects at Groovy Web. He is a strong program and project management professional with a Bachelor's degree focused on Computer Application.
---
Frequently Asked Questions
We hope these clear your doubts, but if you still have any questions, then feel free to write us on hello@groovyweb.co
Low-code is a way of application development that transforms coding from textual to visual. Low-code functions in a model-driven, drag-and-drop interface rather than a technical coding environment.
Wix, Squarespace, WordPress, and Weebly are some examples of low-code applications. All of which have drag-and-drop capabilities for creating a fully customizable website or user interface.
Custom code have the advantages of complete control over data gathering. Many SQL queries are more complicate to understand in views. Writing custom code for quick query.
---
Sign up for the free Newsletter
For exclusive strategies not found on the blog