How Much Does it Cost to Develop An On Demand Food Delivery App
How Much Does it Cost to Develop An On Demand Food Delivery App
Krunal Panchal
October 28, 2021 1066 Views
10 mins read
Last Updated October 28, 2021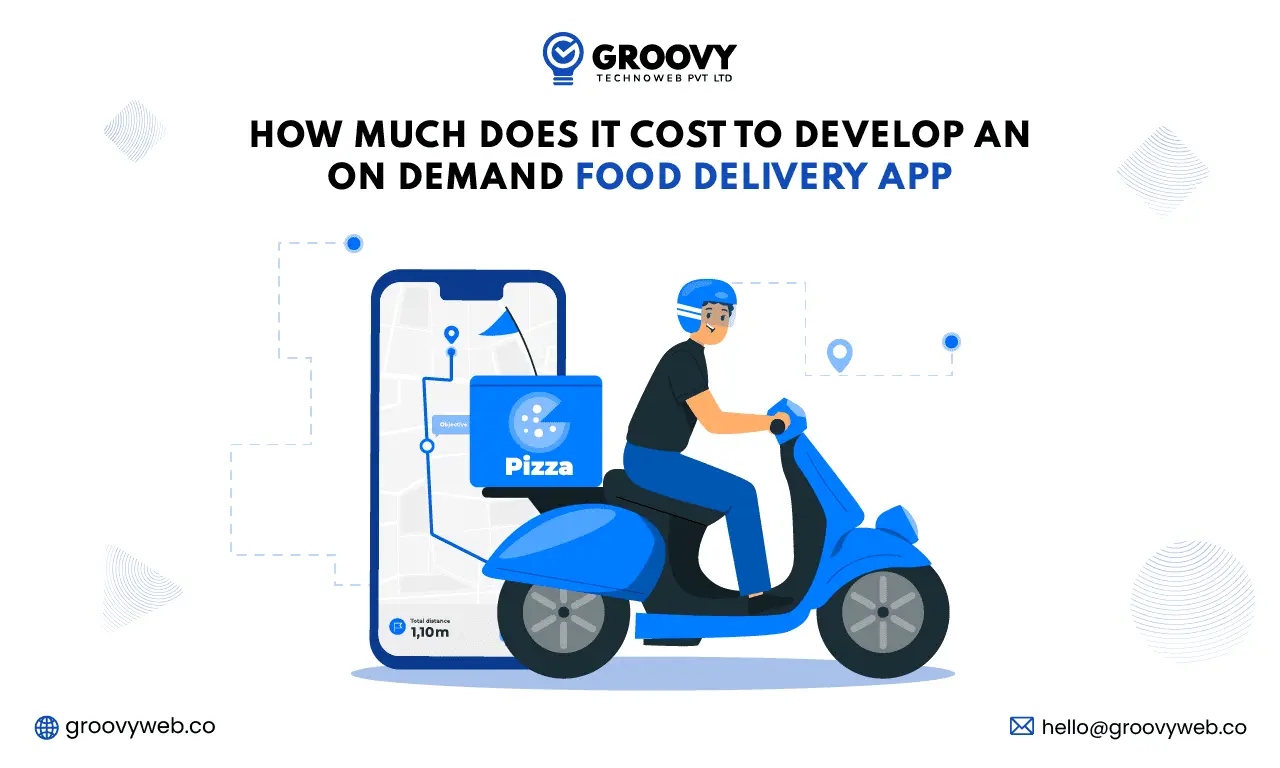 Quick Summary : According to Statista, the number of people who order food via online apps has doubled in the past three years, from 3.648 million in 2017 to 6.259 million in 2020. By 2024, this figure is expected to reach 8.58 billion and exceed the billion mark by 2025
A custom food delivery app has been introduced to simplify the process of ordering and delivering food and drinks. Now, you can order food and beverages easily from your smartphone or other devices anytime, anywhere.
You can place an order from any part of the city or country with a few clicks. With your own Ondemand food delivery application, customers will have the power to browse through various restaurants in their vicinity without moving out of their homes. Customers can also get information about multiple dishes served at each restaurant. Hence, if you have a restaurant and want to amp up your business, you should hire an experienced mobile app development company.
Let's shed some light on a few statistics that can help you finalize your decision:
According to Statista, the number of people who order food via online apps has doubled in the past three years, from 3.648 million in 2017 to 6.259 million in 2020. By 2024, this figure is expected to reach 8.58 billion and exceed the billion mark by 2025.
This new reality forces restaurants to collaborate with existing delivery services or develop their food delivery apps, leading to sales declines and business losses if they do not adapt. To save costs and improve customer satisfaction, many restaurants offer their own food delivery services. 
List of Most Popular Food Delivery App World Wide
1. DoorDash
Unique Features: Wide restaurant selection, real-time order tracking, DashPass subscription
User Ratings & Reviews: Positive user reviews highlighting food quality and timely delivery
Delivery Speed: Fast delivery times
Promotions & Discounts: First-order discounts, referral programs
User Experience: User-friendly interface, quick reordering
Geographic Coverage: Wide coverage across multiple cities
Customer Support: 24/7 live chat, email support
App Compatibility: iOS, Android, web browser
Local Restaurant Partnerships: Partnerships with local restaurants for diverse dining options

2. Uber Eats
Unique Features: Integration with Uber app, scheduled orders, restaurant reviews
User Ratings & Reviews: User ratings and feedback on restaurant quality and customer service
Delivery Speed: Quick delivery times
Promotions & Discounts: Ongoing promotions and discounts
User Experience: Intuitive and seamless app navigation
Geographic Coverage: Available in numerous cities globally
Customer Support: 24/7 customer support via in-app chat
App Compatibility: iOS, Android, web browser
Local Restaurant Partnerships: Collaborations with local eateries for exclusive offers
3. Grubhub
Unique Features: Extensive restaurant network, rewards program, transparent pricing
User Ratings & Reviews: Positive customer reviews highlighting ease of use and variety of options
Delivery Speed: Timely deliveries with live tracking
Promotions & Discounts: Cashback offers, loyalty rewards
User Experience: Simple and intuitive app interface
Geographic Coverage: Coverage in multiple cities across the US
Customer Support: Phone and email support during operating hours
App Compatibility: iOS, Android, web browser
Local Restaurant Partnerships: Partnerships with local restaurants for diverse dining options
4. Postmates
Unique Features: On-demand delivery for various items, including food, groceries, essentials
User Ratings & Reviews: User ratings and reviews showcasing convenience and reliability
Delivery Speed: Fast delivery options
Promotions & Discounts: Various discounts and promotional offers
User Experience: User-friendly and straightforward ordering process
Geographic Coverage: Available in multiple cities across the US
Customer Support: In-app chat support
App Compatibility: iOS, Android, web browser
Local Restaurant Partnerships: Partnerships with local restaurants for diverse dining options
5. Zomato
Unique Features: Restaurant discovery, online ordering, reviews, table reservation service
User Ratings & Reviews: User reviews highlighting restaurant recommendations and service quality
Delivery Speed: Varies by location
Promotions & Discounts: Seasonal offers, cashback deals
User Experience: Intuitive app interface with personalized recommendations
Geographic Coverage: Available in multiple countries and cities
Customer Support: 24/7 customer support via chat and phone
App Compatibility: iOS, Android, web browser
Local Restaurant Partnerships: Collaborations with local eateries for exclusive offers
NECESSARY TO ADAPT TO THE NEW & EVOLVING MARKET
The development of its restaurant delivery app is becoming increasingly popular among restaurant owners. Benefits of creating your food ordering app include greater scalability, improved customer experience, more manageable payment, better reach, instant service, and frequent support. Other online food ordering and delivery apps are also good options for looking for trendy business ideas in the industry. 
If you have a food delivery app or website, you can connect to restaurants in a specific area or city and allow them to accept food orders. Some of the best food delivery apps and websites such as Zomato, Swiggy, and UberEats work along the same lines. 
If you want to learn more about other innovative online ordering systems for businesses that you can use in your restaurant, continue reading our blog. 
Developing a mobile app is a great local business strategy with the increasing use of tablets and smartphones globally. If you need a custom mobile app for your restaurant with full food delivery, location map, and shopping cart features, you can find and hire the right app development company. 
If you own a restaurant, now is an excellent time to build a food delivery app like Uber Eats or Grubhub. The food delivery market is booming, and mobile technologies shape the industry in new ways, making it easier than ever for businesses to order and deliver goods and services. If you plan to invest in the development of mobile on-demand apps, this is a perfect time. 
With the help of a cross-platform mobile app development company, you can create a decentralized food ordering and delivery platform that implements blockchain. These companies offer their customers a platform to order food, and their employees can pick it up and deliver it to them. 
Ultimately, you want your customers to be satisfied with the ordering process and maintain profitability. 
ADVANTAGES OF HAVING A CUSTOM FOOD DELIVERY APP 
The new generation is always on the go. They don't have a lot of time to cook a meal and end up eating out a lot. Eating out can be expensive and unhealthy, which is why more people are turning toward custom food delivery apps.
These apps allow customers to order from their favorite local restaurants and receive delicious food at their doorstep in 30 minutes or less. The best part? It's all done online, so they don't even have to talk to anyone on the phone!
Customer apps allow your customers to find the right restaurants and dishes they want to order. Allowing your customers to order the food they like will optimize your business. This will help to increase the ordering rate of restaurants using food ordering apps.
Businesses have spent a lot of time making these decisions because the pandemic has forced restaurants to set up the way customers order online. Below we outline how you can work with a delivery service, what factors need to be considered when selecting a service, and which restaurants and delivery services you would like to work with within this crisis. 
In addition to the competitive environment, specialized delivery apps that focus on a single customer segment or cuisine have appeared on the market in recent years, For example,  Slice Pizza, HungryPanda, and Chinese Fresh.
Moreover, Bogota-based Rappi is a multi-vertical delivery app that combines food delivery with other messenger services such as RappiFavor and RappiCash. At the same time, Uber Eats and DoorDash have also started exploring ordering stacks as part of their food offering. Virtual concierge services can stack orders from different customers living in the same apartment building or neighborhood. These virtual concierges are made possible, for example, by drivers chemically cleaning and supplying customers with food in addition to their restaurant orders. 
HOW DOES A CUSTOM FOOD DELIVERY APP HELP BUSINESSES?
Every consumer has their own set of complexities when it comes to food. Some want to eat healthy while others are more into the taste of the food. Due to these diverse preferences, restaurants, cafes, and fast-food outlets have developed custom ordering apps to help them cater better.
Customizing the on-demand app helps add more value to your business by generating a loyal customer base who will keep ordering your products or services. This increases the probability of repeat orders and improves your chances of getting new customers as well.
The mobile app acts as a virtual storefront, enabling customers to place an order, view it during processing, track their location and get it for delivery. Third-party delivery platforms for small restaurants are an option in the fast-growing delivery market that takes advantage of sectors previously only available to large chains and their delivery fleets. 
Once the app has an MVP, you can gain insights into the target audience and add additional features in the second development phase. Special functions in a mobile app can raise customer loyalty to a higher level. 
Mobile grocery orders are a growing trend that is too valuable for restaurants and cafes to ignore. The cost of the food delivery app development using Foursquare API is significant for most small businesses, but it's an investment that more than likely pays off once you've figured out how many of your customers will find your business through the API. 
WHY SHOULD YOU HIRE GROOVY WEB FOR THE RESTAURANT FOOD DELIVERY APP?
Groovy Web is an experienced and efficient web and mobile app development company that offers a comprehensive range of services for creating appealing websites and applications. We deliver quality results and aim to satisfy our customers by providing them with the best website design solutions.
We have a team of expert web designers and app developers who create functional and appealing content that your target audiences can easily navigate and understand. Our skilled team of professionals ensures that only high-quality work is delivered, which makes us stand out from other custom mobile app development companies in the industry.
Groovy Web is an offshore software development company based in India that offers custom software solutions to small and large businesses across the globe.
If you are looking for an app that can quickly help you manage your restaurant on the go, then Groovy Web has all the answers.
The question is why you should choose Groovy Web over any other company? Well, if you are one of those people who are willing to spend money on a project or some work, but at the same time not wasting it in vain, then Groovy Web is what you need. We have worked with so many clients and delivered so many projects that we learned how to do things faster and better. 
Our dedicated development team can help you build your dream mobile app for iOS, Android, Windows Phone, or even Blackberry. Our expertise in both mobile applications and web application development will take your business to new heights. We focus on providing end-to-end solutions that address all the requirements of our clients.
CONCLUSION
If you're a food business owner, it can often be challenging to deal with the logistics of running your company. One area that many businesses struggle with is delivery. That's why many businesses are turning to on-demand food delivery apps that can help them deliver their products without any unnecessary hassle or expense. 
---
Written by: Krunal Panchal
Krunal Panchal is the CEO & Co-founder of Groovy Web. Krunal has been a hardcore programmer since he was 11 and started his professional career very young. His technical and logical mind drove him to choose coding as his destiny. At an initial stage, he got essential experience and the spirit of innovation and entrepreneurship. Learning something new is a never-ending process for him. Under his leadership, Groovy Web has become an established organization that serves industries from startups to enterprises, regardless of any limitations.
---
Frequently Asked Questions
We hope these clear your doubts, but if you still have any questions, then feel free to write us on hello@groovyweb.co
Yes, it is possible with native app development. The cost of native development, which uses different technologies for iOS and Android, is frequently higher than that of cross-platform development, which uses a single codebase for both platforms.
A mobile application called a "on-demand food delivery app" enables users to order food from a variety of restaurants and have it delivered to their location, providing convenience and a wide range of dining alternatives.
The pricing of the total package includes features like user registration and login, real-time order tracking, payment integration, location-based services, restaurant menus, cart management, and customer service.
---
Sign up for the free Newsletter
For exclusive strategies not found on the blog