How to Conduct Market Research for Your Mobile Application Idea
How to Conduct Market Research for Your Mobile Application Idea
Rahul Motwani
February 22, 2023 221 Views
12 mins read
Last Updated February 22, 2023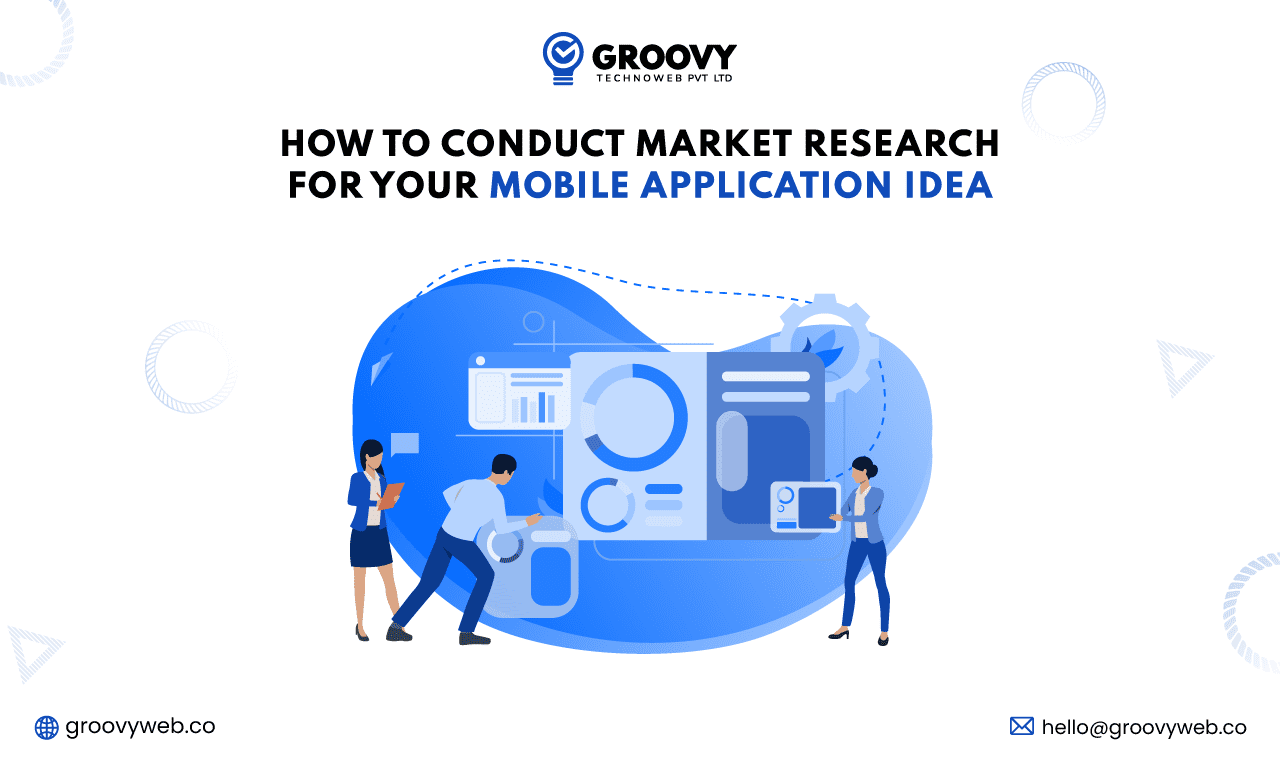 Quick Summary : This article discusses the importance of market research before you begin the development of a mobile app. It discusses the value of conducting market research and how it can help determine whether or not your app idea has potential.
Predicting whether a newly released mobile app will be a complete failure or a massive hit is difficult. One thing that can be said with certainty is that market research on your idea mobile app concept may significantly boost the likelihood of success.
With a projected CAGR of 19.3%, the worldwide mobile app research is poised to hit $311,249 million by 2023. With that in mind, now is a great moment to put money into mobile app development if you have any revolutionary app ideas. If you're an aspiring app entrepreneur or a high-ranking corporate leader, you'd want to invest in a mobile app that's both reliable and popular.
Researching the viability of your app concept is crucial. When trying to ascertain whether or not your idea for a mobile app has potential, it is wise to have solid market research behind you. In a nutshell, mobile app market research is the apparent answer to the problem of creating a dependable mobile app.
The value of doing market research before developing a mobile app
Conducting market research for a mobile app is not a complicated idea
But, it's gauging an idea's potential success in light of complex information about the target audience's habits, the market state, the strength of the competition, and the likelihood that people would adopt the proposed solution.
To test their ideas, an online gaming service creating a massively multiplayer action game may, for instance, do market research out of simple curiosity. They may find out along the road that their tale isn't as robust or complex as they're used to in other games.
The assumptions about their core audience may be wrong. Furthermore, they might get an advantage over the competition by learning about the optimal pricing structures used by other companies or the characteristics that players disliked in comparable games.
Therefore, mobile app markets research gives valuable information on how to prevent failure, how to best position an app, and what strategies to use to achieve sustained success in a cutthroat industry.
Why market research is so essential for new businesses
Be familiar with the size of the market; not all of them are created equal. Some have greater possibilities for making money and less rivalry. As a result of the saturation of the market, the earnings potential of others has diminished.
Target users are the folks who are most likely to download and use your app regularly. Therefore, you need to be sure you're reaching them. They'll gladly shell out money for your wares, subscriptions, or in-app purchases.
It's important to learn about the issues and requirements of your target audience since an app is only as good as the problem it addresses. Finding effective solutions to complex, high-impact issues can boost your competitiveness.
Market research for a mobile app is incomplete without looking at the competition and analyzing its strengths and flaws. Your app's developers may use this information to zero in on areas lacking competition or find ways to set themselves apart in a crowded market.
Recognize promising developments and capitalize on them by doing market research. A solution built from the ground up has a better chance of incorporating cutting-edge technologies and unseating market leaders than one that is an adaptation of an existing product.
To stand out from the crowd, you should highlight a competitive advantage. It may be required to identify the differentiating factors between competing items and assess how different platforms promote them.
Discover a niche: Negative evaluations on app store reviews, for example, may be a great source of information for finding underserved markets while doing market research for a mobile app concept.
Financial preparation: If you want to make money from the mobile app, careful financial planning is essential. Through thorough market research, potential income streams, target platforms, app development estimates, and industry retention rates may all be gleaned through market research.
Finding the most lucrative avenue to monetize your app is no simple task. The business's bottom line and customer service quality may suffer from poor decisions. When dealing with novel problems, it may be more convenient to switch to a premium app model in which certain functionalities are available for free. An app may covertly make money via partnerships or adverts in a saturated market where consumers have several alternatives.
The design must be intuitive and user-friendly since users often assume that newer applications will provide more advanced functionality. Market research might be necessary to identify the current benchmarks.
The unique value proposition (UVP) is a catchy phrase that sums up the benefits of your software in a few words. You may hone your app's unique selling proposition (UVP) by doing market research to learn about consumer pain points, prospective app advantages, and the connections between these factors and the pain points of potential buyers.
In the end, market research might aid in the concept validation process. Even better, you could find new information that leads you in another direction.
Analysis of the Mobile App Industry: Top Tactics
To begin, let's define market research so that we may go on to discuss successful app market research tactics.
The Definition of Market Research
In-depth knowledge of the clientele is the result of thorough market research. What's discovered helps with knowing why consumers act the way they do across the purchase decision path, comprehending customer experiences, and identifying loyalty drivers. The data help create new types of advertising campaigns.
As an app developer or entrepreneur, you may be interested in learning about the most effective market research methods. Identifying your brand's intended market niche is an excellent place to start. It would be best if you first established your company's unique selling proposition and brand narrative.
Some potential questions for app market research are listed below.
Inquiring minds want to know: "What is the business model?"

How much of a need exists for your product in the marketplace?

How can you create a successful advertising plan?
You may utilize the fascinating insights from the study's conclusions to inform your strategy development. Now let's check out the many parts of mobile app market research.
How can we perform market research for the new application?
Knowing the basics of research can help you figure out how to do market research for a mobile app concept.
Recalling what you may have studied in class, there are primarily two kinds of research:
Primary research  – Researchers use focus groups to get primary data. Unique information that has not been published online or in print is considered original data. Primary research methods include questionnaires, in-person meetings, online forums, and focus groups.
Secondary research – Experts arrange and evaluate data from previously published sources in secondary research. Publications such as newspapers, academic journals, and social media platforms may all be subject to their scrutiny.
Let's have a look at the process of doing market research for a potential mobile app
Step 1. Creating a Plan for Your App
To create a coherent plan, one must consider the finer points of one's concept.
First, jot it down;
Look at other projects like it, or utilize applications like it;
Get more educated about the field by reading up on it, going to seminars, or joining webinars;
Increase the app's usefulness by adding features and improving its performance;
Jot down any possible applications;
Create a rough outline of the final product;
To make the app more appealing to potential customers, you should consider the many different uses it may have in the future. Groovy Web can help you get the best app for your requirements.
Step 2. Check out the current business climate.
Several internal and external aspects make up a company's environment that might impact the progress of the app concept.
Investigate the impact of new technologies, changing demographics, the state of the economy, and the political climate
Think about any potential threats to the idea's growth that are beyond your control;
Look at the latest developments in the social, commercial, and technological spheres, including artificial intelligence;
As you analyze your company's microenvironment, consider possible development partners, client tastes and habits, immediate rivals, stakeholders, and the broader public.
Step 3. Research your competitors
One of the most effective mobile app research tactics is to look at similar apps.
To identify viable rivals, you must first have a firm grasp of the specific market for your app.
There is room for further subdivision of broad categories like "calendars and timers," "apps for children," and "healthcare applications," for example.
Conduct market research by conducting a SWOT analysis of each competition once you have identified the niche. Investigate their online presence, including their website, social media, SEO profile, app reviews, advertisements, and press coverage.
Step 4. Define TAM, SAM, and SOM
Determining the TAM, SAM, and SOM is vital because it provides a more accurate picture of how many users may download and utilize your program. Investors may learn more about the app's market potential, earnings potential, and overall attractiveness from this document.
What does each phrase mean?
Total Addressable Market (TAM) Anyone who may benefit from using your software. Millions of people may fall within this category.
The Serviceable Available Market, or SAM, is the subset of the Total Addressable Market (TAM) that corresponds to the number of potential customers within practical reach of your marketing efforts.
The Serviceable Obtainable Market (SOM) is the potential customer base for your business. In the case of promising new companies, this figure may be much below 1% of the total addressable market (TAM).
Step 5. Establish Criteria for Market Research
The market research goals are spelled out, and the criteria aid the research methods for conducting the market research. If you want to:
Clearly articulate the issue at hand (or your questions);
Create a statement of your study's goals;
Create research instruments, such as questionnaires;
Focus group organization includes
Specify how the information will be gathered, processed, and analyzed.
Step 6. Know how much you will require advertising expenses
Deciding how you want to promote the app before attempting to estimate how much money would be needed is essential.
You may use both free and paid methods of promotion. For instance, you may promote your app using a sponsored social media campaign. It would be best if you also calculated the potential costs of either building an internal team or contracting the work out to an external firm. Find out how much it costs to build software and what kind of team is required.
Step 7. Conduct an audience analysis
When learning how to market research for a company, an intuitive grasp of the target demographic is crucial.
The following are some questions to help you narrow down your target demographic:
Do you know about their gender?
How do they process information and choose actions?
What kinds of interests do they have, both broadly and specifically?
Answer questions such as, "How often do they go online, where do they go, and how do they get their information?"
What is their preferred method of contact?
What applications do they already have installed? Have they purchased any apps?
Where do they tend to feel the most discomfort?
Why don't you ask them what they think needs to be changed?
Guidelines for Conducting Mobile App Market Research
This overview provides a taste of the process of doing market research, which includes
1. Defining the target audience
If you want to be successful at promoting your app, you must first identify your ideal user. You don't want to contact everyone in the world. Start researching your intended audience right now. Essential things to consider are:
Routines (spending, recreational, and more)
To better understand your target audience, you may ask them questions in a focus group on topics like:
What sets your app apart from the competition, and what features do you know will appeal to prospective users?
The importance of user experience design in app creation
Customer hopes and dreams
Mobile app development industry tendencies
The results will aid in gaining a deeper familiarity with your target audience.
2. Conducting competitor analysis
Even if you have a fantastic concept for a mobile app, you should research your rivals to see what they're doing and learn from their successes and failures.
Using the conclusions of this study, you may create an app with cutting-edge features, add usability elements, and yet stand out from the crowd.
3. Using a SWOT Analysis
Using the results of a SWOT analysis, you may fortify the foundation of your mobile app. The following is a synopsis of a SWOT analysis that might be performed on your proposed mobile app.
4. The Concept of Pitch
It's time to make your case now. Use engaging language that grabs the reader's attention when describing your proposed program's purpose. Keep the pitch short and provide a link to a landing page or press kit if possible.
That way, if a journalist were interested in covering your app, they'd have all the details they need.
5. Building a Business Strategy
There must be a solid business strategy behind every successful mobile app. Sales, revenue, market, and profit are just a few metrics that should be accounted for in any good company strategy. Keep it short and sweet if you want your strategy to go over well with your stakeholders.
The success of your mobile app depends on your business strategy, and the essential part of that plan is to include solid marketing techniques.
Essential Takeaways: With proper market research, your mobile app may explode into the scene. As you learn more about the many parts of market research, you will gain self-assurance and a deeper comprehension of the industry.
Conclusion
We have reviewed the value of market research and discussed practical strategies for doing it for new businesses. We have included coming up with the concept, looking into the competitors, settling on a target demographic, and planning an advertising spending plan.
Hire mern stack development company, Groovy Web will help establish a strong basis for your mobile app development. The first step in constructing anything worthwhile is doing extensive market research. To complement our perfect planning, we also carefully choose the project's personnel.
---
Written by: Rahul Motwani
Rahul Motwani is an experienced Project Manager with a demonstrated history of working in the information technology and services industry. He started his career as a Backend developer and currently has his hands-on managing projects at Groovy Web. He is a strong program and project management professional with a Bachelor's degree focused on Computer Application.
---
Frequently Asked Questions
We hope these clear your doubts, but if you still have any questions, then feel free to write us on hello@groovyweb.co
With a mobile application idea, market research is essential because it enables you to comprehend your target market, competitors, and market trends. It makes it possible for you to obtain insightful data that can guide your decision-making, enhance the user experience of your app, and raise the likelihood of commercial success.
Surveys, interviews, focus groups, usability testing, internet analytics, and study of app store reviews and ratings are a few of the methods utilised in market research for mobile application ideas.
It is advised to carry out market research as soon as possible, ideally before you begin designing your mobile application. This will provide you the information you need to make decisions early on in the development process and guarantee that your app will satisfy the requirements and tastes of your intended users.
---
Sign up for the free Newsletter
For exclusive strategies not found on the blog