31 Best Chrome Extensions For SEO Marketers In 2022
31 Best Chrome Extensions For SEO Marketers In 2022
Ashok Sachdev
September 23, 2022 193 Views
11 mins read
Last Updated September 23, 2022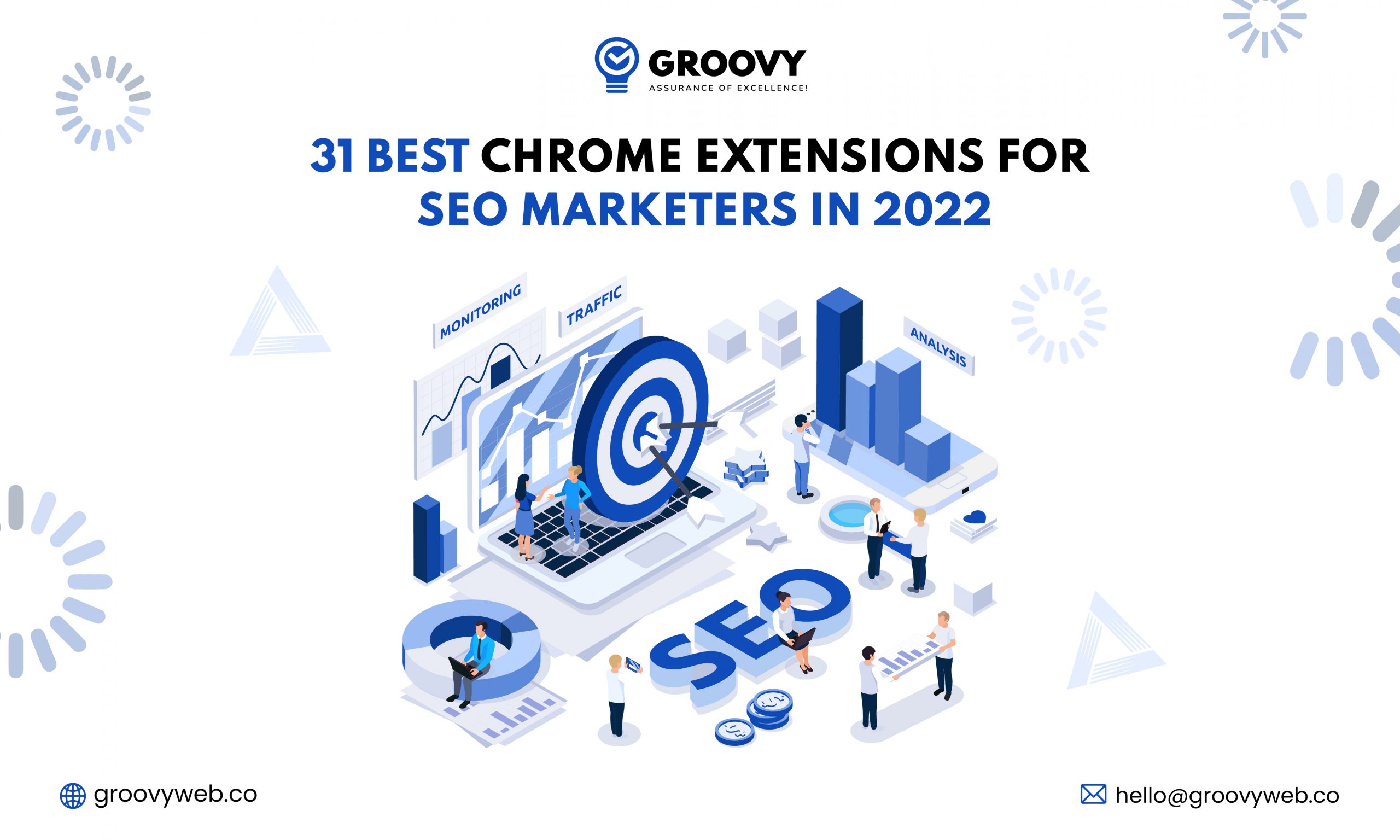 Quick Summary : There are a number of great SEO Chrome extensions that can help marketers with their search engine optimization efforts in 2022. Some of these extensions can help with keyword research, while others can help with on-page optimization or link building. Here are 31 of the best SEO Chrome extensions that SEO marketers should be using in 2022.
---
A tool like SEO Extensions can help many professionals reorganize their daily tasks and reduce their time spent on manual SEO tasks. This tool helps categorize competitive analysis and develop strategies, as well as allocate time for other SEO tasks.
Now that you know how SEO browser extension will help you increase your efficiency in performing SEO tasks, let us see the list of top SEO extensions given below. If any of the extensions do not meet your SEO requirements and you need a Custom SEO browser extension that works exactly as you think, then look no further! Our browser extension development team will help you make sure your browser experience is optimized for your day-to-day marketing routine work, Contact us now.
Here is a list of the 15 best SEO extensions for your web browser.
This is one of the best SEO Google chrome extensions. With the help of this tool, you can analyze and observe link metrics of your web pages while you are navigating each on the go. This free Chrome extension gives you some precious information on the domain authority/page and link profile as well as permits you to modify your search by region.
This tool provides you with insightful data on volume and keyword ranking. You can also decide the Cost per Click (CPC) for any related keywords and analyze backlinks as well as domain data to know how important and competitive the keywords are.
If you want to expand your list of keywords then Keywords Everywhere may be the perfect SEO Google chrome extension for you. This tool provides long-tail keywords or phrases, a list of related keywords as well as associated queries that people search for. This tool can support you in creating a list of long-tail and related keywords for your domain to be included in your content for superior rankings.
If you want a simple SEO extension or you are a beginner in the SEO domain then GrowthBar may be one of the great choices out there. This extension offers you immediate access to all the significant SEO data for any website. It also gives keywords the website is ranking the most for, which can be a significant insight in discovering relevant keywords from opponent websites.
Similar Web provides some of the most precise traffic data and evaluation between all similar tools. This extension gives traffic data on the taskbar, with data like traffic for the previous six months, visit duration, bounce rates, average pages seen by users in each website visit, and many more things. This is one of the best SEO Chrome extensions to maintain track of traffic estimations as well as data for your website.
If you are seeking a tool that can support you to find issues in your meta codes, JavaScript redirects, HTTP Status Codes for 404, 301, 302, and 500 redirect then this tool may be the best choice because it points out these potential issues for your website as well as highlights them instantly, like the red underline on Microsoft Word point.
Buzzsumo is one of the great extensions for social media tracking. This tool supports you find the top well-performing viral posts on social media pages with complete data points such as likes, number of shares, comments, etc. It may be beneficial in developing unique and targeted social media SEO strategies.
For optimizing the metadata of your website as well as its URLs this tool may be very supportive for you. The extension gives all the information essential for the metadata of your WebPages, such as canonical tags, alt texts, schema, headers, and many more to its users.
This simple extension tool is good for people who just want to identify the Meta information of any webpage. As the name indicates, you can access all the important SEO metadata information with this extension with just a single click.
This extension has been provided by SEMrush which gives a very easy tool to observe on-page SEO. You can get a complete overview of different on-page metrics like canonicals, header tags, meta tags, sitemaps, etc in a very accessible way.
It may be one of the great extensions for businesses or individuals who are trying to find the contact information connected to a website. This is an element named Domain Search, which is simply accessible on this extension. This is important in the business field for lead generation and similar activities.
Alike to another on-page SEO extension, SEO Minion can offer great assistance for people looking for an extension particularly to analyze on-page SEO elements. This extension can show up different on-page elements on pages such as broken links, alt texts, metadata, etc.
As the name indicates, Link Redirect Trace supports its users in scanning webpages for broken links in just one click. With the support of this extension tool, you can save a lot of time, mainly if you are developing any populating links or a heavy page that is already an existing page. If the page has any broken link then with its support you will be able to easily rectify it.
Keyword Surfer is a great choice for people and it is a helpful SEO extension in keyword research. This tool can import all the data directly into your Google interface associated with keyword search. The google chrome extension provides some points of data on keywords such as related keywords, monthly traffic, volume, CTR, etc.
Mangools is also called the go-to SEO Chrome extension for experts and professionals. This extension can provide you instant access to the ranking data review of websites such as several social shares, the number of backlinks, DA, referring IPs, etc.
PageSpeed Insights is a different part of Google Webmaster Tools that can provide users with important information about the loading speed of your WebPages to its users, for both mobile as well as desktop versions. This extension can also provide scores on your website. PageSpeed Insights provides suggestions to you on how you can develop your WebPages and make them run smoothly and fast.
It is an element of the Google Webmaster Tools. It is utilized by SEO professionals to develop their websites and also combine the websites with Google. This extension shows up the user's complete analytics about their website in amicable formats like graphs. It also offers critical data like trending keywords, articles as well as posts which can support you in tapping into the trends and allowing them to drive traffic to your website.
This tool has fabulous capabilities to find related email addresses for any domain they are seeking that's why the marketers use this tool. This SEO Chrome extension can be of good support in link-creation SEO activities. If you are looking for a site and if you believe that it is beneficial for you to backlink opportunities then you can easily get their contact information with the help of this tool.
If you want to accomplish a fast SEO audit of your competitor's website or your website, Serpstat is the great SEO extension that you can select. With just a single click, you can do a finished SEO audit of any domain. The extension also provides SEO parameters, page analysis, as well as domain analysis in its reports.
It is an SEO Chrome extension that can offer you real-time access to insights on rankings on any site or keywords. You only need to do is put in the keyword, and it will automatically show the real-time rankings of the keywords, with custom options so you will check it by country or region. It provides the best assistance in tracking customer site performance or competitor performance.
If you're frequently finding and downloading work material throughout the day, it can be a boring task to clear your browser history again and again. With this extension, you don't have to give the time to keep pulling up your history page and clearing cache by yourself or downloading the log.
The Click&Clean extension for Chrome offers the facility to you to clean your website cookies, cache, URL searches as well as download history with one click of a button on your browser toolbar. This extension keeps cleaning up your hard drive from unused applications and it also scans your computer and makes it virus free and clean up— supporting your computer to run smooth and faster as a result.
Ghostery is a sophisticated ad-blocking extension that is made up to eliminate ads that divert or interrupt you while you're visiting particular website content. It also undercovers your browsing data so ad-tracking tools are not capable to gather private information that you'd prefer to keep personal. These features support the faster load time to the WebPages and finally get better your browsing experience.
This extension offers basic virus protection and it is not your average firewall. It also permits you to modify your website block list and assures your Chrome browser utilizes the "HTTPS" security tag on blogging sites. Overall it is preventing you from looking at user blogs that are not safe.
This tool also gives different types of Facebook-specific privacy settings, such as blocking the "seen" tag which shows after you read particular private messages and it is hiding your active time from Facebook Messenger.
Checkbot is a combination of technical SEO with modern security to support you observes both how safe as well as how advanced a website is for search engines. Search engines like Google classify website security in addition to content quality in their rankings, this Chrome extension is a versatile one-two punch for web developers and content writers.
It can also test the page speed, SEO, as well as overall security of more than 250 URLs per domain completely free and support you enhance in these three categories to defend you and your website seekers from unsafe material.
This is a security extension that is specific to emails, offering you to receive and send encrypted emails (and attachments) to and from your friends. It's one of the secure ways to be sure your emails are kept private while in transit to the recipient. This tool combines entirely with Gmail, adding a "Secure Compose" button to your inbox.
It is also known as a "web reputation plugin," investigating every individual website you look for mistrustful information. The extension also notifies if the visiting site has a bad reputation. In turn, you can give the rating to the websites you visit to support Avast and get better at declining potentially unsafe web pages while on Chrome.
Fair AdBlocker provides both adware and malware in a single browser extension. The tool defends your system from malware, distracting ads as well as pop-ups. After installation, you can modify your blocking settings to hide the types of ads you're not attracted to seeing — mainly those that carry hazardous information that can infect your system.
This tool can detect the speed of your internet connection and learn how rapidly websites are loading. Knowing this information can support you choose another internet connection if required, and you will also be able to see performance reports for your site.
The most famous extension by far, Grammarly has more than 10 million active users and it supports a lot of writers with writing tasks. This software will make sure your messages are mistake-free as well as clear. This extension supports finding and fixing any embarrassing errors and this happens by catching spelling and grammar errors as you write.
It is a chrome extension whether you need to cover your individuality online or surf the content from another country, this tool permits you to do that for free. It supports you in safe internet browsing and secretly without the requirement to pay for an external VPN service.
Now we have discussed the list of SEO extensions covering all types of use cases and it is time to choose the best one which is suitable for you. Incase you want extension that fulfill your SEO requirements and you are curious about chrome extension development process you can check this essential extension development guide.
So, these were some of the best SEO chrome extensions for SEO marketers. I hope this article will help you pick out the best suitable options for your requirements. If you are looking for something different and unique then you can ask Groovy Web for the custom Chrome extension development service.
---
Written by: Ashok Sachdev
Ashok Sachdev is the Project Manager at Groovy Web who began his professional career as a programmer at the young age of 17. Ever since then he is actively growing, learning new things, and adapting to new roles and responsibilities at every step. Aside from being an app developer, he is highly admired for his project management skills by his clients.
---
Sign up for the free Newsletter
For exclusive strategies not found on the blog