How to Outsource Mobile App Development in 2023
How to Outsource Mobile App Development in 2023
Rahul Motwani
September 19, 2022 337 Views
11 mins read
Last Updated September 19, 2022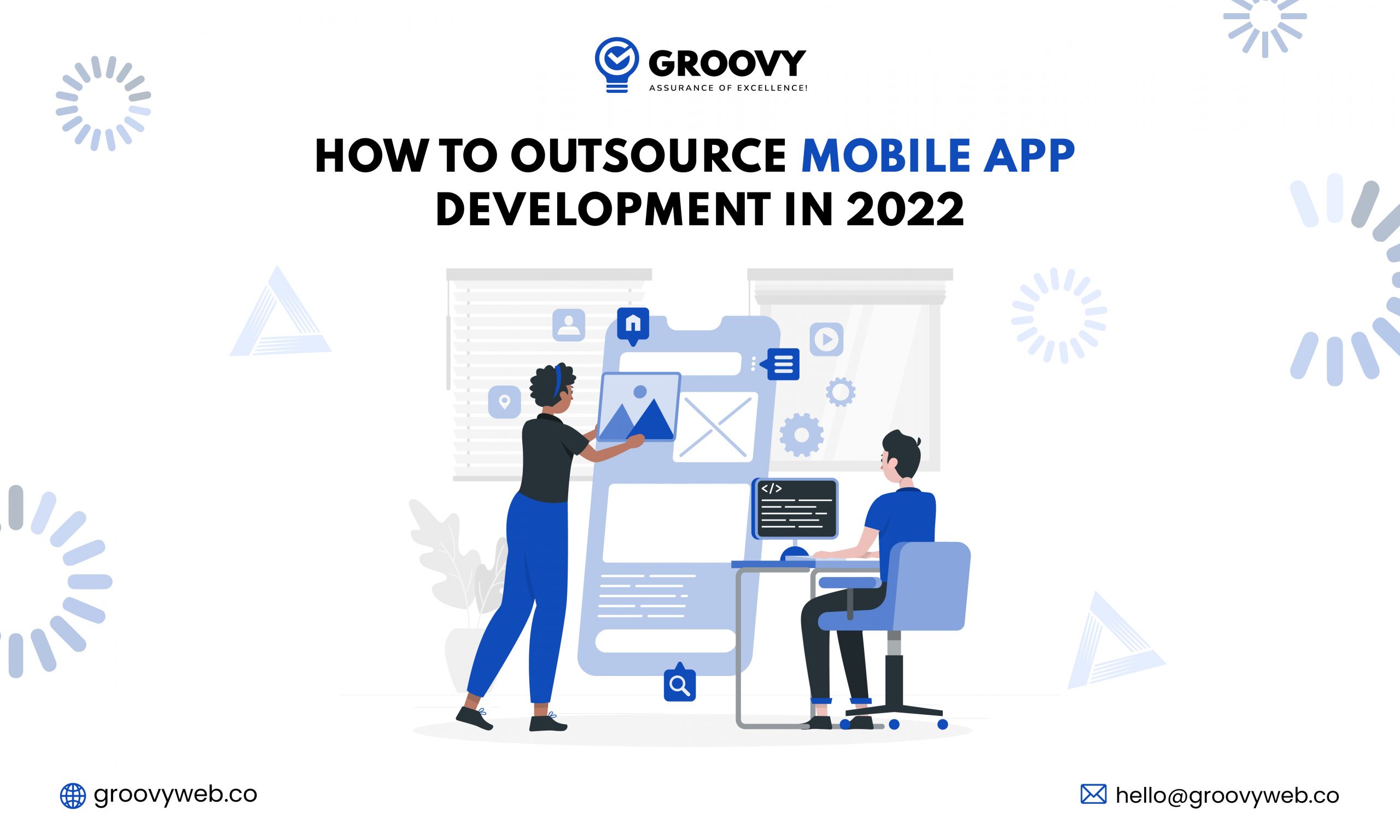 Quick Summary : The mobile app development is less time consuming, cheaper than web application. You must have clear outline to develop mobile application so, app developer build as per your requirement. Here in this article discussing about how to outsource mobile application development.
You'll have to make a difficult decision if you decide to build a mobile app for your company. Should you engage an in-house development team or outsource mobile application development?
According to their findings, outsourcing app development to India accounted for 38 percent of Forrester's decision-makers. Whether you're considering hiring a mobile app development team in-house or outsourcing to a mobile app development service, this article is for you. Statista predicts that by 2023, revenue from mobile applications will reach USD 935 billion.
Statista also found that in 2017, there were 178 billion app downloads, which is expected to rise to 258 billion in 2022, according to the company. Apps, on the other hand, have become a big part of the digital lives of the average American. More than 100 applications are installed on the cellphones of mobile app users in the United States, according to AppAnnie. Mobile app development services have become more important to thousands of businesses over the past few years.
Your organization may be ripped between outsourcing and establishing an in-house app development team when developing an application. Making the appropriate choice is always a major move for the firm, whether in a large or a little one. To help you determine whether or not to outsource app development at a fair price, we'll go over several key considerations in this post.
In-house vs. Outsourcing: Which is better?
Development is carried out entirely inside a company's walls. As many as 95% of Fortune 500 organizations are planning to use corporate mobile applications and mobile solutions. Consumer electronics sales are surging due to the increasing use of mobile business applications. App development demands a significant amount of time and money from the developer. The most important choice is whether to hire developers remotely or to outsource the app with an outsourcing mobile app company.
It is advantageous to have a development team in-house. Being able to rely on employees who know your company well and out is a huge asset. In-house app development means you'll have complete control over the whole process. There are, however, certain drawbacks. Having a full-time team of app developers working for you is expensive.
Employing experts, providing them with workspace and equipment, and covering any extra expenditures associated with in-house workers are all necessities. The cost and effort of recruiting and training new employees and ensuring that everyone on your team is on the same page when building a fantastic app may also be more than expected. You're losing business to your competition every day that you don't have a mobile app.
Consequently, outsourcing has become a cost and time-saving strategy among many businesses.
Outsource mobile application development company is a whole new approach that offers several benefits. Your app will be built by an already-existing development team for a fixed charge if you choose an outsourcing technique.
What to Look for in a Reliable Outsourcing Firm for Mobile Apps
The firm responds quickly and effectively (considering the possible time zone differences.
Instead of stating "we can do that," they actively inquire about your project every time you ask for a recommendation or provide an idea.
If you'd like to learn more about their previous work, they're happy to provide you with a tour of their virtual office or link you with an appropriate designer or developer.
For example, they confess to working on a similar project but refuse to identify the customer because of an NDA agreement.
Communication skills and fluency in the language are among the strengths of their project manager.
Their primary selling pitch isn't that they're cheap or affordable. Their reasoning for charging $1.000 rather than $100 for this functionality is sound.
However, they can explain simply why one technological choice is superior to the other.
They will be able to provide you with specifics on how they intend to carry out your job (and sound like they do know what they are up to.
Why Hire a Mobile App Development Company?
Over time, the benefits of outsourcing mobile app development have become evident.. It was only until the epidemic hit that outsourcing took off.
Various reasons for outsourcing Mobile App Development Companies
To save money, you'll need to look for low-cost supplies.
Engineers are in short supply in the business areas where they are needed;
App development may benefit from globalization and the potential to improve its quality.
Expertise in various specializations (automation and cybersecurity, cloud computing and AI/AR, etc.) is available.
Custom Software development services may be outsourced for several reasons.
Significantly reduced expenses
Finding and hiring competent engineers is challenging, time-consuming, and costly. You eliminate all of the expenditures involved with employing and maintaining full-time personnel if you outsource mobile application development.
Scalability is simple.
Some types of Outsourcing Mobile App Development demand a lot of employees, while others need one or two. Hiring in-house teams might be a challenge because of this. Outsourcing your project allows the development business to scale up or down the team size as needed, which is inefficient for everyone involved.
Investing Less Time
Additionally, one main question is how to outsource app development is to save your money and valuable time. The time and money you save on recruiting, training, and keeping new personnel are well worth the effort it takes to find the best out-staffing strategy.
Rapidity of Shipping
An outsourced mobile app is nearly assured to be finished quicker than one built in-house because of the elimination of the recruiting process and associated training needs.
How to Outsource Mobile App Development Effectively?
An App Outline is an excellent way to start.
Make sure you know exactly what you want to do before you start working on your app. Learning about an app's fundamentals from a reputable outsourcing firm is possible. You must, however, do your best to do thorough research on your own.
You may not comprehend the operational issues, but you may undoubtedly investigate rivals and comparable applications. This will give you a better idea of how your software works and what your competitors are doing wrong. It would be best to answer these questions since they help you form a basic plan.
Users will be able to utilize the app to address a variety of issues.
The platform you choose for your app is an important choice. Which platform do you like best: iOS, Android, Windows, the web, or a hybrid?
What features are given in your app?
How will you outperform your competition with your app?
Create a Primary Budget
You'll find out how much money you can spend on your app after doing a lot of studies and employing a freelance app developer or an app development company. Use this budget estimate to develop an app or guide your decision-making process. It would be less costly to develop mobile applications if you consider outsourcing a development firm. When you look at the big picture, they're relatively cost-effective.
Find App Developers by Doing Some Research
It's time to start searching for developers after you've decided on the app's overall structure and the associated budget. You may rely on the advice of seasoned professionals to guide you in the right direction. Websites like Clutch and Upwork are great places to hunt for app developers.
These sites exclusively include developers that have received positive feedback from their customers. The retained portfolios of app development businesses and developers may also be a good source of information about their prior work.
If the outsourced development team has previously worked on a similar project, that's an extra plus. This implies that he's done something similar before.
Talk to the Programmers
After doing your due diligence, you may narrow your search for developers to a select group. Then you may sit down with each of them one at a time and conduct an interview. Request information about their relevant experience, app development method, previous projects, customer testimonials, and costs by contacting them. This information can help you decide whether or not you wish to work with them. Time zone variations, project management tools, communication tools, and other relevant elements influencing outsourced app development may also be discussed.
Get in touch with the Final  Developers.
Once you've spoken to each developer on your shortlist, it's time to choose only one to work on your project. Please write it down as you get information online and via one-on-one discussions with developers. They will guide you on your selected platforms such as android or iOS app guide for mobile application, web app development guide for PWA and web app building or online blockhain development guide will help you to understand well. Compare and make an educated choice using this information.
Approach the outsourced android app development team after you've decided on one. The mobile app development business will also help you with the rest of the process.
Keep a record of every stage.
Communication is the most crucial factor in a successful outsourced app development project. It's critical to choose people who can stay on top of communication and have a finger on the pulse of the project as it progresses. When working with an outsourcing firm, you may expect to work with a project manager who will keep you updated on the project's progress. Request this in the outsourcing contract if you don't have it now. Set a deadline for obtaining the data at the same time.
More advice on outsourcing mobile app development
It's essential to stay in touch with your developers and keep an eye on the progress of your app's development. You'll have a project manager if you're working with an app development outsourcing business. Take some time to figure out how you'll communicate with your freelancer and how frequently you'll communicate with them.
The product owner must also formalize their connection with the app developer. You'll almost certainly have a formal agreement when working with a business. However, some independent software developers may be unwilling to get official. That's a warning indication.
Mistakes to Avoid When Outsourcing Development Team
They are ignoring the effects of time zones. It is essential to know when to put a project on hold. To develop a project efficiently, you must have 4-6 overlapping hours with your outsourcing partner. Also, make the most of this time by prioritizing the most vital tasks.
Inability to begin work without signing a non-disclosure agreement (NDA)
Developers may sign a non-disclosure agreement before commencing a project. As a result, they are legally obligated to keep your information private and not disclose it to anyone else without your consent. It's possible to keep your data private even without an NDA if you use a well-known mobile app development business. Unique ideas and start-ups often need an NDA.
Regarding your software project, over-reporting and over-communicating might do more harm than good. As a result, you and your outsourcing partner must agree on a timeline for "reporting."
Overlooking the evaluation phase
This is something that your chosen outsourcing company should be able to handle. A follow-up call before the job is done may help prevent any future misunderstandings about whether or not this service was included in the original contract. To ensure that your app is functioning properly, expert testing may help you detect flaws before your prospective customers do, allowing you to fix them before they become problems.
No access to technical assistance
Even after completing your app development project, you must have ongoing technical assistance when you outsource mobile app development. It is critical to ensure that the organization you contract with offers full technical support. As the complexity of your program increases, the benefits of outsourcing software development become apparent.
When you hire an outsourced development team, all of your needs are met. This includes Android and iOS programmers, UI/UX designers, project managers, and business analysts. If you're starting from scratch with a mobile app, it's best to assemble a whole team.
To Sum Up
To assist you in comprehending the application, you must have a working knowledge of technology. Creating a mobile app is a lengthy process that extends far beyond the product's debut. This is an ongoing process for as long as you have a company. As a result, selecting a trustworthy travel companion is critical. One of the main benefits of Outsourcing a Mobile App Development Company is to save money, time, and effort in this situation.
Choosing a perfect mobile app development company, Groovy Web is not simple since there are so many organizations and individual developers. In addition to your product and business benefits, working with a high-quality firm is a fun and rewarding experience. There are many options, and this guide is here to help you narrow your options to the most important ones.
---
Written by: Rahul Motwani
Rahul Motwani is an experienced Project Manager with a demonstrated history of working in the information technology and services industry. He started his career as a Backend developer and currently has his hands-on managing projects at Groovy Web. He is a strong program and project management professional with a Bachelor's degree focused on Computer Application.
---
Frequently Asked Questions
We hope these clear your doubts, but if you still have any questions, then feel free to write us on hello@groovyweb.co
The process of employing a third party from outside a business to perform particular task or develop products is known as outsourcing. Companies typically engage in outsourcing as a cost-effective strategy.
Groovyweb offer best quality and price ratio with timely based app delivery. The development cost of an application is start from $16 per hour* which are the most competitive in the market. Groovyweb delivered 500+ projects till now.
Here is the Top Advantages of Outsourcing
Focusing on task 

Cost Effective

Meet more professionals

Discuss risks

Quick Development 
---
Sign up for the free Newsletter
For exclusive strategies not found on the blog