Top 20 Best Chatting Apps or Messaging Apps in 2022
Top 20 Best Chatting Apps or Messaging Apps in 2022
Nauman Pathan
May 27, 2022 589 Views
10 mins read
Last Updated May 27, 2022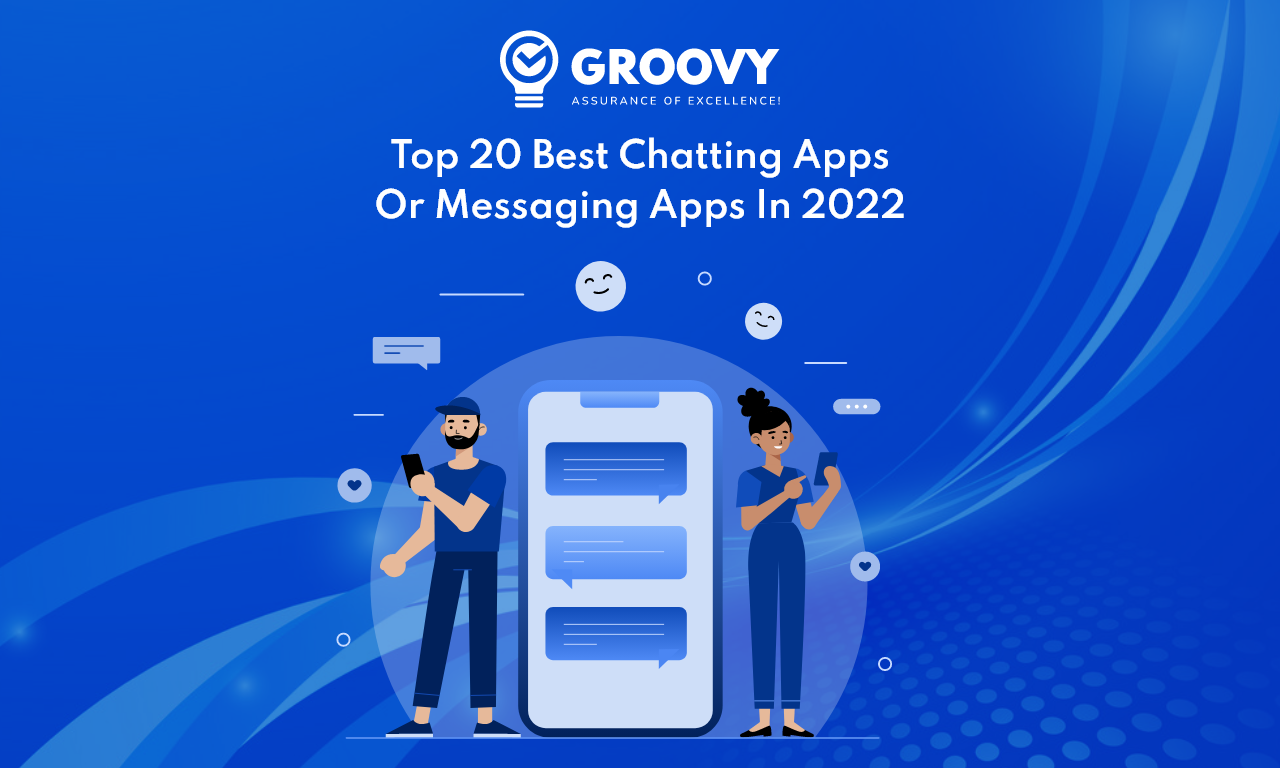 Quick Summary : This article is about the best chatting apps for android. We've tested a lot of different chatting apps and have chosen the best for you.
---
Slowly but steadily, the globe is shifting away from SMS and MMS as the primary texting means. It began with apps like Instant Messenger years ago and has since evolved into various solutions that all perform admirably. Over the previous few years, the change has accelerated. As a result, you now have free WhatsApp alternatives than you'll ever require.
Here's a quick rundown of Android's top features. As a result, you can pick the one that best meets your preferences and requirements, or you should develop own mobile app for messaging. For example, we enjoy group chats, group videos, and free calls with our friends and family.
The apps for chat listed below assist us in staying in touch with our contacts (phone numbers). Our cell phones allow us to stay in touch with family, friends, and even coworkers at all times, but integrated box options aren't always the ideal.
Messaging apps have evolved to include sophisticated services that allow users to engage with others in various ways, from free text messages to audio and video chats, photo and file sharing, and more, all with the added benefit of encryption.
We've tested a lot of different options, so here are some of the best chatting apps for Android.
Facebook Messenger
Facebook Messenger (often referred to as Messenger) is a best chatting apps in India, it is programed for web, android and iOS platform. Facebook Messenger is an Android messaging software that was released in 2008. The company revamped their messaging service in 2010. In addition, Facebook has released new applications for various operating systems such as android application, ios application, etc.,  over the years.
They created a website-specific interface (Messenger.com) and messaging features from the main Facebook app, allowing users to choose between using a split web interface or downloading a standalone app. Users can send and receive messages and exchange photographs, videos, stickers, and audio files. They can even respond to other users' messages and interact with robots.
The service also supports voice and video calls. In addition, standalone apps allow you to use numerous accounts, have end-to-end encrypted discussions, and more.
Skype
Skype is a telecommunications android chat app that specializes in video and phone chats over the Internet between desktops, tablets, mobile devices, the Xbox, and smartwatches. Furthermore, it offers the ability to send and receive instant messages. Text, video, music, and photos can all be sent by users. Video calls are possible using Skype. It allows people to connect via a microphone, a camera video, and instant messaging.
It also uses a freemium form of business. Skype calls are free. However, calls to landlines and mobile phones (through traditional telephone networks) are charged via a user account system based on credit debit.
Telegram
Telegram is a cloud-based instant messaging and voice-over-IP service. Android, iOS, Windows Phone, macOS, Linux etc., are all supported by client programs. Users can send messages and share any photo, video, sticker, or audio material.
The code for the Telegram client is open-source software. As a result, independent developers can use the APIs provided by the service. There were 200 million telegram users in March 2018. When saved on Telegram's servers, messages and media are encrypted. Encryption is also used for client-server communication.
For voice calls, the service delivers end-to-end encryption. It also allows users to have "private" end-to-end encrypted talks with one another, but not with groups or channels.
Signal
Signal Private Messenger is a full-featured messaging app with a focus on privacy. Text and image chatting, as well as phone and video calls, are all included. Along with Telegram, this android communication app provided end-to-end encryption and was the first by default. In addition, a rudimentary picture editor, a dark theme, and other features are included. After WhatsApp's privacy policy antics in 2021, it witnessed an increase in users, and it's a decent alternative for privacy if you require it.
WhatsApp
WhatsApp Messenger is a Facebook-owned free cross-platform chat and voice-over-IP (VoIP) service. It is the most widely used Android chat app nowadays. Users in-app can exchange text and voice messages, make video and audio calls, share photographs, documents, user locations, and other media.
To register for the service, consumers must submit several regular cellular phones. The WhatsApp client application runs on mobile devices, despite accessing it from a desktop computer or laptop as long as the user's mobile device is connected to the Internet.
Google Hangouts
It's a service that allows you to communicate with others. All of your friends who have a Gmail account can connect and communicate with you. It's a standalone program for sending messages on a smartphone or integrated with Gmail.
You can't use it to talk to friends who don't have a Gmail account, though. However, you can form group conversations, send files, and search your text messages with this software. It is popular web application developed by the google, work on both mobile and web.
Snapchat
Snapchat is a popular software that allows users to create online stories deleted after 24 hours. Unfortunately, Instagram stole this functionality a while back, and many other apps quickly duplicated it.
WhatsApp, too, has a similar function in the form of 24-hour tales. In addition, you can use Snapchat to share tales and test out many amusing masks with a camera, interact with friends and create your own stories.
Discord
Discord is, without a doubt, one of the top gaming communication apps. It supports most mobile phone and computer operating systems and is cross-platform—also a web client for platforms that do not have a native app. Voice chat, multiple text chats, GIF support, and more are all included in the app.
Users can either establish their servers or join others on the service as needed. It's primarily used for gaming. On the other hand, some people utilize it solely for its excellent organizational system and above-average audio chat capabilities. Everyone can utilize the service for free. The Discord Nitro membership, on the other hand, will get you access to some cosmetic bonuses.
Viber
Viber is a cross-platform messaging service that identifies users by phone numbers. A code is issued to your mobile phone number after you register. You may make free calls and send messages, photos, and videos to other users. Unlike WhatsApp, Viber has many funny stickers to spice up your conversations.
Riot
Riot is a safe, worldwide chat program that aims to improve communication and collaboration. You can create rooms on any topic, exchange files, communicate, add widgets, make video calls, and host conferences with Riot. You can take control of your data by hosting it on your server with an open-source application built on Matrix.
Threema
Threema is a mobile talking software with a similar user interface to WhatsApp. You can exchange photographs, text messages, and your GPS location in the conversation. It also syncs your whole contact list, allowing you to locate Threema users quickly. Even developers cannot view messages from the app, which means your whole conversation history is safe and secure.
WeChat
In China, WeChat is a popular talking app. It is a free chat app, and you need to provide your phone number and verification code the same way you did when signing up for WhatsApp. To identify others who also use WeChat, connect to your email or Facebook. You can use it to share files at your location, conduct free video and audio conversations, and send messages.
LINE
You must use your phone number while signing up for Line. This way, you may search and connect with other Line users from your contact list. You can send an email to install Line on your PC and communicate with your friends.
Able to make free phone calls and send free messages to other users. This chat app, however, requires an immediate internet connection.
KaKaoTalk
When you register with KaKao Talk, your phone number and verification code are also used. With these many users as you want, you can use free chats with messages, calls, and videos.
It lets you email up to 100MB of items, including documents, videos, and photos, from your PC. Furthermore, you can use your KaKaoTalk app to go live.
Wire
Wire app is one of the top WhatsApp alternatives because of its end-to-end encryption and simple interface. It was designed by Janus Friis, a co-founder of Skype. You must submit your phone number and email address to sign up, but nobody will share this information.
Voxer
Voxer is a walkie talkie (PTT – push to talk) Messenger with voice messages as its major feature. You may communicate text messages, media files, and your GPS location like any other chat program. Voxer also offers a business-oriented pricing package. In addition, you can use it for $6.25 per month for quick customer service. Try this app for free for a limited time, for 14 days.
Slack
Slack is a fantastic and useful tool for workgroups. It enables you to build multi-user chats, share various media, and gather all of the files for a project in one location. In addition, it will allow you to make voice and video calls and send text messages. It's free for small groups, but if you want to use it frequently for larger groups, you might consider purchasing their commercial plan.
Check out our selection of the finest Slack alternatives if you're seeking a communication application with a few productivity features.
GroupMe
GroupMe is a Microsoft-owned mobile group messaging service. You can use GroupMe by downloading the app or going to the website and creating an account using your name, phone number, and password, or you can connect with your Facebook or Twitter account.
After that, the service synchronizes with contacts, and the user can create groups of up to 500 members. In this app, users of an active group can turn off notifications for the application. They will still receive the message but will not notify them.
Each group is allocated a label and a specific number. The app's capabilities include sharing photographs, videos, and locations and the option to create new ones.
IM+
IM+ is a social networking messaging app that is all-in-one. You can access all of your chat histories from Facebook, Instagram, Skype, Pinterest, Telegram, and Twitter on Instant Messenger. It helps to save users a significant amount of time and, more importantly, a significant amount of space on your phone. But unfortunately, it's only available for iOS right now.
Tango
Tango is an Android conversation app developed by a third party. TangoME, Inc. introduced multiplatform communication services for smartphones in 2009. The program is free and includes features such as voice conversations, text messages, photo sharing, and games, in addition to video calls.
Tango comes in 14 other languages, including Arabic, Chinese, and Turkish. You can use Tango to make video calls, text chat, exchange images and videos, play games, listen to music, and send messages to your friends. Tango has a user base of 160 million people.
Conclusion
As people are forced to adapt to the new normal due to the Covid-19 scenario, the value of digital communication is becoming increasingly apparent. Furthermore, it is getting increasingly impossible to get by daily without having access to these best messenger apps from the market.
These popular messaging apps are designed with rich, user-friendly features to keep the conversation fresh and help us remain in touch with individuals from all over the world. We can assist you whether you're launching a new business solution or trying to resurrect a failed enterprise mobility project. Our hybrid mobile app development team at Groovy Web can help you achieve your goals and help to build a world-class chatting app. Get in touch with us! Today!
---
Written by: Nauman Pathan
Nauman Pathan is a Project Manager at Groovy Web - a top mobile & web app development company. He is actively growing, learning new things, and adapting to new roles and responsibilities at every step. Aside from being a web app developer, he is highly admired for his project management skills by his clients.
---
Frequently Asked Questions
We hope these clear your doubts, but if you still have any questions, then feel free to write us on hello@groovyweb.co
There are numerios application for chatting. List is mentioned above is the best chatting apps you should try.
Snapchat
Vimeo
Skype
Facebook massenger
Google hangout
Best Web Chat Apps
HubSpot Live Chat.
LiveChat.
LiveZilla.
LiveAgent.
Freshdesk.
Drift.
Zendesk Chat.
Zoho Desk.
---
Sign up for the free Newsletter
For exclusive strategies not found on the blog