15 Interesting SaaS Development Trends for 2023
15 Interesting SaaS Development Trends for 2023
Ashok Sachdev
November 14, 2022 209 Views
18 mins read
Last Updated November 14, 2022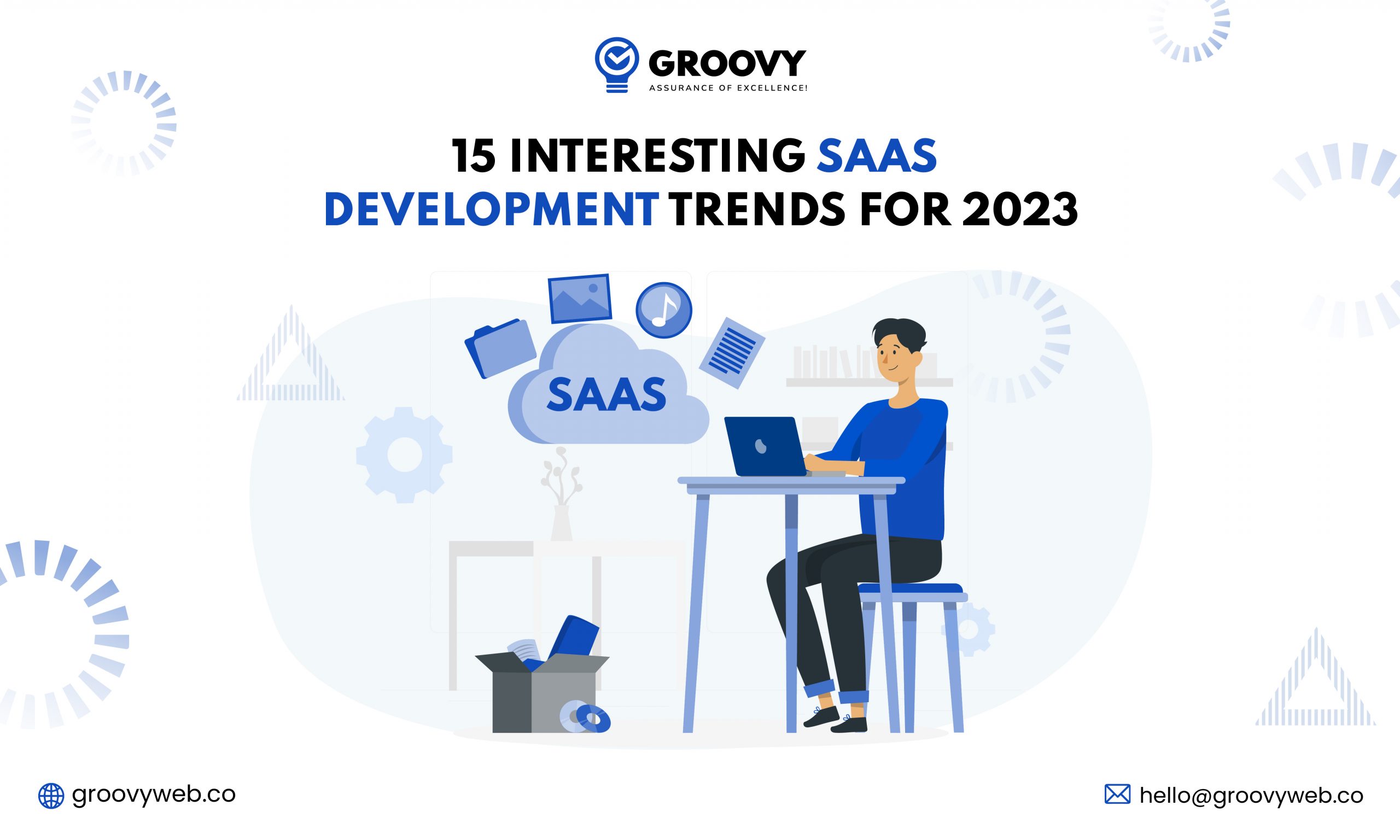 Quick Summary : Make engaging software with productive outputs you might consider emphasising planning to deployment. SaaS Development requires designing, developing and sustaining procedures. In this article, we are going to discuss the latest SaaS development trends of today's world.
---
There is a lot to consider, despite the idea of building software for your project may seem like an exciting beginning. Your application engages in designing, developing, and sustaining procedures to ensure that your business is a success. These processes include conceptualizing, specifying, designing, programming, documenting, testing, and problem-fixing.
The growth of software development is not a secret to the outside world, even though the significance of mobile app development skyrocketed shortly after companies were exposed to the worldwide epidemic SaaS development services. Taking the early stage of software development as an example, the complexity and dynamic nature of custom software development were relatively higher than it is now in 2022.
To maximise their return on investment (ROI), businesses need to keep up with the ever-evolving digital world by keeping abreast of the latest developments in both bespoke software development services and the relative merits of various technologies. This is because every business aims at matching the pace of the changing digital landscape to stay on top.
In light of this, how can you grow your IT company to become unbeatable in your industry? This may be accomplished by being abreast of emerging fashions and technology.
The year 2022 was dominated by modern breakthroughs such as augmented reality and virtual reality, artificial intelligence, the development of block chain technology, machine learning, the internet of things, and many more. Will we see a continuation of these trends? Or will 2023 see new trends becoming more prevalent for the corporate software app development company?
Let's look at the leading trends in software and app development for 2023, which will continue to assist companies in dominating the app development sector SaaS development in the long term.
Trends in Software Development That Will Define the Year 2023!
1. Artificial Intelligence Technology Will Continue to Advance.
The development of programmes that work across several platforms has significantly benefited from the use of artificial intelligence (AI). Reports indicate that the technology will continue to expand its capabilities of consumer involvement and will begin to accept the usage of AI models efficiently and effectively. To profit from the highly competitive technology industry in 2023, let's investigate a few of the top AI developments that will emerge.
Advancing techniques in predictive analytics
Large language models
Protection of sensitive information (InfoSec)
The introduction of more advanced autonomous systems
Applications that are embedded
Companies include this technology in their software to provide consumers with a better experience. A recent poll saw around 84% of respondents affirm that they believe using AI has given them an edge over their competitors. This technique, along with its related technologies such as machine learning and deep learning, has several uses in almost every industry.
Bespoke software developers are going to extraordinary lengths to provide organizations with innovative approaches to using SaaS development AI. It is anticipated that by the year 2023, there will be several excellent strategies for incorporating AI into developing websites and mobile applications.
Chatbots have recently grown widespread, and they can now be discovered in almost every app or website. For the most part, chatbots and other forms of artificial intelligence technology have taken the place of human customer support employees. Artificial intelligence is all about reducing the amount of human involvement and increasing dependence on machines.
In 2023, the norm will be more frequent use of chatbots, more accurate consumer behaviour analysis, and fewer human resource personnel visits. Artificial intelligence is automating every task to assure the highest possible levels of accuracy, dependability, and speed.
2. Increased Reliance on the 5G Network is anticipated.
Not only is the introduction of 5G a trend in the mobile application development field, but it is also a game-changer for many businesses that rely on internet access. Numerous published industry studies predict that the worldwide 5G infrastructure will likely rise fully-fledged in the market share of 5G-enabled smartphones, exceeding 4G sales and reaching 51.4 per cent by 2023. Let's start by looking at a few major software development companies that may make passive use of this technology.
AR/VR applications in the gaming industry and industrial processes
Drones are becoming more used in various industries, including retail, supply chain management, and border patrol.
Wearable IoT gadgets & connected autos
3. Computing on the Edge
Edge computing has skyrocketed in popularity in the software business because of its remarkable data management capabilities and its utilization of cutting-edge technology. By 2023, the market for edge computing is expected to have grown by almost 28%.
Do you have any idea what's causing this pattern to emerge? What makes industry professionals believe that edge computing would enjoy such a quick expansion? This is the case because it is employed to enhance cloud computing, a rapidly developing technology that is extensively accepted.
Edge computing might be an effective alternative when the connection to a central site is poor in remote locations. In addition, it may be used to process data sensitive such as payment gateway integration, banking system, ATM  transactions etc, to the passage of time, but cloud computing cannot be used for this purpose.
4. IoT Expansion Continues
The Internet of Things (IoT) started as a much-hyped future technology that has now become a reality, impacting various businesses. The Internet of Things may now be found in everything from phones to cars to security systems and even smart home appliances. This trend will continue to expand in 2023, with businesses concentrating their efforts on the rapid expansion of the internet of things and using the movement to promote their company.
The rise in the number of devices available on the market has been a driving force behind the development of the Internet of Things. Due to developments in sensor technology, increases in computing power, and reliable mobile connection, it will continue to become more accessible, inexpensive, and secure in the following years.
In addition, the Internet of Things will be used along with data analytics software and artificial intelligence to aid businesses in enhancing their operations, decreasing their overhead costs, boosting their productivity, and raising their revenue.
5. Contracting Out the Development of Software
In the software industry, the number of remote employees has increased. There will be an increase in the outsourcing of software development industry of 4.42% each year between 2019 and 2023. In 2023, there will hopefully be an increase in IT outsourcing projects. Businesses are always looking for ways to integrate the most recent technological breakthroughs into their products most efficiently and economically possible.
According to the findings of a survey, the rising need for business process optimization is the key driver driving the increased demand for IT outsourcing. Businesses hire information technology outsourcing firms with the idea that the company would provide outstanding full-stack development services to enterprises.
6. Software for the Management of Projects:
It is possible to have quite a difficult time while managing a project for an organization. Using software for managing projects may make the process easier by facilitating accurate planning, the distribution of resources, and the scheduling of work. The project manager may more easily organize and evaluate each step of the project with the assistance of this software. Now, let's have a better understanding of the advantages that accrue to a corporation when it uses this software:
The process of planning and monitoring the development of initiatives
Notifying those aspects that still have room for development
Putting together a schedule for the meetings and the programmes
Proper distribution of the available resources
Effective communication and cooperation among all parties
Simple paperwork is required.
Performs duties following the specifications of a company
Project budget management in real-time
7. Software for Accounting Purposes
Companies use accounting software to facilitate the organization, management, and automation of their financial activities and transactions. Estimating a company's finances may become a monumental undertaking as the company continues to expand SaaS solution development. Errors in accounting may sometimes result in significant financial losses. Accounting software is beneficial to the expansion of a corporation to subsequent levels. It offers a company's management a transparent view of the performance of the company's operations. The reasons why businesses might consider using accounting software:
Reduces the complexity of labour-intensive activities
Generates accurate financial reporting
Automates the processes
Reduces mistakes
Synchronize all of the essential financial data.
The filing of the tax return will be a breeze.
8. Applications for Email Marketing:
Email marketing is the primary use of the software known as email marketing software, which the marketing department of a corporation uses. Emails have the potential to deepen the emotional connection between a business and its customers. It is the most effective method for companies to maintain communication with prospective clients and continuously bring to their attention the goods or services offered by a specific manufacturer or retailer SaaS development services. With this programme's help, a business can investigate the potential of a marketing campaign to its utmost extent. The use of software for email marketing allows firms to
Less expensive advertising options
Make a potential spectator into a paying patron.
Send emails to a particular grouping of audience members.
Simple in its operation
Make the emails more automated.
Produce analytical outputs for use in further evaluations.
Maintain worldwide communication with the audience.
You have understood the benefits of SaaS applications may provide to your company. Let's make an effort to get a grasp on the distinguishing characteristics of the many sorts of SaaS apps.
9. Software for managing relationships with customers:
CRM, or customer relationship management, is a kind of database that houses data about a business's interactions with its clients. Every customer will enjoy a positive and trouble-free transaction thanks to it. The following is a list of some of the benefits that come with using software development tools:
Effective administration of information about customers
Keeping track of all contact with customers
locating potential new customers and correctly grouping them into categories
Take charge of the marketing endeavours.
Improve your level of service to the customers.
Identifying sales opportunities
Providing in-depth insights by using a variety of metrics
Reports on sales activity generated automatically for analysis
Establishing a centralized data repository
Increase in the percentage of retaining customers
10. Application software for enterprise resource planning:
Enterprise resource planning, often known as ERP, is a powerful technology enabling companies to consolidate their fundamental operations onto a single informational platform. The use of this programme can be very beneficial. It makes it simple to keep an eye on all corporate areas. It can perform the functions of a company's central nervous system by integrating intelligence and automation to carry out day-to-day operations in the most effective manner possible.
The following is a list of some of the highlights of utilizing ERP software:
The availability of information that is correct
Improved coordination and cooperation between the various departments
Improvements in terms of productivity
Cost savings in the overhead categories
A general improvement in the management's level of quality
The recording and monitoring of inventory are made simpler.
Minimizing risks by avoiding mistakes
ensures the safety of the data
The scaling up of commercial activities successfully
11. Web Apps
Thanks to web-based apps, users can access an application hosted on the web and run via their internet browser. This facility offers a responsive design, meaning the user may visit the website using either a desktop browser or a mobile device. The user needs just to launch their chosen web browser, whether it is Chrome or Safari. They only need to open the homepage to begin utilizing it, and they won't need to download any other software SaaS solution development.. Here are some examples of programmes that run on the web:
Twitter
Slack
Trello
Amazon
Gmail
Due to the low cost of creation app and the simplicity of maintenance, it is the most excellent option for situations with a limited budget.
12. Apps for native mobile platforms
These are mobile applications offered as a service (SaaS) that customers may download and use as necessary. The coding behind native applications development is done in a specialized language. For instance, the programming language used on iOS devices is called Objective-C, whereas the programming language used on Android devices is called Java. Using an appropriate application store, such as Google Play or the Apple App Store, we can install native The following are examples of native SaaS mobile applications:
Facebook Messenger
Instagram
Spotify
Native applications are known for their exceptional reliability and lightning-fast speed. The most excellent feature is that the user interface and experience change to the device on which the software is downloaded.
13. Apps for Hybrid Mobile Devices
A hybrid app has qualities with both online apps and traditional desktop application development. Hybrid applications may be downloaded from the application stores, much like their native counterparts. Even though they run on browsers, these applications have the same user interface features as native programmes SaaS solution development. Hybrid applications are the most excellent choice for users who want to evaluate an app's functionality before making a financial commitment to purchasing it. Here are some examples of hybrid mobile applications:
Evernote
UBER
Twitter Lite
OpenSea
One of the most appealing qualities of hybrid apps is their cost-efficiency. Additionally, it can effectively offer a service.
14. Security, Data Learning, and Machine Learning
Customer service reports and programmes like chatbots are automated using machine learning (ML), a branch of artificial intelligence. Organizations will have the ability to automate internal tasks beyond customer service and experience thanks to ML's autonomous operational paradigm. Products will be able to improve themselves thanks to ML innovation, increasing intelligence across sectors. The following are only a few of the most significant use cases for machine learning in the SaaS market:
Businesses may enhance their products' usability and intuitiveness by letting platforms learn about their customer's preferences and behaviours.
Businesses process a lot of contextual data and insights to help them position their products and markets more effectively.
Operations and internal cooperation are being optimised.
increasing consumer involvement;
Greater data safety is ensured by advanced pattern recognition.
15. Vertical SaaS for solutions that are industry-specific
The emphasis is the main differentiator between horizontal and vertical SaaS businesses. The first, as its name suggests, offers solutions for many different industries. The second is a product created concurrently for a small market, often inside a particular speciality.
On the other hand, a vertical SaaS model is suited to certain company needs or industries. The TAM for vertical SaaS is thus decreased. IT professionals claim that vertical SaaS is the most recent iteration of horizontal SaaS since it may meet the unique requirements of a certain business.
What sets web applications different from native applications and hybrid applications?
The proprietors of businesses need to grasp each kind of application comprehensively. When running a company, it is essential to choose the right software, product, or custom software application to bring in a profit.
Different categories of software-as-a-service applications
Now that you have an understanding of the idea, let's have a look at the many kinds of SaaS software that are now on the market:
Differences between SaaS B2B and SaaS B2C
| | |
| --- | --- |
| SaaS B2B | SaaS B2C |
| ● Business to business, often known as B2B, refers to the transaction when one firm sells its goods or services to another business. When this occurs, business transactions take place between the two firms involved. | ● The business model known as "business to consumer" (B2C) is one in which a corporation directly offers its goods or services to the people who make up its target market, also known as consumers. As a result, the customer and the business engage in the transaction that constitutes the commercial activity. |
| ● The method through which organizations provide software to other businesses on a subscription basis is referred to as B2B Software as a Service SaaS solution development. | ● The method through which organizations provide software to other businesses on a subscription basis is referred to as B2B Software as a Service SaaS solution development. |
| ● It generally focuses on Lead Generation | ● It focuses on Brand Building |
Which option, on-premise software or hosted in the cloud, should you go with?
First, it is essential to have a solid understanding of the most significant distinction that exists between on-premise solutions and SaaS developers. A firm using a SaaS service has the solution hosted and maintained by a third-party provider. The sort of implementation most suitable for a company is determined by a number of factors, including the strategy used, the need for security, the money allotted, etc.
Implementation
SaaS solutions may be set up and used immediately, but on-premises solutions need extensive planning and execution phases that add significant time to the overall timeline. The latter option will use a pre-existing platform the provider has already developed and successfully tested. When customers go with a SaaS solution, they will have quick access to the service they have subscribed to.
Therefore, it is recommended that you go with software as a service (SaaS) solutions if your company does not have the resources to construct an on-premise solution. Additionally, if any of your employees need to use the programme from a distant location, it is best to go with SaaS services.
Budget
The upfront expenses of on-premise systems are much higher than the price of SaaS alternatives. The primary reason for this is the expense of the initial setup as well as the purchase and installation of the gear. To maintain their use of the services, businesses who use SaaS must make regular monthly or yearly payments.
Therefore, the best option for your business will be to go with software as a service (SaaS) if it is not in a position to invest significant money in software. The management of software that is hosted in the cloud, or SaaS, is more straightforward.
Simple stages for the construction of a SaaS application
At well-established companies like Groovy Web, they create web applications, software application, and Saas for their clients, by adhering to a tried-and-true approach. This enables them to build and deploy lucrative SaaS applications for our clients in less than sixteen weeks.
1. Planning and analysis
When developing a SaaS application, professionals often begin with a session focusing on Product Discovery and Roadmapping. The Groovy Web team identify the primary rivals of your company, determine the appropriate audience for your product or service, and pinpoint the areas where customers have difficulty. In addition, they do in-depth analyses of the market and try to stay current on industry trends.
2. Bring the project requirements to a close.
Groovy Web professionals record the characteristics to have a clear picture of how the development should go. They ensure that the SaaS developer solution in question will be acceptable for accomplishing your objectives. They consider every potential hazard to devise effective strategies for overcoming every obstacle.
3. UI/UX design of the programme you are working on.
When developing a SaaS application, they believe that the user experience and the user interface design are two essential aspects. Customers might be enticed to test out your goods if it has a simple and straightforward layout. Desktop computers, as well as mobile devices, may use cloud programmes provided by SaaS providers.
4. SaaS App Development
It might be challenging to choose the technology that will be used to construct a SaaS application since it has to be able to handle the features, the design, and the requirements. The expert team will provide recommendations for the appropriate tools and technology stack that may increase the product's overall efficiency.
Essential Aspects of Designing Applications for SaaS platforms:
1. Front-end
Fundamental front-end development may be accomplished with the help of the markup languages HTML5, CSS3, and JavaScript, respectively. As a potential alternative for a framework, Bootstrap 5 is an option to consider.
2. Back-end
Languages: Programming languages such as Java, Python, PHP, C#, and JavaScript are well-known for their use in the construction of the back end of websites. Programmers use frameworks such as Django and Flask in C#, whilst PHP programmers utilize Symphony and Laravel. You can use a cloud server, such as those provided by Google Cloud, Amazon Web Services, Microsoft Azure, or DigitalOcean.
Database: MongoDB, MySQL, Redis, and PostgreSQL are some of the most common databases for creating SaaS applications.
DevOps Tools: DevOps is becoming a vital aspect of SaaS products as they assist in raising the efficiency of the services. This is because DevOps helps to improve the quality of software development.
This technology provides predictive analytics to give a better user experience or to prevent consumers from cancelling their subscriptions. Artificial intelligence (AI) and machine learning (ML) are two examples of this technology. These services are offered by Google Cloud, Amazon Web Services, and Microsoft Azure, interested in gaining additional knowledge about the construction of SaaS applications.
Conclusion
It is anticipated that these cutting-edge technologies will significantly impact the business of developing software during the following year. The consistently rapid advancements in areas of technology, such as AI and AR/VR, are a significant contributor to the industry's dynamic nature. Every business needs to incorporate this rapidly developing technology for it to progress. That's the only way to make it through this harsh environment alive and well. You need to find web app development near me that can help you carve out a certain niche in the market if you want to succeed.
---
Written by: Ashok Sachdev
Ashok Sachdev is the Project Manager at Groovy Web who began his professional career as a programmer at the young age of 17. Ever since then he is actively growing, learning new things, and adapting to new roles and responsibilities at every step. Aside from being an app developer, he is highly admired for his project management skills by his clients.
---
Frequently Asked Questions
We hope these clear your doubts, but if you still have any questions, then feel free to write us on hello@groovyweb.co
Software as a service (SaaS) offerings are flooding the market to assist companies in meeting these objectives. Because of the SaaS model, these services are a reliable option for a wide range of company kinds and sectors. Let's take a look at the top SaaS industry trends for 2023.
Here the top 6 challenges are facing by a SaaS Industry
SaaS commoditization
Market consolidation
Pricing and monetization reengineering depending on use
Distributed team management and hybrid work
Decentralization and unbundling of services
Changes in privacy and compliance
Python, Java, PHP, C++, and other programming languages are commonly used for back-end web development. Python's syntax and coding process are simple, which speeds up development. PHP is ideal for empowering the back-end of a SaaS startup's website.
---
Sign up for the free Newsletter
For exclusive strategies not found on the blog