How Much Does It Cost to Develop An App in 2023? Cost Breakdown
How Much Does It Cost to Develop An App in 2023? Cost Breakdown
Rahul Motwani
January 16, 2023 119 Views
27 mins read
Last Updated January 16, 2023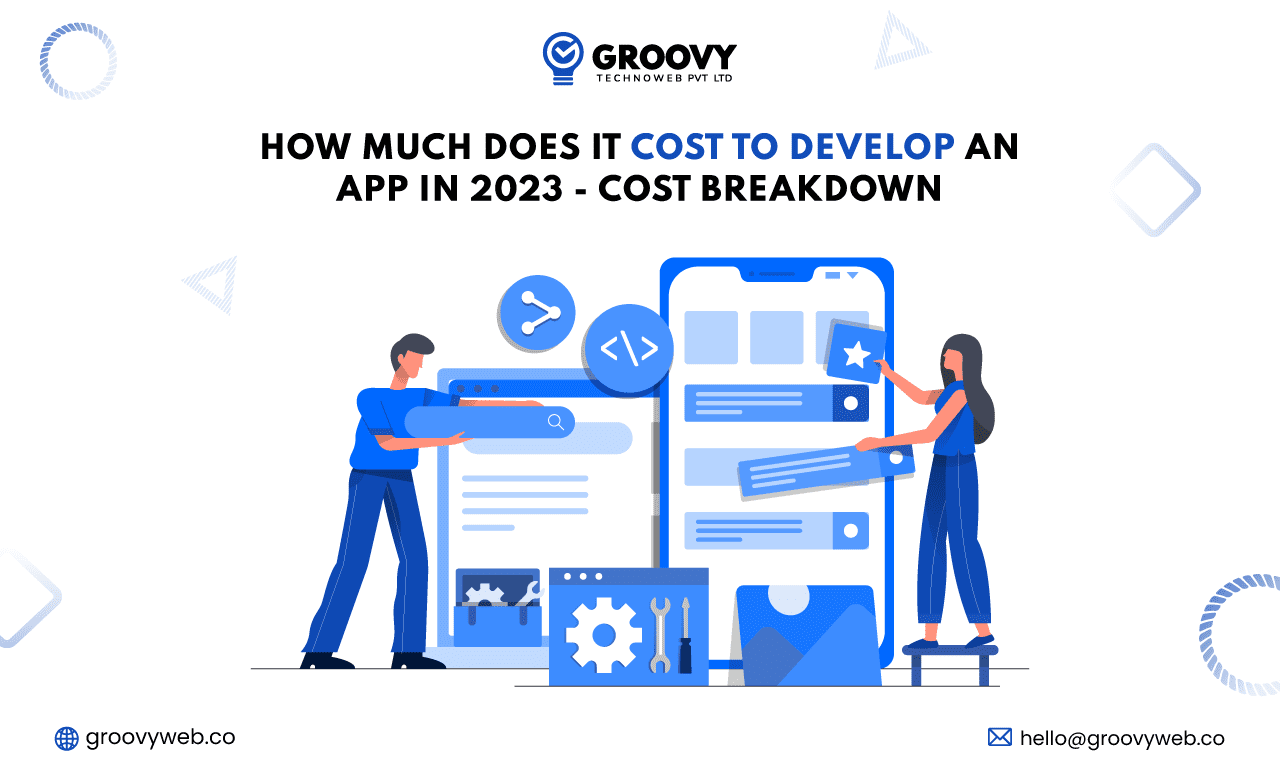 Quick Summary : Does professional mobile app cost a lot? How much actually cost to develop an app in 2023. What features does cost, region and time to create an application explained in this content read till the end
---
The user will be willing to pay you whatever fee you are asking people to use your on-demand software if you offer them any value. One of the most lucrative activities nowadays is creating an app from the scratch. 90% of user time is spent on downloaded mobile apps.
If you're considering starting from scratch and developing an app, you have to determine how much it will cost. Approximately 91.54% percent of the world's population uses smartphones, which is 6.5 billion. By 2022, you can imagine the profits you would earn from developing your app. (Source)
How Much Does It Cost to Develop an App?
In order to begin the app development process, you need to clearly understand your company's business objectives and the characteristics of your application before you start. One can determine the cost of developing a mobile app is simply using a formula. The No. of hours multiplied by the hourly fee is the formula for developing an app. Once you're familiar with these aspects, you can use the typical calculation method to estimate how much it will cost to construct an app.  
| | | |
| --- | --- | --- |
| App Type | Estimated Price | Estimate Time |
| Basic App Development Cost | $10,00 to $30,000 | 2-3 Months |
| Medium Scale App Development Cost | $30,000 to $100,000 | 3-6 Months |
| Large Scale App Development Cost | From $100,000 | 9+ Months |
Let's Take a Look Some Statistics on app development costs
The global expansion of mobile development impacts the popularity of applications and the cost of app creation. There are almost 7 million apps accessible for download in app shops. Mobile app development has compiled data that reveal fascinating information about the app development market and prices in 2022. Here are some statistics to consider based on various sources and methodologies: Every month, over 100,000 new applications are launched on Google Play, and over 30,000 on the Apple App Store The market for app development is dominated by free applications. For the most part, free and freemium pricing models are the most effective.
For example, in the Apple App Store, free utilities make for around 92% of the total In 2020, the mobile app industry's revenue is expected to reach $581.9 billion. If this trend continues, the industry's sales will reach over $1 trillion by 2023. The mobile app development market is estimated to increase by more than 18.4% by 2026, reaching a value of $407.31 billion Almost 90% of people's time is spent on apps. People will soon spend 4 hours a day on their mobile devices, with 88% of the time spent on application activity Sixty-six percent of smartphone users download games. At the same time, more than 95% of all users download messaging and communication apps.
Calculating the Total Cost to Develop an App
The formula or answer to how much does it cost to create an app rests in calculating the number of hours required for each development phase and multiplying it by the billable hours of resources. You can find an app pricing estimate from most of the top mobile app development firms online. App cost calculator gives you a rough estimation in real-time.
The formula or answer to how much does it cost to create an app rests in calculating the number of hours required for each development phase and multiplying it by the billable hours of resources. You can find an app pricing estimate from most of the top mobile app development firms online. App cost calculator gives you a rough estimation in real-time. Here is a small step to determine the cost, but there are more things to consider while deciding the cost of mobile app development. Let's look at everything in detail.
The Top Apps Worldwide and The Cost to Develop Them.
| | | |
| --- | --- | --- |
| Top Mobile Apps | Estimate cost to Develop | Duration |
| ON-DEMAND FOOD DELIVERY APP LIKE ZOMATO | START FROM  $20,000 | 2-4 MONTHS |
| ON DEMAND MARIJUANA APP | START FROM  $20,000 | 2-4 MONTHS |
| ON DEMAND HANDYMAN APP | START FROM  $20,000 | 2-4 MONTHS |
| ON DEMAND LAUNDRY APP | START FROM  $20,000 | 2-4 MONTHS |
| SPORTS FANTASY APP | START FROM  $20,000 | 2-4 MONTHS |
| BUSINESS DIRECTORY APP | START FROM  $20,000 | 2-4 MONTHS |
| CLASSIFIEDS APP | START FROM  $20,000 | 2-4 MONTHS |
| LIKE TIK-TOK APP | START FROM $50,000 | 4-6 MONTHS |
| APP LIKE AIRBNB | START FROM $50,000 | 4-6 MONTHS |
The other app development cost are provided below, including the approximate price and development time for different types of apps. Keep in mind that these are only estimates and the actual cost and time frame for a specific app will depend on various factors. The provided cost and time frame are based on the previous experience and are not the actual cost of an app.
Region Wise Cost to Develop an App
| | |
| --- | --- |
| Region | Hourly Rate |
| North America | $100-$250/hour |
| Western Europe | $75-$200/hour |
| Eastern Europe | $40-$150/hour |
| India | $20-$80/hour |
| Southeast Asia | $20-$50/hour |
| Australia | $110-$125/hour |
| United Kingdom | $68-$85/hour |
Example of App Development Cost
App Development Cost are provided below, including the approximate price and development time for different types of apps. Keep in mind that these are only estimates and the actual cost and time frame for a specific app will depend on various factors. The provided cost and time frame are based on the previous experience and are not the actual cost of an app.
| | | | |
| --- | --- | --- | --- |
| App Type | Features | Development Time | Cost |
| Basic e-commerce app | Mobile & Web, Multiple Users Interact, Custom UI, Checkout, Cloud-Based Database, 2FA Security, Product Review and Rating | 1000-1200 hours | $19200 |
| Social media app | User profiles, Messaging, Push Notifications, Rating and Reviews, Template UI | 300-400 hours | $6400 |
| Telemedicine App | Mobile & Web, Admin Access, Email Integration, Checkout, Cloud-Based Database, Patient Management, Doctor Management, Appointment Booking | 1000-1200 hours | $19200 |
| Ride-sharing app | GPS tracking, In-App Payments, Cloud-Based Database, Driver/Passenger matching | 600-800 hours | $12800 |
| Gaming app | Mobile App, Cloud-Based Database, 3D graphics, Multiplayer Functionality, In-App Purchases, Custom UI | 900-1000 hours | $16000 |
How Much Does It Cost to Develop An App for Startup Business
While developing your individual mobile app is undoubtedly thrilling, there are several factors to consider prior to making an estimate. It is okay if you need more preparation to handle the costs and difficulties of your application design. We'll introduce you to the method of developing apps:
#1. Define Your App Concept
Although validating an app idea might seem complicated, we can assist. Take these actions:
Continually do research
Finding out how your application will operate, how competing it's going to be, as well as what sets it unique will all be aided by research. To see the competitiveness, identify and list keywords that characterize it. Review user comments and take note of their suggestions for enhancing the current ones.
Construct a Prototype
Like any applications, it ought to start with a basic form. An offline device sample can help you comprehend your product better. It can also assist you in acquiring information from those other customers who may be inclined to utilize it. This shows you how and where to advertise your mobile phone app to possible partners or programmers.
Plan your development
When you have a development model, you can better grasp the time and money needed to build your application. Ensure you include a detailed development, advertising, and upkeep plan. The strategy should cover all possible pitfalls and advantages that can influence the app's success.
#2. Know your App Type
Native, online, and hybrid phone applications are the three primary categories. Each category affects your mobile application development costs and operation timeframe; therefore, you should be aware of them all. The information you should know is as follows:
Native Mobile app
An app created specifically for a particular platform, such as iOS or Android, is called a "native app.". These may make use of all the characteristics of the device because they are coded in the syntax of the framework for which they are intended. Additionally, they often provide a superior user experience since they are designed specifically for mobile devices.
Progressive Web App (PWA)
Despite what many people think, web apps aren't real apps. The applications are essentially online versions of native apps, although they are not designed as such. Progressive web applications are typically coded in HTML5 and are accessed via a net browser. Since apps require less money and time to produce than native apps, web applications are widely known.
Hybrid Apps
A hybrid app can run on a wide range of devices, can be developed more affordably, and features a flexible user interface. Multiplatform applications can be built by creating a single application that works on multiple devices. It's possible to develop an app for any specialized area. The most popular niches include business, educational, entertainment, gaming, etc. Entertainment, business, and education are the three segments that dominate the iOS and Android app markets. Some other types of mobile application mentioned belowed. Please check it.
Type of Mobile Application
Let's analyze the different types of mobile applications and figure out what is the average cost to develop a mobile app in India.
To stay inside your native mobile app development company budget, build your app using your app type.
The cost of mobile app development in India varies depending on the application type, business plan, and app quality. An application development project or idea is always a one-of-a-kind experience. Here is a mobile app development cost that can assist you in staying inside your budget.
Mobile Apps with Simple Functions
Without internet connectivity or server components, basic programs can efficiently function. Between five and six displays are typical for these programs. Without an internet connection, your phone's calculator app, for example, does the solely defined duty. The cost of simple mobile app development varies between $5,000 and $15,000. The primary mobile app development timeline would be 4 to 6 weeks.
Data-driven Mobile Apps
Data-driven programs run more smoothly with network connectivity. These apps only use a small amount of data, and these apps do not require registration or verification. As a result, because these apps necessitate backend work, their costs climb. Consider the Weather app, which uses third-party APIs to obtain data. Developing a data-driven app for mobile ranges from $7,000 to $15,000, and the construction of a mobile app will take 6 to 8 weeks.
Apps for Mobile Authentication
To utilize these apps, the user must first log in. A personal account will allow users to engage with data. Budgets for mobile app development will rise as the number of subordinate features grows. Authentication applications are an excellent choice if you want to create an app that lets users sign up. The user can connect conveniently and swiftly by implementing the social network login capability. Developing a mobile authentication app for mobile ranges from $10,000 to $60,000. The development of these apps will take 3 to 6 months.
E-Commerce Mobile Apps 
E-commerce apps typically need users to check-in before they can shop. Users can browse the vast product catalogs, create wish lists, and purchase products after making a payment. Customers make purchases and pay for them online. In these apps, a well-maintained admin panel is critical for managing track of expenses and inventories. The cost of a mobile application ranges from $50,000 to $300,000. It takes four to nine months to construct an e-commerce application.
On-Demand Mobile Apps
On-demand apps are expected to suit the needs of users. This app's type is compatible with both Android and iOS platforms. Uber is a popular on-demand service. To access the chat and telephone features, app users must first log in using their credentials. The cost of a mobile app for on-demand apps ranges from $50,000 to $100,000. The development period for on-demand applications is four to eight months.
#3. Compatible Platform for Mobile App
When determining the cost of developing a mobile application, it is essential to take into account the platforms it will manage. As for mobile applications, Apple iOS and Android are the most popular.
Android OS
Android is used in smartphones, tablets, wearables, etc., and is among the most popular mobile operating systems. Suppose you are interested in attracting lots of potential customers. In that case, consider developing an Android-compatible app. Aside from that, Android mobile app development is often less expensive than custom iOS app development.
Apple iOS
In addition to providing various benefits to both users and companies, iOS is also a famous ecosystem for developing apps since it powers iPhones and iPads. An iPhone app, for example, has a higher quality than an Android app. The following considerations must be made if you plan to create an app supporting hybrid systems:
In order to make both platforms work, the same codebase has to be used.
Visuals and UI in this class may be less good than in native apps, which is a disadvantage. There is a possibility of design flaws in this method. Occasionally, apps may malfunction.
It is essential to take into account the individual's location when calculating the mobile application development cost. In other nations, the company's fee can be very variable.
Here is a breakdown of the top nations' hourly rates and development costs that can help you create your app from scratch. Using this information, you can estimate the cost of custom iOS mobile app development and select the location according to your budget.
#4. Complexity of Mobile App
It has now become clear that the complexity of an app has a significant impact on its price. Let's get technical and define what we mean by "difficulty of developing an app". Apps typically fall into three categories:
Basic Apps of low Complexity: Using layman's terms, these are basic applications that aren't very complicated. These apps' user interfaces don't have any complicated UX/UI layouts or designs. The price of creating well-known apps ranges from $5000 to $100,000.
Apps of Medium Complexity: Medium complexity applications are slightly more complicated than Basic complexity applications. They might contain various platforms and some challenging coding. These applications' app development costs range from $110,00 to $300,000.
Apps with High Complexity: They are considered to be the most complex applications on the market. This mobile app has numerous features, including numerous sites, a complex user interface, VR technology on multiple servers, and much more. These applications may require the longest to build and can have a lot of pricey functionality. These apps are estimated to cost between $30000 and $5,200,000. When it comes to more sophisticated programs, the selection may vary greatly. The number given here is only an estimate.
| | | | |
| --- | --- | --- | --- |
| Feature (Maximum of 20) | Low ($5000 – $10000) | Medium ($11000 – $30000) | High ($30000+) |
| Custom Design | Yes | Yes | Yes |
| Setup | Yes | Yes | Yes |
| Platforms | iOS + Android | iOS + Android | iOS + Android |
| Number of User Types | 2 | 2 to 5 | More than 5 |
| Number of Screens | 5 to 10 | 11 to 15 | 15+ |
| User registration and authentication | Yes | Yes | Yes |
| App Security | Basic | Encrypted | Complete Protection |
| Social Media Integration | No | Yes | Yes |
| Map Integration | No | No | Yes |
| Media Integration | No | No | Yes |
| Payment Gateway | No | Yes | Yes |
| 3rd Party System Integration | Basic | Yes | Yes |
| Data Storage | Yes | Yes | Yes |
| Admin Panel | Basic | Intermediate | High-level |
| Notifications Management | No | Yes | Yes |
| Search and Filters | No | Basic | High-level |
| Reviews and Ratings | No | Yes | Yes |
| App-Store Submission | Yes | Yes | Yes |
| Post-deployment Support | 1 Month | 3 Month | 6 Month |
| Tablet Support | No | No | Yes |
| QA Testing | Yes | Yes | Yes |
| Language Support | Yes | Yes | Yes |
#5. App Features and Functionalities
In order for a smartphone to operate, it must have a certain set of features. An app's development price is influenced by these factors as well. The lack of these qualities makes any application insufficient. Let's examine the functionalities as well as the money and time needed to implement them.
Push Notifications: This feature consists of alerts a user gets from the app they are currently using. It will take between 25-30 hours to add that feature. The price range needed will be between $760 – $1100.
Web portals: Adding this feature to your app will take between 100 and 300 hours. An online portal may cost between $5,500 – $10,100. A web portal is a network that gathers data from various sources. It presents the most key information to a common UI.
User Profile: An app's user profile is undoubtedly one of its most crucial features. A User profile is a section in the app that lists all of the user's identities. They can readily insert anything within it, including identifying details, images, and locations. One can spend around total of 35 to 50 hours creating this page. The price range for developing a mobile app is $910 to $1,500.
Admin Panel: In addition, it appears on the program's backend, so it is important for the person in charge. It costs between $260 and $550 to purchase.
Signup/Login: It is also a crucial component. No individual has access to the program's functionality without logging in. Users must establish their own profile if they want to utilize the application. This costs about between $810-$1,550.
Payments options: Your app must include this function if you want to allow customers to pay you or others through it. For this function to work, you must devote at least 65 to 80 hours. This feature will cost you between $2000 – $2450.
| | | | |
| --- | --- | --- | --- |
| Feature | Description | Estimated Time | Estimated Price |
| Push Notifications | Alerts a user gets from the app they are currently using | 25-30 hours | $480 |
| Web portals | Network that gathers data from various sources and presents key information to a common UI | 100-300 hours | $4800-$5200 |
| User Profile | A section in the app that lists all of the user's identities | 35-50 hours | $800 |
| Admin Panel | Backend feature for the person in charge | Not specified | $260-$550 |
| Signup/Login | Necessary feature for users to access the program's functionality | Not specified | $810-$1550 |
| Payment options | Allows customers to pay through the app | 65-80 hours | $1200-$1300 |
In developing an app, ensure all the elements discussed previously are included. Apps with these characteristics are the most common. Depending on its location and use, the rates will be affected significantly. As this, all are only estimated costs from our side.
#6. Hire App Development Company
Estimating the cost of mobile app development requires consideration of this factor. The cost of developing a mobile app can differ depending on the option you choose to hire an app development company.
1 Do it on your Own
You can make your own desired applications! App development templates are easy because they are pre-made architectural frameworks that do not require complex IT or programming skills. With this kind of framework, you can create a Minimum Viable Product (MVP) app without investing a lot of money or effort. Although creating an app from scratch will save money, you will have to forgo special benefits and its level of security. DIY apps aren't developed in protected containers and frequently include problems and errors.
2 Outsourcing Mobile App Development
The process of outsourcing mobile application development has several advantages. In addition to price reductions, having access to a global pool of skilled professionals is an obvious benefit. A reliable outsourcing partner with low labour costs can help you save money on development. The price of designing a smartphone application can vary based on where you live. Hourly prices can reach $260 in Australia, Western Europe, and North America. Expect an hourly wage of $35 to 110 in Eastern Europe. South Asia, East Asia, and Africa have the most affordable rates ranging from $25 to $40 per hour.
3 Near-Shore
Near-shore teams typically deliver better results and faster delivery times when developing mobile apps. A low split of the cost of app development is also easily negotiable. Because they often price less for their services and also because living expenses are cheaper in nations like India and Ukraine, they are frequently more cost-effective. The recruitment and employment of an in-house application project manager are more difficult than with a near-shore team. Experienced experts can begin developing your app for you without costing you a fortune.
4 Hiring Local Developer
When you hire a local programmer, you gain expertise in your region's particular difficulties and opportunities. To assist you with creating your app, they use their network locally and gain an understanding of the area. For a reasonable hourly charge, they provide customized software functionalities to cater to the unique requirements of your neighborhood users! Further, they are more likely to stay up-to-date with the latest innovations and developments in app development to ensure your application is as cutting-edge as possible.
5 Hiring a Leading Mobile App Development Company
Partnering with a first-rate agency has its pros and con's. They are experienced and knowledgeable in creating mobile apps, and these companies can meet your requirements with excellence. Additionally, they can assist you with the creation of your mobile application because they possess a wealth of information and connections. A drawback is, however, the cost. There is often a higher cost involved with these corporations than with relatively small or less experienced businesses. Additionally, their deadlines can be lengthier than what you are accustomed to, so you must consider that while choosing.
#7. Making a Good App Development Team
The team's exact makeup will vary based on the specific scope of the project; however, some roles are crucial for any team developing apps.
| | |
| --- | --- |
| Role | Description |
| Project Managers | They set milestones, gather teams, and ensure everyone remains on track as they develop the project. They manage the entire operation and ensure it is finished on schedule and within the budget. |
| UI/UX designer | A standard error made by mobile app development groups is to jump straight into execution. Before thoroughly mapping out all of the screens, layouts, and interactive features that users will experience, you can get help from a skilled UI/UX designer to prevent these pitfalls. |
| Front-end developer | You should hire a front-end developer to ensure your application is usable. It is ideal if the front-end developer has a solid grasp of UI and UX design principles before programming the app's visual elements. |
| Backbends developer | Backbends are involved in administrating an app's server, app, and database. The process of arranging and storing data in an application while ensuring that the client-side content functions correctly is known as data modelling. For an app to function, they produce code that conveys database information. |
| QA Team | The team checks the software to detect bugs and flaws and ensures it adheres to the developer's requirements. To ensure that your application is ready to go public and that consumers will enjoy using that, allocate at least 10-12% of the entire development cost for QA. |
| Maintenance & Support | This entails monitoring data points like crash reports, delays, and errors and quickly resolving any problems. The benefits of having in-house app assistance outweigh the price of simply correcting it after it crashes. |
How to Developing a Custom App and It's Development Cost
Process for Developing Custom Apps
You will be responsible for giving the programmer or agency all the information you want to include in your application after you've thought of everything you want to include. In order to create the mobile app from scratch, you will have to follow these methods. Also, it gives you a sense of how expensive mobile application development costs.
Pre-Development Stage: The creation of an application begins at this stage. The application's fundamentals and most significant research are conducted during the pre-development phase. As a result of this study, you will better understand the app's success and acceptance. You will only be able to get the best results if you conduct proper market research. In most cases, you'll have to pay around $3100 and $6000.
Stage of app design & development: The mobile app developer must collect everything in one document after completing the research. It is the primary stage of designing & developing an app. It will cost between $6200 – $10000, and the price needed for this also covers internal designer & developers' labour.
App testing: The developer must examine the app after it has been created. The "app test phase" is the name of this phase. Before completing a/b testing or publishing the product, it's critical to understand any flaws and vulnerabilities in it at this time. Costs range from $5000 to $10000.
App Maintenance: After the application is deployed, you must continually monitor it. App maintenance will take care of all issues if the app crashes or encounters any other issues. At this time, only the app will have all the changes. To determine mobile app development costs fast and accurately. One should use the App cost calculator; we will look at them in detail below.
How does an app cost calculator determine the mobile app development cost?
We will now look at how the app cost calculator tool aids in determining the app's cost after we have learned everything there is to know about it.
Project Goals
The amount of functionality you would like to include in your application is included in the overall project. Any reputable Android or iOS app development business will tell you to choose MVP development in this situation. An MVP can be created in eight weeks and released to the sector with the bare minimum of functionality. After you examine your initial concept, you receive feedback on which you can base the development of your next full-scale version. The price to create an MVP application can range from $5500-$50000.
Designing UI/UX
The user experience must be user-friendly to ensure that users are enjoying it. If you want your mobile app to rank highly, you need to provide users with an engaging in-app experience. Standard or theme visuals are available and can cost as little as $2,100 or more. Another option is to select completely customized app designs, which may seem expensive at first but offer excellent results in the long run.
Technical Difficulty
Costs for application development are significantly influenced by technological complexity and safety precautions. You can get an app with limited features and conventional verification for a lot less money than one with 2-step verification and enrolment via social media.
Deadlines
Strict timeframes may significantly influence higher development costs. A project manager, a front-end programmer, a back-end programmer, a content writer, and a tester make up the bare minimum team needed to build a product. However, I suggest you develop it more quickly. In that case, you'll need additional employees, which will raise the cost of developing the app.
Type of Business, Experience, and Location
The final factors affecting the cost of creating an app are the type of firm (software design corporation, companies, or freelancers), location (Us, Europe, India), and competence. The costs associated with mobile app development in 2023 typically range between $12,000 and $5,000,000, depending on the complexity of the solution.
Top 5 Most Cost-Effective Mobile App Development Strategies in 2022
Establish Clear objectives
Research, research, and research some more. You must first establish the exact feature of your project before beginning production. Carry out a detailed analysis to learn more about your target audience's tastes and habits. Identifying your service offerings can assist you in solving difficulties for potential clients and nurturing them over time.
Simplicity of Mobile Application
So, you've researched your market and rivals, identified your consumers' demands and pain areas, and are now ready to begin developing the mobile application's functional aspects. Are there features that provide no benefit to users among the unneeded expenses? Prioritize the components that support the customer's workflows, improving their experience without sacrificing the features' quality.
Create the MVP Version first
It is not a good idea to hurry into developing a full-fledged app until you have tested your product in the actual world. To save money, create a prototype of your final product with the bare minimum of functional capabilities capable of proving your ideas through widespread adoption. A minimum viable product aims to change quickly and test compliance with customers. This is a prototype of a project's framework in the testing phase to determine its market suitability and consumer acceptance.
Select the Correct Platform
You may not hesitate to choose iOs or Android if you have a reasonable budget. Still, suppose you have a smaller budget. In that case, there is another option: hybrid platforms created in a universal language such as HTML, CSS, or Javascript and covered in a native framework. They can work on various operating systems and cut your costs by up to 40%, but they are slow to load and perform. Clutch found that most app developers prefer native platforms to hybrid platforms.
Invest in-App Maintenance
Poor app maintenance & cross-platform mobile app development services can cause your app to fail. The maintenance of your smartphone app should account for approximately 20% of your total expenses. You must include your app download in the app store to exhibit your responsiveness and interaction with your users. This provides security and coding maintenance, style and design enhancements, library updates, yearly operating system updates, performance monitoring, license renewal, etc.
Top 9 App Cost Calculator Provider in the Market
The interactive online app cost calculator can give you a ballpark figure in only six easy steps! This tool is a friend to tech entrepreneurs and startups when they're considering developing new software application. With our app cost calculator, you can calculate the expected monthly budget for creating, launching, and maintaining your app.
2. Estimate My App Calculator
We recommend the Estimate My App calculator for those just starting out who wish to create their own app. Thanks to its user-friendly design, this tool allows you to calculate your software's price quickly. Pressing on the buttons listed will provide you with the figures and the duration it will take you to complete.
3. Venture Pact
Do you want to employ an offshore development team to build your app, but need to know how much it will cost? Use the Venture Pact app to calculate costs. You can find approximations for various regions, including those in Europe, Asia, and the United States! To acquire a precise estimate, we advise speaking with the offshore company you wish to use.
4. Cleveroad Calculator
This calculator will walk you through ten or more questions to help you determine the cost of creating an app that is either based on certain specifications or is similar to apps already available on the market (such as Uber, Snap, Airbnb, and some others). You'll receive hourly developing guesstimates as you choose your options and respond to the questions.
5. BuildFire Calculator
A 7-step mobile app calculator leads you through various parameters to determine the cost of building a mobile app. These include Buildfire Solutions, Web service, Functionality, Users, System integration, Pricing, Maintenance & Hosting, and Users.
6. HowMuchToMakeAnApp
A price quote is offered at each step of the 8-step mobile application calculator, similar to the one Inoxoft offers. As the last screen displays, a form is available for filling out with contact information.
7. Inoxoft Calculator
This estimator is made to determine the cost of desktop and smartphone software. To contrast the calculators mentioned before, this calculator gives you a rough estimate of the cost for each stage of the cost calculation process.
8. Andreasley Calculator
When all options for defining the app development price are selected, an easy-to-use, intuitive calculator with a shopping cart design is displayed on the right, much as things would in a simple shopping cart system. In order to determine the price, the calculator takes into account the following factors: Platform, Quality, Quantity, Amount of Screens, Custom Functions, Screen Sizes, Screen Rotation Modes, Levels Of security, Supported OS Versions, Etc.
9. Litslink Calculator
A seven-step calculator guides you through the 27 questions, starting with choosing the sector for which a mobile app must be developed. With the calculator, you will be able to see a breakdown of all the decisions you make and an estimated app development cost. A contact form is provided after the cost calculation procedure is completed to request a cost estimation.
Conclusion
A list of the information you need to know in order to design a fantastic app is provided in the post above. However, according to the abovementioned factors, the pricing can vary substantially. A cost estimate for app development in 2023 is challenging to make. We made an effort to mention everything. In some way, you will find this helpful. One can connect with us directly if you wish to create an app with us. Do not hesitate to reach out to us if you have any queries or issues. We are a reliable & leading app development company that has been designing apps for clients with a success percentage of 100%.
---
Written by: Rahul Motwani
Rahul Motwani is an experienced Project Manager with a demonstrated history of working in the information technology and services industry. He started his career as a Backend developer and currently has his hands-on managing projects at Groovy Web. He is a strong program and project management professional with a Bachelor's degree focused on Computer Application.
---
Frequently Asked Questions
We hope these clear your doubts, but if you still have any questions, then feel free to write us on hello@groovyweb.co
It's pretty difficult to tell the exact cost of developing an app, but here at groovy web, we are provide the estimated cost and duration based on the app type.
Basic App Development
Cost:- $10,000 to $30,000,
Duration:-  2-3 months
Medium Scale App Development
Cost:- $30,000 to $100,000,
Duration:- 3-6 months
Large-Scale App Development Cost
Cost:- $100,000 and above
Duration:- 9+ months
The cost of maintaining an app can be high, especially in the first year after its launch. During this time, it is common for the cost of maintaining an app to be as much as 50% of the initial cost of developing the app. The rest should be changed as year added
On average, the basic application must be developed within 2-3 months. The duration of developing an app should be changed to as many features and functionality as possible.
---
Sign up for the free Newsletter
For exclusive strategies not found on the blog